These healthy nutritious whole wheat tortillas stuffed with chicken and guacamole is one of the simplest and most nutritious recipes.
By Anita Mokashi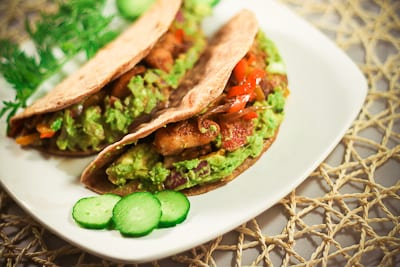 Whole Wheat Tortilla with Grilled Chicken and Guacamole
Healthy nutritious whole wheat tortillas stuffed with chicken and guacamole is the one of the simplest and most nutritious recipes of mine
Ingredients
For Whole Wheat Tortilla
2 cup whole wheat flour
1 tsp salt
Water to knead
For Grilled Chicken
1 pound chicken cut in small pieces
1 tbsp garlic powder
1 tbsp lemon juice
1 tbsp Creole Seasoning
1 onion sliced
2 cups bell peppers sliced
1 garlic chopped
1 tbsp pepper
1 tbsp olive oil
Salt as per taste
For Guacamole
2 avocados
1 tbsp lime juice
1 onion chopped
1 tomato chopped
1 tbsp pepper
salt as per taste
Instructions
Mix all the ingredients mentioned below grilled chicken and keep it aside for 15 mins. After 15 mins broil the chicken for 20 mins.
Knead the whole wheat dough. Take a small portion of it and roll into small tortillas. Roast them on a hot griddle.
Mix all the guacamole ingredients well and keep it aside.
Now take one tortilla, spread 1 spoonful of guacamole cover it and 2 spoons of grilled chicken. Your healthy dinner is ready to be served.