Whole Wheat Homemade Pizza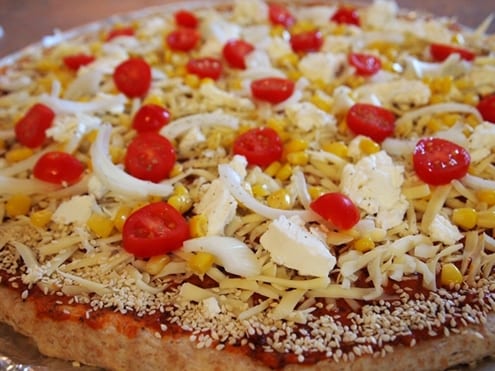 Whole wheat pizza made on a whole wheat pizza crust. Very thick, soft, full of flavor and a healthier version of your favorite fast food.
By Maya Moscovich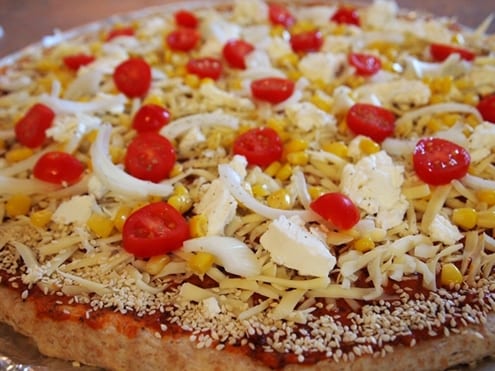 A few years ago my family and I decided to upgrade our nutrition and make it a bit healthier by eating whole grain, less sugar and more vegetables. Now, as a junk food lover it seemed like a bad idea at the time but I was able to find a way out, I saw the light! I came up with a recipe to whole wheat pizza and ever since, this is our favorite pizza.

Whole Wheat Homemade Pizza
Whole wheat pizza made on a whole wheat pizza crust. Very thick, soft, full of flavor and a healthier version of your favorite fast food.
Recipe Type:
Main, Pizza, Appetizer
Ingredients
Pizza Crust:
500 grams of whole wheat flour
2 tbsp of sugar
1 tbsp of dry yeast
3 tbsp of olive oil
1½ – 2 cups of warm water
Oregano, dry basil - Optional
Pizza Sauce:
2 tbsp of olive oil
1 small can of tomato paste
½ onion – chopped
2 garlic cloves – chopped
½ tsp of garlic powder
Up to 1 cup of warm water
Dry oregano / Basil
Salt and Pepper
Instructions
For the Dough:
Place flour, sugar, yeast and olive oil in large bowl. Add 1½ cup water and mix. If you see that it is too dry, add the additional ½ cup water. Knead the dough until all the ingredients are combined and the dough is soft.
Cover the bowl with a plastic cling wrap and let it stand in a warm place for about 40 minutes. After 40 minutes you will see that the dough doubled its size.
For the Sauce:
Over medium heat, heat the oil and add the chopped onion. Stir until onion is golden.
Add the Garlic and stir for about 20 seconds and then add the tomato paste and about ½ cup warm water. Stir the sauce, add spices and lower heat.
After the sauce is ready you can either use it as is or you can blend it. Depends on the texture you like.
Build the Pizza:
Preheat oven to 350F (180C)
Spread the pizza dough on your parchment paper covered baking pan (preferably round but I use rectangular as well)
Cover with sauce and top with cheese and your favorite toppings
Place the pizza in the preheated oven for about 30-40 minutes.
You know it's ready when you check the bottom of the crust and it's golden brown.
Maya Moscovich
Being born and raised in Israel, Mayas nutrition always consisted of food that's spiced well, light on the stomach and includes a lot of vegetables, fruits and olive oil. Now residing in Halifax, Nova Scotia, she is on a quest to reconnect with the food traditions of her home country.