Tamara Novakoviç, here with a quick, easy and utterly delicious whole wheat crackers with black sesame and flax seeds recipe.
By Tamara Novakoviç
The other day I had a craving. I didn't crave any chocolate, caramel, marshmallows and not even fruit (it happens, yes). I wanted crackers. I wanted to make lighter, healthier crackers and eat a bunch of them. So I did.
These are so much better than the store bought ones, that's obvious. And they are made in no time. They make the perfect snack, party food, and you can accompany them with some dip/sauce. The variations are numerous.

Whole Wheat Crackers with Black Sesame and Flax Seeds
A delicious and healthier snack!
Ingredients
½ cup flax seeds and black sesame seeds, combined
1 cup (120 g) whole wheat flour
1 cup (120 g) unbleached all purpose flour
1 tsp salt
¼ cup (60 ml) olive oil
½ cup (120 ml) cold water
Instructions
Preheat oven to 356 F (180 C).
Combine both flours with seeds and salt. Add oil and water, form into a dough.
Roll it out as thin as possible. Sprinkle with some more salt. Cut into desired shapes and place them onto parchment paper. Bake for about 20 minutes.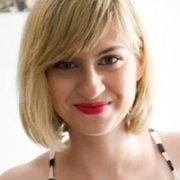 Tamara Novakoviç
Tamara Novakovic is a passionate self-taught cook, food blogger, freelance food writer and photographer behind bite-my-cake.blogspot.com. Her life journey has led her through Faculty of Humanities in Zagreb, Croatia to discovering passion for making cakes. She is currently a weekly food columnist for Croatian newspaper V magazine and food magazine Repete.