Whole Wheat Banana Bread with Blueberry Glaze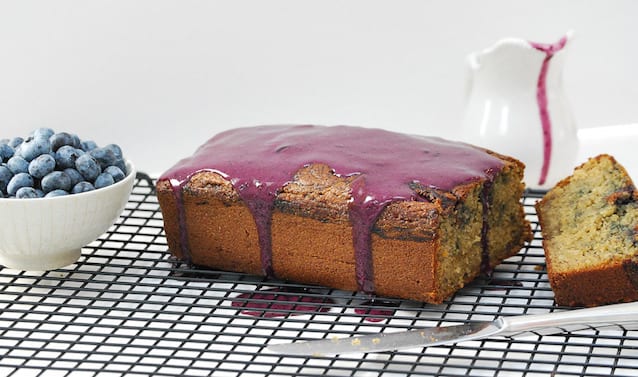 Banana bread never gets old, especially when you swirl it with blueberries and glaze it with a matching sauce.
By Laney Schwartz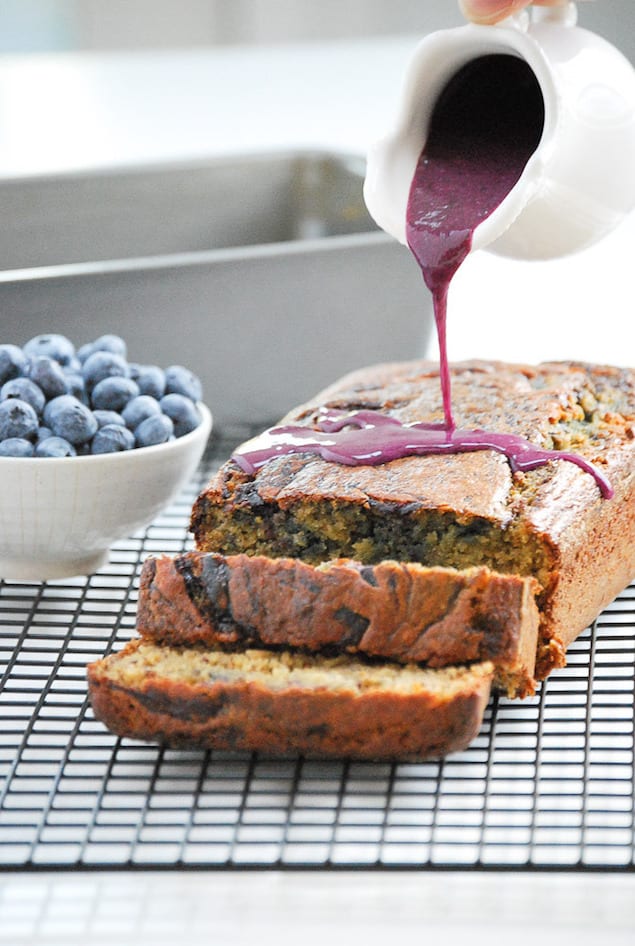 Banana bread is one of those classic foods. Like a hamburger, caesar salad, or a chocolate chip cookie. They're each excellent in their true, original form, and there's a million different ways to doctor them up.
And so, here I present to you this whole wheat blueberry swirl version!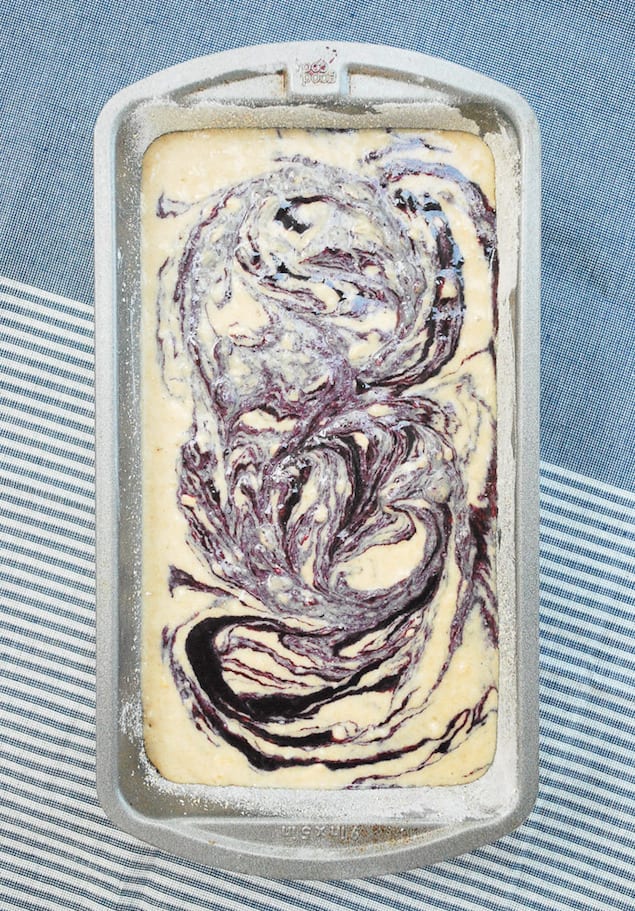 What makes this version special? The blueberry swirl. What puts it over the top? The blueberry glaze. Drool.
See Also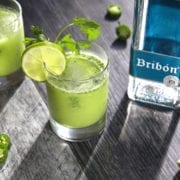 If you don't feel like going all out black tie, you can leave off the glaze. But come on. Don't be that person who shows up to black tie event in a cocktail dress when everybody else is wearing a ball gown. Just MAKE THE GLAZE! Even make it ahead of time like I did.
You won't be sorry, and neither will your friends and family (if it even gets past your mouth first).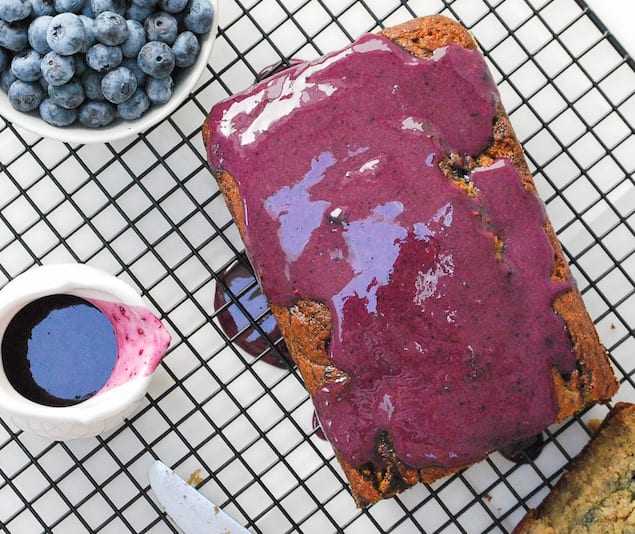 Whole Wheat Banana Bread with Blueberry Glaze
Banana bread never gets old, especially when you swirl it with blueberries and glaze it with a matching sauce. Adapted from Beard and Bonnet
Ingredients
¾ cup coconut oil
¾ cup sugar
2 eggs
½ cup greek yogurt
1 teaspoon vanilla extract
1½ cups white whole wheat flour
½ cup old fashioned oats
1 teaspoon baking soda
1½ teaspoons baking powder
¼ teaspoon salt
½ cup almond milk
3 ripe bananas, mashed
Blueberry Swirl Syrup
3 cups fresh blueberries
¼ cup sugar
1 tablespoon fresh squeezed lemon juice
¼ teaspoon salt
Blueberry Glaze
3-4 tablespoons of the blueberry syrup
1 cup powdered sugar
Instructions
Preheat oven to 350 degrees. Butter and flour a loaf pan and set aside. In a large bowl beat the oil, sugar, and eggs until well combined. Mix in the yogurt and blend well. Add the vanilla.
In a separate bowl mix together the flour, oats, baking soda, baking powder and salt. Slowly add the flour mixture to the wet ingredients and stir until just combined. Stir in the milk and bananas.
Pour half the batter into the prepared loaf pan. Drop 3 teaspoons of the blueberry syrup on top of the batter. One at one end, one in the middle, and one at the other end. Using a wooden skewer, swirl the blueberry syrup into the batter. Pour the rest of the batter on top and drop 3 more teaspoons of the blueberry syrup on top and swirl as described above.
Bake for 55-60 minutes at 350 degrees. Let cool completely before adding the glaze.
Blueberry Swirl Syrup
In a saucepan, combine the blueberries, sugar, lemon juice, and salt. Bring mixture to a boil, then reduce heat to medium/low and cook until berries have released their juices and mixture has reduced a bit and becomes slightly thick. About 20-30 minutes. Stir frequently. Use a potato masher to help smash the berries, or simply use the back of a wooden spoon.
Place a fine mesh strainer over a large bowl and pour the blueberry mixture into the strainer. Gently press on the solids with a spatula to extract all of the syrup then discard the solids. Allow the syrup to cool then store in the refrigerator for up to a week, or use immediately.
Blueberry Glaze
Whisk the blueberry syrup and the powdered sugar in a small bowl until completely combined and no lumps remain. If the mixture seems too thick you can add an additional teaspoon at a time of syrup to thin it out. You don't want it to be too thin or it will all run off of the bread!
Place the cooled bread on a cooling rack with paper towels or a plate underneath the rack to catch the drips. Pour the glaze evenly across the top of the bread and allow it to drizzle down the sides. Leave the bread undisturbed for 15-20 minutes for the glaze to set.
Laney Schwartz
Laney spends her time being a home cook, mom, wife, workout junkie, and ultra crazy food lover.