SPONSORED POST: From Dijon Originale mustard to Cornichons, Maille has a rich heritage starting in 1747 that honors tradition. Check out these easy recipes that pack great flavor, thanks to Maille.
This Whole Roasted Cauliflower with Honey Mustard is a fun recipe which can be served as a starter or a side dish. It is easy to make, vegan and gluten free. Here is how to roast a whole cauliflower with honey and mustard.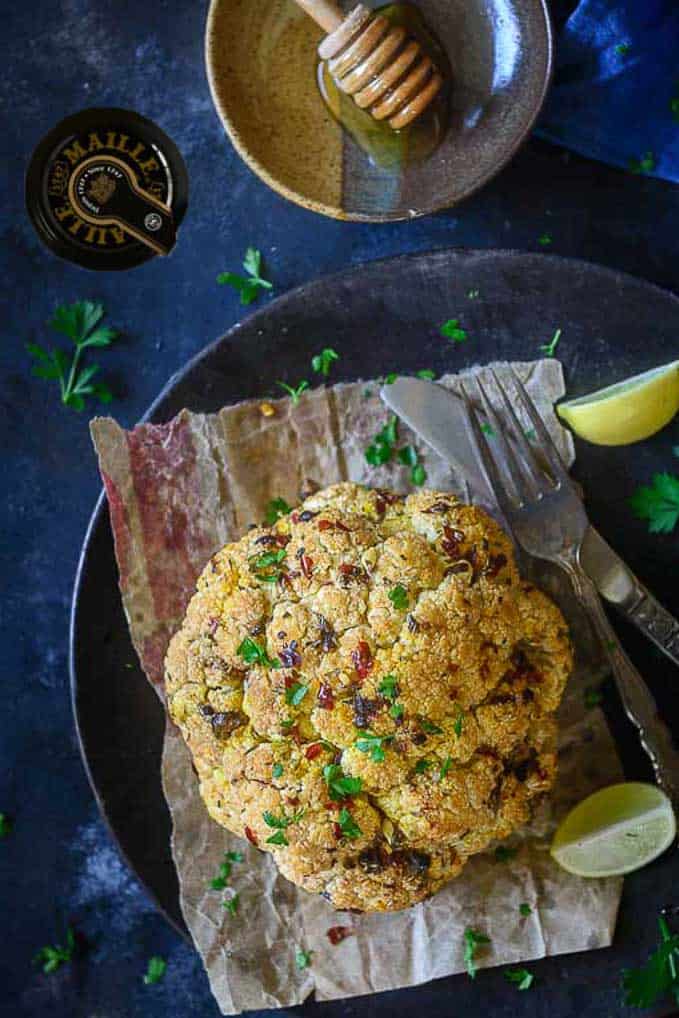 Make this amazing vegan dish that is perfect as for a starter or a side dish. This recipe is easy to make and so comforting that you will keep on making it again and again. It is one dish that comes out nice every time and everyone falls in love with.
The whole roasted cauliflower tastes so amazing with some carrots and potatoes. With just a bit of Maille Mustard Old Style, you can make this taste so delicious. Such a comfort food with delish flavors that can convert a cauliflower hater to a lover.
A whole cauliflower head is roasted with a mix of spices and herbs. Let's make this roasted cauliflower whole head and get you all the praises.
To get a flavorful cauliflower, you can use a few tricks. This great thing about this recipe is that without spending too much effort or time, you can make a master recipe, Maille mustard old style really helps you master this recipe.
Put your cauliflower upside down and pour some of the spice mix and shake the cauliflower to get the mix distributed properly. Now keep it upside up and rub rest of the mixture on it. This makes your cauliflower flavorful and yummier.
Also if you have a big cauliflower, then allow it to cook for a little longer, else it will be undercooked. You can even steam it beforehand if it is super big.
You can even roast some carrots and potatoes with it. They make a perfect combination with the roasted cauliflower. I sometimes prefer mashed potatoes with it. It is just such a comfort food and I can't explain how good it is. You have to eat it to believe it.
The best thing about this recipe is it is vegan and you don't need a lot of prep work.
You can also make whole roasted cauliflower in a cast iron skillet. Place the seasoned cauliflower in the cast iron skillet instead of baking tray and cover tightly with aluminum foil. Cook for 30 min in the oven and then remove the foil. Now roast for an additional hour in the oven till the cauliflower is golden brown.

Whole-Roasted Cauliflower with Honey Mustard
Ingredients
1 head Cauliflower
4 tbsp Extra virgin olive oil
3 tbsp Maille Mustard Old Style
3 tsp Red Wine Vinegar
3 tsp Lemon juice
2 tsp Onion powder
2 tsp Garlic powder
2 tsp Red Chilli flakes
1 tsp Dried Oregano
1 tsp Dried Basil
1 tsp Dried Rosemary
½ cup Vegetable broth
Salt & Pepper
Instructions
Pre heat the oven to 400 Degrees F
Wash and trim the leaves from the cauliflower head
Cut the cauliflower head from the bottom so that it sits straight on the baking tray
Place the prepared cauliflower on the baking tray
Mix all the remaining ingredients except vegetable broth in bowl
Pour the mixture over the cauliflower head and rub it all over
Pour the broth in the tray and bake the cauliflower for 30-35 minutes until it is tender
Change the oven setting to broil and roast the cauliflower for 8-10 minutes until it is nicely browned from the top
Sprinkle fresh parsley and chopped roasted pecans on top
Serve warm