A poetic warm and creamy pasta on a bed of fresh crunchy red cabbage, a great mix.
By Shuchi Mittal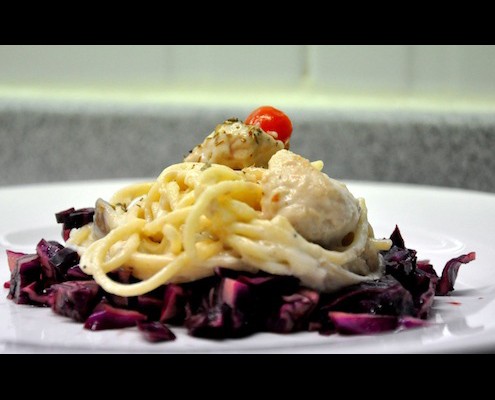 A bite of cream n crunch makes this dish ever so perfect.
"A blend of
White on red,
A taste of cool
On a fiery bed,
Warm mixes with cold
Creating a sheath
A creamy bite
With a crunch 'neath
The rawness
Welcomes the cooked,
A few bites
And you are hooked."
White Pasta with Red Cabbage salad
A warm creamy pasta on a bed of fresh crunchy red cabbage- a great mix
Ingredients
For the white sauce
2 tablespoons flour
1 tablespoon butter or margarine
cup gouda cheese, grated
cup milk
Salt & pepper to taste
For the salad
red cabbage, finely chopped
1 red chili, finely chopped
1 tablespoon balsamic vinegar
1 teaspoon sesame oil
1 teaspoon white vinegar
Salt & pepper to taste
For the chicken
1 teaspoon olive oil
1 clove of garlic, crushed
250 gm chicken breast, cleaned and diced
cup button mushrooms, sliced
teaspoon oregano flakes
1 teaspoon green chili, finely chopped
Salt & pepper
For the Spaghetti
100 gm spaghetti
2 cups of water
1 teaspoon olive oil
1 teaspoon salt
Instructions
Make the salad: Mix all the salad ingredients and keep aside.
Make the sauce: Heat butter in a pan. Add the flour and stir continuously for a few minutes till the butter and flour are well mixed. Cook it for a few minutes so that the 'floury' taste is lost. Add the milk slowly, continuously stirring so no lumps are formed. Sprinkle the salt and pepper and keep stirring for a minute or so. The sauce will begin to thicken. At this time add the cheese and turn off the heat. Mix well, remove from heat and keep aside. Make sure the consistency of the sauce is fairly thin, as it will thicken further on cooling.
Make the Chicken: Marinate the chicken in all the ingredients for 15-20 minutes. Heat a pan. Add the marinade and cover and cook on medium flame till the chicken and mushroom is cooked. Add the white sauce prepared earlier and cook on high heat till the chicken is well mixed and the sauce thickens to a pasta sauce consistency.
Make the Pasta & put it together: Boil 2 cups of hot water with oil and salt. Add the Spaghetti and cook for 10 minutes of till it's cooked Al-dente. Remove from heat and mix the sauce immediately. Serve over the cold red cabbage salad!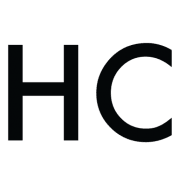 Shuchi Mittal
Shuchi cooks with the heart of a poet. Banker turned chef, she runs the 29. Private Kitchen in NYC focusing on social tasting events, dining experiences and small-scale private events. Using simple & wholesome ingredients, she likes to re-invent homemade Indian flavors into modern tapas & small plates. Her dream? To cook, feed, write, and eventually open her own communal dining cafe - with a published recipe book on the stands.