A buttery shortbread crust holds a perfectly sweet and creamy white chocolate cheese cake topped with a tangy layer of lemon curd.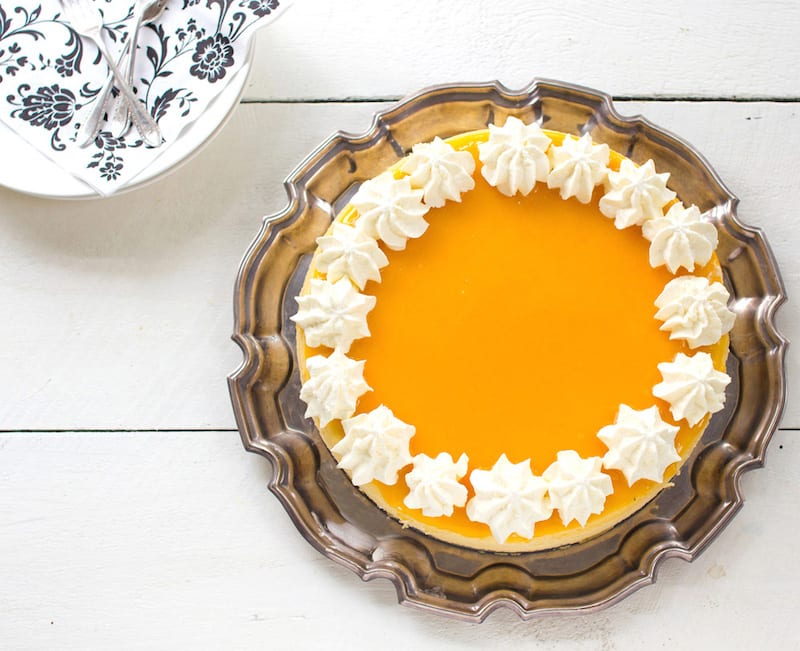 Did you know that cheesecake has its origins WAY back in ancient Greece? Supposedly, cheesecake was served to athletes during the first Olympic Games held in 776BC.
Regardless of its history, cheesecake is one of those undeniably satiating desserts that causes your irises to dilate as you slide your fork into its rich and creamy interior. That unique combination of sweet and tangy seems to be universally popular.
It's been a while since I've made a cheesecake. For a large family dinner on the weekend, it just seemed like the perfect dessert choice.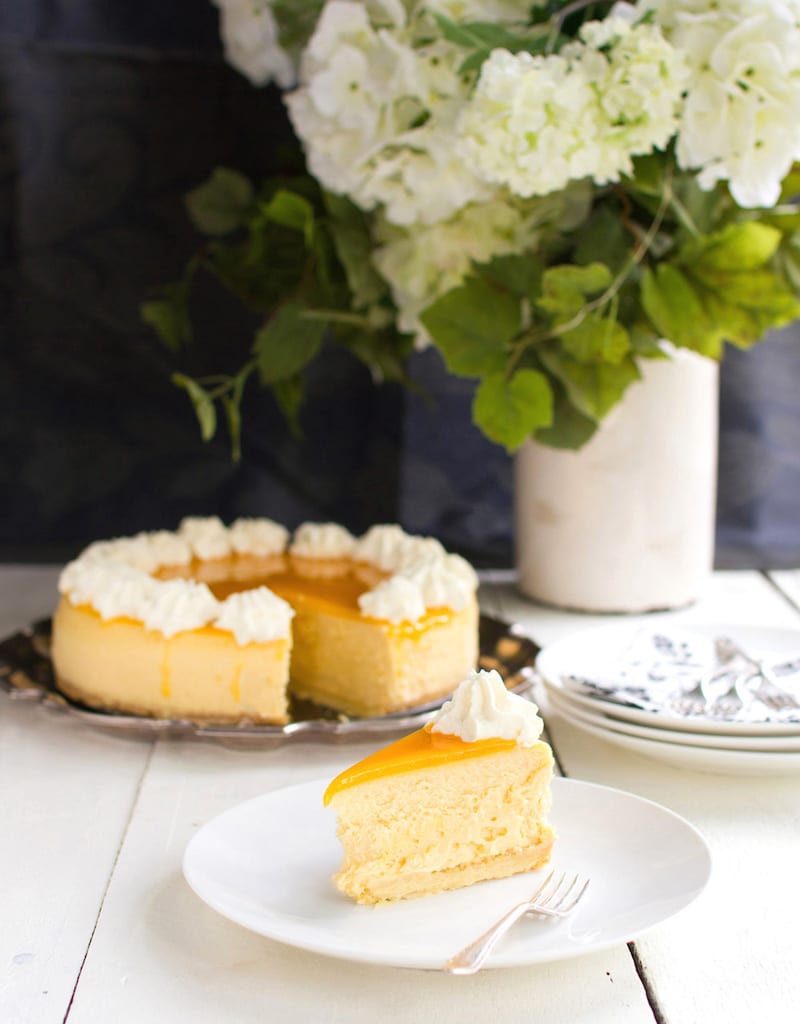 I went with this popular recipe from Taste of Home for baked Lemony White Chocolate cheesecake – a slightly unusual flavour combination, but one that had its reviewers singing its praises. Still, there seemed to be a bit of debate around whether the proportion of white chocolate to lemon was quite right. So, I eventually decided upon adding a fresh and tangy lemon curd glaze on top.
Either way, this cheesecake is a real crowd pleaser. It's incredibly rich and decadent, as you'd expect from a good cheesecake though, surprisingly, not overly sweet at all. And, there's a lovely contrast between the silky light filling and the crisp short-bread like crust. Based on the reactions I got from the eight-strong family crowd I served this to, this recipe is an absolute keeper. I hope you give it a go – I'm sure you'll love it as much as we did!

White Chocolate Lemon Cheesecake
A buttery shortbread crust holds a perfectly sweet and creamy white chocolate cheese cake topped with a tangy layer of lemon curd.
Recipe Type:
Dessert, Baking
Ingredients
For The Crust:
1-1/4 cups all-purpose flour (I used gluten-free flour)
2 tablespoons confectioners' sugar (icing sugar)
1 teaspoon grated lemon zest (I used one tablespoon)
½ cup (114g) cold butter, cubed
For The Filling:
900g (32 oz) cream cheese, softened
1-1/4 cups sugar
280g (10 oz) white chocolate, melted and cooled
2 tablespoons all-purpose flour (I used gluten-free flour)
2 tablespoons cream
2 tablespoons lemon juice
2 teaspoons grated lemon peel (I used a tablespoon)
2 teaspoons vanilla extract
4 eggs, lightly beaten
For The Lemon Curd Glaze:
2 tablespoons lemon zest
¼ cup lemon juice
½ cup caster sugar (superfine sugar)
40g (1.4 oz) butter, chopped, softened
2 egg yolks, lightly whisked
Instructions
For the Cheesecake: (Make this the day before serving)
Preheat oven to 160°C (325°F). Place a 9-inch springform pan on a double thickness of heavy-duty foil (about 18 in. square). Securely wrap foil around pan; set aside.
In a small bowl, combine the flour, confectioners' sugar and zest; cut in butter until crumbly (alternatively, place ingredients into a food processor and pulse until crumbly and mixture sticks together when pressed between fingers).
Press onto the bottom of prepared pan. Place on a baking sheet. Bake 25-30 minutes or until golden brown. Cool on a wire rack.
In a large bowl, beat cream cheese and sugar until smooth. Beat in cooled melted white chocolate, flour, cream, lemon juice, lemon zest and vanilla. Add eggs; beat on low speed just until combined. Pour into crust.
Place pan in a large baking pan; add 1 in. of hot water to larger pan. Bake for 65-75 minutes or until center is just set (the outer edges will appear puffed and, when slightly shaken, the interior will still jiggle) and top appears dull.
Remove pan from water bath. Cool on a wire rack 10 minutes. Carefully run a knife around edge of pan to loosen; cool at least 1 hour. Refrigerate overnight.
For the Lemon Curd Glaze: (Do this step on the day of serving, but several hours beforehand)
Just before you start to make the glaze, take the cheesecake (still in the pan) out of the fridge.
Combine lemon zest, juice, sugar, butter and eggs in a saucepan over low heat (if you're concerned about overheating the mixture, do this step in a bowl over top of a saucepan with an inch of simmering water in it). Cook, stirring, for about 10 mins, or until mixture thickens (don't let it boil or it will curdle). Strain through a fine sieve into a pouring jug and let it cool for about 5 minutes before pouring over cheesecake.
Assembly:
Pour curd over cheesecake (I found it easiest to pour the curd into the middle of the cheesecake and then tilt the pan around to completely cover the surface; alternatively, pour on and spread with an offset spatula). Put the cake back into the fridge to chill the curd for several hours.
Before serving, remove the cheesecake from the pan and place on a platter. Cut into slices (you get clean slices if you dunk your knife into hot water and wipe it clean before making each cut) and serve with fresh whipped cream.
Notes
Freeze option: Wrap individual portions of cheesecake in plastic wrap and place in a resealable plastic freezer bag. Seal bag and freeze for future use. To use, thaw completely in the refrigerator.