This simple and super tempting white chocolate chip cookies recipe will surely put you in awe.
By Anamika Sharma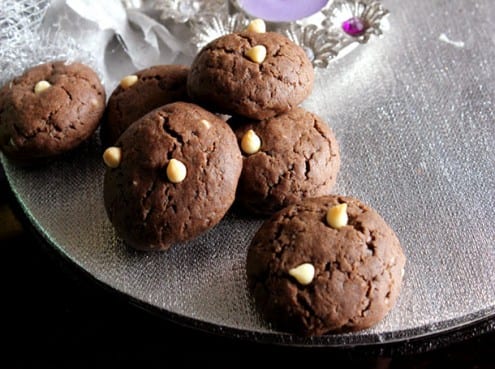 White Chocolate Chip Cookies
This simple and super tempting white chocolate chip cookies recipe will surely put you in awe.
Ingredients
All Purpose Flour – 1¾ cups
Cocoa powder – 1¼ cups
Sugar – 1 cup
Brown sugar – ¾ cup
Baking soda – 2 tsp
Butter – 1 cup
Eggs – 2
Vanilla Extract – 1 tsp
Salt – ½ tsp.
White chocolate chips – 2 cups
Instructions
Preheat oven to 180 degrees C .
In a bowl combine butter and sugars until fluffy.
Now add eggs, vanilla, and salt, mix well.
In a separate bowl, combine flour, cocoa powder and baking soda.
Add flour mixture to wet ingredients.
With the help of a wooden spatula add in white chocolate chips and mix gently.
Make small lemon size balls and place them on the baking try (line the tray with the parchment paper).
Bake for 8-10 minutes, let cookies set for 5 minutes on baking sheet and then remove them to a cooling rack.
Anamika Sharma
Anamika Sharma is a passionate foodie, a food blogger with a background in aviation and telecom industry for good 15 years. Her mission is to spread the love for Indian cooking to all those who wrongly think it's too difficult. She loves to cook for her family, specially her kids. Besides cooking she also enjoys photography and traveling. MAD – making a difference is a word she chose to describe her Indian cooking site. Cooking always meant to her to be maddening and now she is mad about cooking.