The touch of natural bitterness in walnuts plays against the sweetness of the turbinado sugar and the slight bite of the whisky for a taste that's both lush and balanced.
By Alisha Lumea & Polly Legendre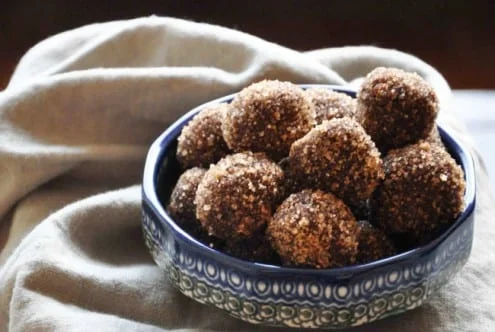 Print
Whiskey, Chocolate and Walnut Truffles
The touch of natural bitterness in walnuts plays against the sweetness of the turbinado sugar and the slight bite of the whisky for a taste that's both lush and balanced.
Author:

Alisha Lumea and Polly Legendre

Prep Time:

15 mins

Cook Time:

10 mins

Total Time:

25 mins

Yield:

32

truffles

1

x
Category:

Chocolate
8 oz

dark chocolate

2/3 cup

heavy cream

2 tbsp

butter

½ cup

walnuts, finely chopped

3 tbsp

whisky

1

+ cup turbinado sugar (raw sugar) to coat truffles
Instructions
On a cookie sheet, toast the walnuts in the oven at 350 degrees until they color. Finely chop walnuts and set aside in a small bowl with the whisky, mix to combine, and leave for at least an hour. Most of the whisky will be absorbed by the nuts.
Chop the chocolate with a serrated knife and set aside in a bowl with the butter.
Heat the cream on the stove until it begins to boil and then immediately pour it over the chocolate and butter. Let it sit undisturbed for about five minutes while the chocolate and butter melt. Stir to blend. If there are still some chunks of chocolate, you can gently warm the bowl over a pot of simmering water, stirring the whole time. Do this only until the chocolate is melted or you can "burn" your chocolate. (Hint — if you smell brownies, you've gone over the edge and burnt it. Throw it out, or turn it into actual brownies, and start again.)
Once the chocolate and cream mix is blended and smooth, add the nuts and any whisky left in the bowl and mix to combine. This is your chocolate ganache. Set it aside until it is firm enough to scoop into truffles. Because making truffles requires getting your hands dirty, it is best done in stages. Do all the portioning, then all the rolling, then all the coating.
Portion — with a melon baller or two spoons working together (like you would with cookie dough), measure out the ganache into bits that will form a ball about one inch across.
Roll — roll each ganache portion between your palms to form a ball
Coat — on a plate, pour a thin layer of turbinado sugar and roll each ball of ganache to coat. If you are making a large number to truffles, you can also place several cups of sugar in a large bowl, drop in the truffles a few at a time, and shake the bowl until they're coated.
Truffles will keep in the refrigerator for up to two weeks. Because they are not sealed in an additional layer of tempered chocolate like a commercial truffle, they must be stored in the refrigerator. Bring up to room temperature to serve.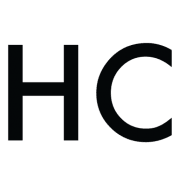 Alisha Lumea & Polly Legendre
The first American to graduate from the Ecole Supérieure de Cuisine Française, Polly cooked for nine years in some of the top Michelin-starred kitchens in Paris, and then as a private chef back in San Francisco. Alisha earned a Grand Diplôme in Pastry Arts from the French Culinary Institute and founded the artisanal chocolate company CocoaVino. Named a "Tastemaker" by Food & Wine Magazine, Alisha's work as a confectioner has been widely recognized in the media, including: Gourmet, New York Times, Wall Street Journal, Washington Post. They write on their blog Scotland Distilled: a culinary journey to the soul of whisky to explore the undiscovered bounty of the culinary landscape they've fallen in love with. When not in the kitchen, Polly and Alisha run the firm Polish to help food entrepreneurs around the world.