Steeped in literary culture and nature, the newly renovated Conrad Dublin offers an elegant and tranquil place to stay while visiting this iconic City.  Steps away from St. Stephen's Green with a view of the National Concert Hall, this 5-Star hotel tells a story and gives new meaning to what luxury is all about.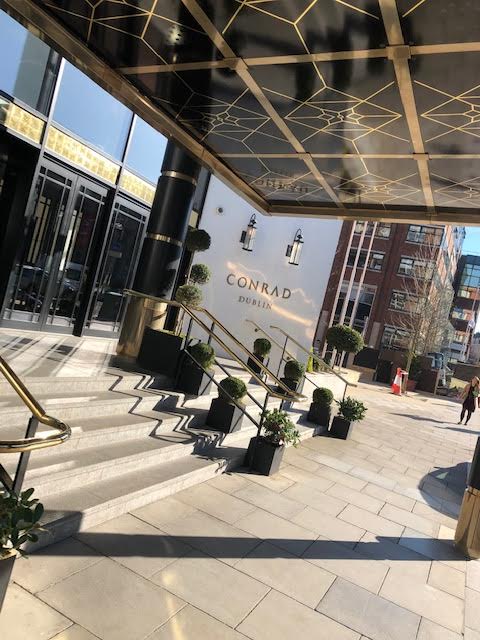 Inspired by Dublin's most beautiful secret, the Iveagh Gardens, this oasis of greenery transforms itself into every aspect of the hotel.   The sun-drenched lobby fills the space and plays off of the velvety English Rose blush colored sofas with pale green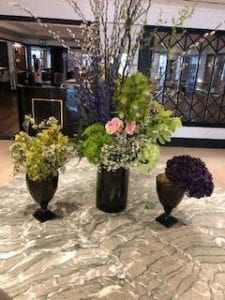 accent chairs which are resting on a circular rug inspired by a maze in the Garden.  Black trestles run along columns hosting single gold and brass roses while black iron birds nest in the corners of tall mirrors.  The Garden theme moves to a display of deep violet hydrangea and stalks of green orchids with hints of pink and white blossoms standing tall on a massive marble-topped table.
The rich and subtle nature motif spills into each of the 192 guest rooms and suites.  Heavy floor-length curtains are designed to replicate the tops of trees which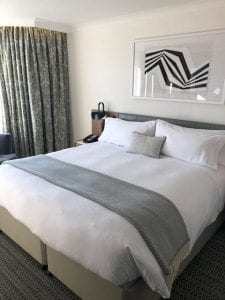 surround a large bay window opening up the room with natural light during the day.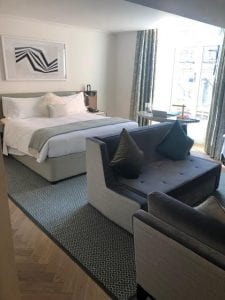 Touches of Irish heritage such as Foxford (since 1892) Wool Throws stretch across the foot of the bed, and bespoke Irish artwork hangs on the walls.  The guest rooms and suites range from 330 sq. Ft to the Presidential Suite, a 1,680 sq.Ft. apartment on the top floor of the hotel.   Play the Grand Piano in the foyer of the Suite and only hear the music while the view grants you access to the City.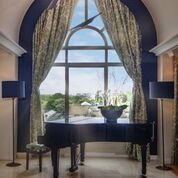 Visit places you never imagined by taking a journey with Lemuel Gulliver, the voyager in Gulliver's Travel and visit several remote nations without ever leaving the Conrad Dublin.  Step into Lemuel's namesake and have a formal affair with a twist at Tea Time by eating sandwiches, scones, and pastries prepared by Conrad's very own Pastry Chef Brizaida Hernandez and Guest Michelin Star Pastry Chef Eddie Benghanem.  If you want to skip tea, Lemuel's Bar and Lounge houses wines from all over the world, create contemporary cocktails conquered up by a mixologist and prepares sophisticated food.  While you're sitting back and enjoying the view outside of the Trinity College inspired windows and marveling at the design of the Francis Bacon inspired carpets, make sure you look upward to see the map on the ceiling identifying where Lemuel is taking you. After all, you might think you're still in Dublin, but Lemuel's Bar and Lounge at the Conrad Dublin transforms into a different place in time and takes you on an unforgettable adventure.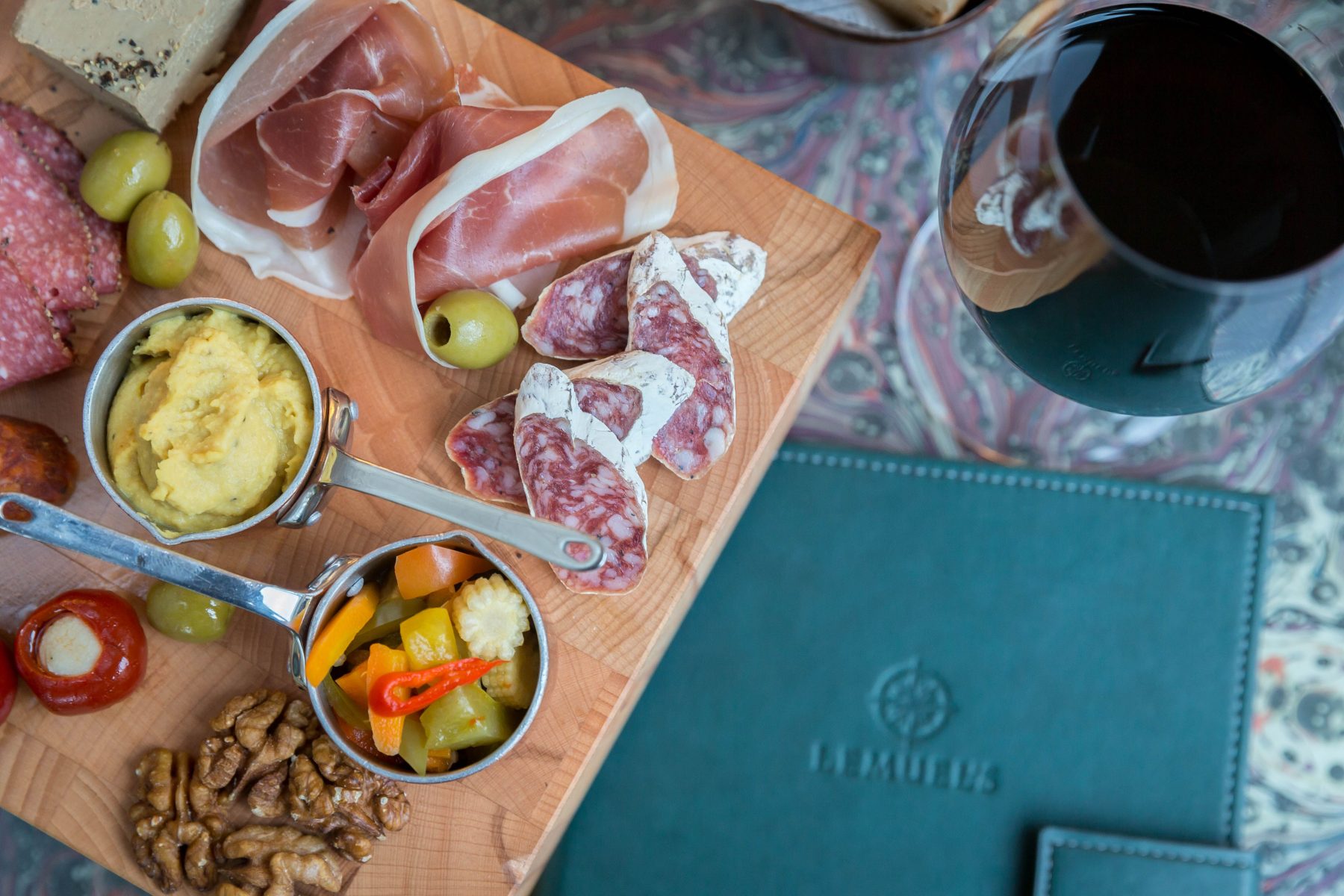 Keeping with the true Brasserie style, Coburg Brasserie is steps away from Lemuel's Bar and Lounge at the Conrad Dublin.  Enjoy an aperitif at Lemuel's, and within minutes you'll be experiencing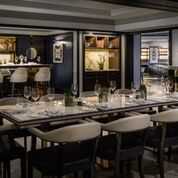 the relaxed and polished atmosphere that Coburg's provides.   The Equestrian theme interior showcases framed Hermes scarves and creamy leather seats both designed with a bridle motif.  Keeping true to the Brasserie style of dining, enjoy a "settle in your seat"  breakfast with friends, dinner before the theater, brunch on the weekends or a business lunch with clients while eating a variety of appetizing meals.   From farm to fork, all of the ingredients used at the Coburg Brasserie are sourced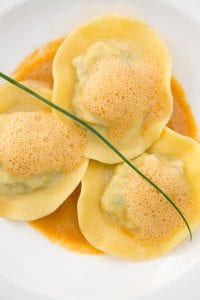 from local farms throughout Dublin.   Feast on Roaring Water Bay Rope Mussels, Coburg Beef Burger, Lobster and Prawn Ravioli or a Rack of Irish lamb to name a few.  The Coburg Brasserie offers all that one can expect from an authentic Brasserie right in the Conrad Dublin.
If you want an experience a drink in a Pub at the Conrad Dublin, on the lower level hosts Alfie Byrne's by Galway Bay Brewery.   Named after the former Lord Mayor of Dublin, this Irish American pub is the 3rd most extensive craft beer establishment in Dublin
hosting up to 33 different types of craft beer on draught. Do a sampling of different craft beers to find out which is your favorite.  However, that's not all.  If Irish Whiskey is what you fancy, Alfie Byrne's by Galway Bay Brewery offers up to 30 types of Whiskey.  However, make a note:  a true Irish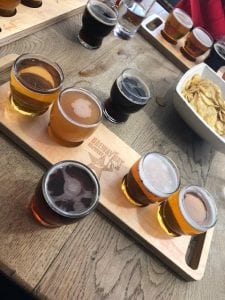 Whiskey is spelled using the "e" in its name.  Play a game of pool and then settle in for a great meal.  While at Alfie's eat inside or out on the patio.  Enjoy  Braised Beef Brisket Sandwich or maybe Fish and Chips.  Leave room for the Chocolate Brownie with Ice Cream.   Moreover, remember, all of the food is locally sourced.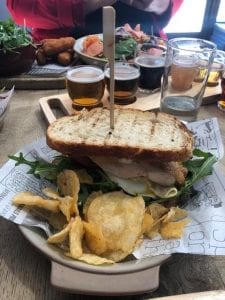 Conrad Dublin is also available for meetings and events.  With nine conference rooms and a ballroom which holds up to 350 guests, treat your guests and colleagues to all that the Conrad Dublin has to offer.   Just send the invites and the Conrad staff will make sure your meeting and or event is a success which all attending will remember.
Whether you're staying here on vacation, experiencing dining in one of their three restaurants/lounge or attending a meeting or an event, Conrad Dublin wants you to experience luxury and comfort and to "stay inspired" until you return.
Gabe Fanelli
In another lifetime I went to Culinary School (ICE) and graduated with a degree in Pastry Arts. I interned and worked for a bit in the Test Kitchen of Rachael Ray's Magazine "Everyday with Rachael Ray" but missed meeting her by 15 minutes. Currently, I'm the Marketing Director for Town Sports because after eating all of that pastry and working in a test kitchen, I needed a free gym membership.