Wheat beer and orange zest add a citrus brightness to french toast that balances the richness of mascarpone while the pistachios provide texture and a mellow nutty flavor. The perfect brunch.
By Heather Lewis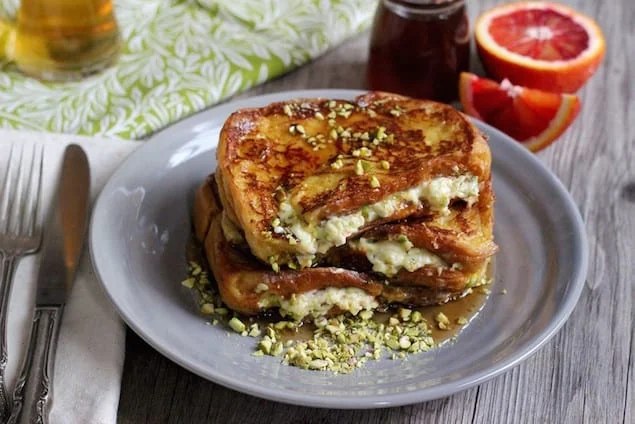 Warm weather is right around the corner. I can't wait to wake up early on that first sunny day and bicycle to brunch where I'll sit outside and drink a bloody mary while soaking up as much Vitamin D as possible.
See Also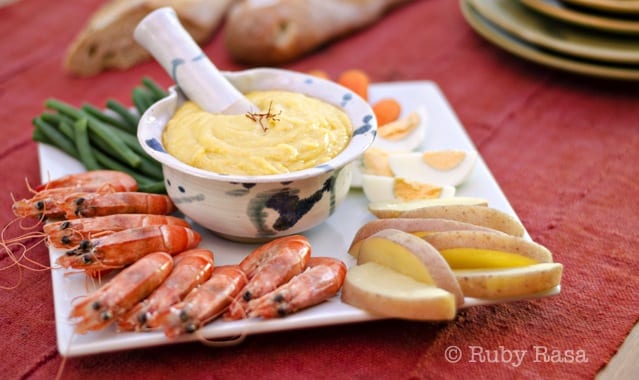 In the meantime, I'm preparing Spring inspired recipes such as the Stuffed Wheat Beer French Toast in the recipe that follows. The wheat beer and orange zest add a citrus forward brightness to the dish that balances the richness of the mascarpone while the pistachios provide texture and a mellow nutty flavor.

Wheat Beer French Toast Filled with Pistachios, Mascarpone and Rum-Orange Syrup
Wheat beer and orange zest add brightness to french toast to balance rich mascarpone while pistachios provide texture and nutty flavor. The perfect brunch.
Recipe Type:
Breakfast, Brunch
Ingredients
French Toast
4 ounces mascarpone cheese
4 ounces cream cheese, softened
2 tablespoons powdered sugar
1 blood or naval orange, zested
3 Tablespoons finely chopped pistachios
6-1/2 inch thick slices of brioche or challah bread
3 large eggs
½ cup (4 ounces) wheat beer
½ cup heavy cream
¼ teaspoon vanilla extract
1 Tablespoons brown sugar
½ teaspoon ground cinnamon
½ teaspoon ground ginger
½ teaspoon salt
4 Tablespoons butter
Spiked Orange Syrup
2 Tablespoons brown sugar
¼ cup fresh squeezed orange juice
¼ cup bourbon or rum
½ cup maple syrup
Instructions
To make the filling, mix together mascarpone, cream cheese, powdered sugar, zest of 1 orange, and pistachios in a medium bowl until well combined. Set aside.
Create a pocket in each slice of bread by using a paring knife to make a horizontal cut in the bread, taking care not to cut through the opposite edges. Carefully fill each bread pocket with the mascarpone filling. I like to use a pastry bag or ziploc with the corner cut off, but a butter knife also works well.
Set oven to Warm or the lowest temperature. While preheating, whisk together eggs, wheat beer, heavy cream, vanilla, brown sugar, cinnamon, ginger, and salt in a baking dish. Melt 2 Tablespoons butter in a large skillet over medium heat. Working in batches, place the stuffed slices into the batter and soak for 10 seconds per side. Let any excess batter drip back into the dish then cook in the skillet for 4 to 5 minutes per side, adjusting the heat as needed, until golden brown. Transfer to a baking sheet placed in the oven to keep warm while preparing the remaining slices.
To make the syrup, combine brown sugar, orange juice, bourbon, and maple syrup in a small saucepan over medium heat; stir occasionally until sugar dissolves. Reduce heat to medium-low and simmer for 5 minutes until reduced slightly.
Top mascarpone stuffed french toast with syrup, garnish with supremed orange slices and additional pistachios, if desired, and serve with a citrus-forward wheat beer.
Heather Lewis
Heather is a Certified Beer Server and Home Chef who works in Operations for a Craft Brewery. She fell in love with craft beer and cooking after living in San Francisco. In 2011, she started the blog BeerBitty which focuses on cooking with beer recipes that highlight different beer styles. She currently lives in Brooklyn, NY.