K.M. Robbins goes to Vegas and lets the waistline take one for the team.
By K.M. Robbins
Hedonism is a funny word. From the Greek word meaning "pleasure," a hedonist is one who makes the pursuit of pleasure the objective.  I like to think that hedonism isn't necessarily a bad thing.  Pleasure in food, drink, sex . . . aren't those all pleasures we want from life?  But, after four days in Las Vegas, I may have to amend my way of thinking.
The problem is the excess of Las Vegas pulls you in: excess of behavior, excess of alcohol, excess of chirping slot machines paying-out and paying-in.  And, excess of food.
The food and portions are so big that instead of filling you up, it gets you so into the habit of eating that you want to keep doing it.  Buffets of twinkling silver steam trays beckon.  Bakeries with fluffy pastries an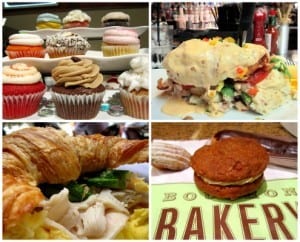 d syrup fruit fillings, chocolateries selling truffles made with bacon or absinthe, and cupcake places with fifty cent frosting shots are around every corner.
So many big names have turned Las Vegas into a celebrity chef promised land:  Hubert Keller, Joel Robuchon, Mario Batali, Charlie Palmer, Michael Mina, Rick Moonen, Emeril Lagasse, Todd English, Bobby Flay, Thomas Keller, and more.  Wolfgang Puck alone has a restaurant in every big name casino I went into.
Each restaurant is more beautiful than the next.  Seductive lighting, blue fountains of cascading water, contemporary décor, and Asian themed wood work provide visual stimulation to match sensory taste stimulation.
The food towers. The Bellagio houses the Guinness' Book of World Records largest chocolate fountain, cascading white, milk, and dark chocolate. At Hash House a Go-go, a restaurant known for monumental food portions, I watched my travel buddy try to eat a pancake larger than her head. I myself tackled an Eggs Benedict construction of fried chicken, scrambled eggs, spinach, a buttermilk biscuit, mashed potatoes, and a chipotle cream hollandaise. All piled high, defying gravity and stomach capacity.  I should have known better than to try to order at a food whose menu mentions Man vs. Food.  I hope he won that match; I sure didn't.
Appetites seeking satiation becomes insatiable appetites for gluttony.
What is a food writer to do? Do I let the wasteline take one for the team? Do I keep my hedonist darkside in check, or do I let the marketing motto, "whatever happens stays in Vegas," repeat in my ear till all my reservations are gone?  Why refrain when I would be the only one in Vegas doing so?   Besides, I've never had a shot of frosting. And, I've been meaning to try chocolate with wasabi.
And so, I ate.  I enjoyed roasted tomato fondue, duck bahn mis, and mango martinis at Level 107 Lounge at the Stratosphere; martinis are better while enjoying a panoramic view of Las Vegas and watching sky jumpers free fall from atop the Stratosphere. By sampling a carrot cake concotion from Bouchon Bakery, I also got as close as my budget would allow me to get to trying something by Thomas Keller. He puts orange zest in his frosting and carrot cake and I approve of the effect. I pretended to bistro in Paris by sitting in the shade of the Las Vegas Eiffel Tower and under the bright red umbrellas that adorn the outdoor seating of Mon Ami Gabi.
I got to sample a piece of a chocolate-wasabi bar at a Vosges store. Though good, I'd recommend "Siam Citron Truffle," a unique and flowery combination of jasmine tea, lemongrass, coconut, wildflower, marigold petal, and white chocolate.  Don't ask me how it works, it just does.
I didn't try the frosting shot at The Cupcakery, a Las Vegas Review-Journal Poll 2011 "Best of Las Vegas" Winner.  I did have the Kir Royal, a raspberry cupcake with kir icing.  It was just the right amount of sweet and more than enough sassy.
Oh yes, and then there was 6 small plates and 2 desserts at Hubert Keller's new restaurant, Fleur.  Amazing and decadent, Keller knows how to take childhood favorites and make them classy, updated adult fare.  My favorite was the "PB&J:" chocolate macaroons with peanut butter buttercream and strawberry marmalade served with rum iced milk.  Peanut butter and jelly never felt so grown-up, so sophisticated, and so good.
At the end, I flew back to Virginia, a little bit heavier.  Maybe whatever you do stays in Vegas, but whatever you eat comes with you.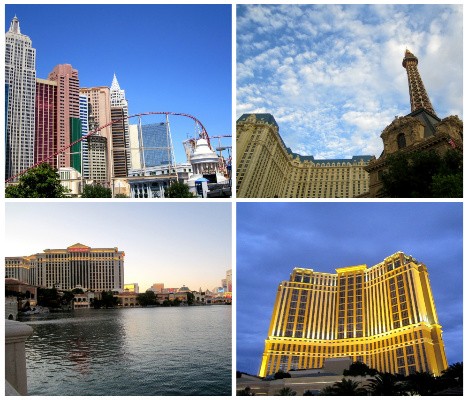 K.M. Robbins
Kate is a food voyeur and a crazed culinary: she's becoming more and more belly driven. She once had to explain to an employee at Best Buy that she was looking for a camera for taking covert pictures of food in restaurants that might have soft lighting. And, since there is really no other treatment for her condition, she decided to blog about it.