Olympic figure skater turned Food Network personality and cookbook author Brian Boitano reminisces about some of his most memorable family meals.
By Noah Charney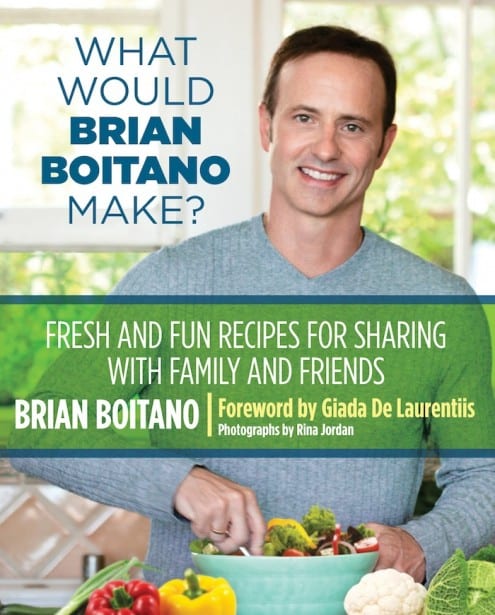 Olympic figure skater Brian Boitano, immortalized by the South Park song "What Would Brian Boitano Do?" is the author of a new cookbook, What Would Brian Boitano Make? based on his popular Food Network cooking series that debuted in 2009. The shift from Olympic and World Champion in the late 1980s to food celebrity has been a smooth one for Boitano, who also has a good sense of humor about his portrayal as a superhero in the animated film, South Park: Bigger, Longer, and Uncut. We asked Boitano a one-question interview: What was your favorite meal? Here's what he said:
"My favorite meals always took place on Easter at my aunt Tree's beach house. We affectionately called it "the shack" because it was a small cabin but it overlooked the Pacific Ocean, so the views are incredible. My brother and sisters and I would spend holidays there every year with my mom and dad. Aunt Tree was the consummate entertainer, which included a full day of grazing. She would lie out multiple platters of food on the outdoor picnic table. Everything was pink – the tablecloth, napkins, platters, plates and centerpieces (I should tell you that Aunt Tree also drove a pink Cadillac for some time). She would cover each platter with pink screens that popped up like umbrellas and kept flies off the food. Those holidays introduced me to some exotic foods at a very young age. She would serve marinated cactus in adobo sauce. I loved the smokiness of the adobo and the freshness of the cactus, which has the consistency of cucumber. I was always astonished that I could eat the cactus and there were no thorns to deal with. Another big hit was the smoked oysters. I think my brother Mark would disagree. When he was very young he ate a whole plate of those oysters and got sick. To this day he still can't eat an oyster. I loved the texture of the oysters and she always gave us toothpicks (pink of course) with decorative clams on the top to eat them with.
Aunt Tree would also have the greatest sweets laid out. On Easter, She would decorate the yard and shack with Easter baskets and candy eggs- you remember those eggs with scenes inside of them. She would also break out this incredible rocky road in both milk chocolate and dark chocolate. It was diced in big chunks that were the size of the palm of my hand. We would eat all day long.
Dinner would usually be something very simple like chicken and potato salad and biscuits. Sometimes my brother would go down to the pier and try to catch some fresh fish that we could have for dinner. Good thing my aunt had prepared something else because my brother dint usually catch enough fish for the whole family. Our meals were about sharing the experience of the day with family. We all have great memories of being outside, overlooking the water, and having this family tradition every year to look forward to.
Those meals established how I entertain today. I still love to have family come over early in the day to prepare a holiday meal. Invariably, we sit and talk in the kitchen as we eat, drink and prepare the main meal. It always ends with our glasses high in the air toasting Aunt Tree and the memories of our meals at The Shack."
Interview conducted by Noah Charney via email. What Would Brian Boitano Make? Fresh and Fun Recipes for Sharing with Family and Friends is published by Lyons Press.
Noah Charney
Noah Charney is a best-selling author of fiction (The Art Thief) and non-fiction (Stealing the Mystic Lamb) and professor of art history. He is also an award-winning columnist, and writes regularly for a variety of magazines, including The Guardian, Esquire, the Atlantic and Salon. He lives in Italy and Slovenia. Join him on Facebook or at www.noahcharney.com