Sometimes, cooking is about taking chances and trying something completely different.
Text And Photo By Joan Nova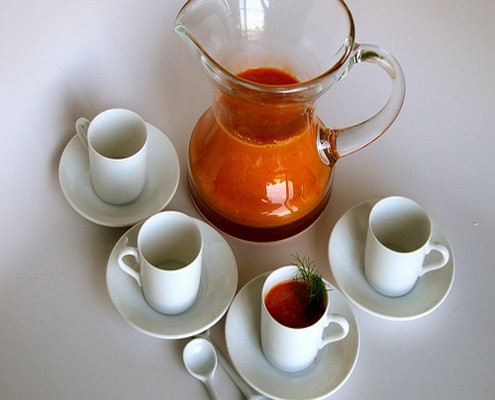 What if? What I love about cooking is the "what ifs".
What if I substituted this ingredient for that one? What if I served it in an unexpected way? What if…?
That's what makes it fun for me each and every time I flip on the kitchen light.
Recently I planned a Spanish tapas dinner party for "new" friends and, being a good hostess, I asked if they had any food allergies or major dislikes. Yes, no cucumbers. Now that was a 'what if' situation because I generally use cucumber when I make gazpacho. But, that's how I came up with fennel gazpacho.
What if…you can't use cucumber and wanted to make gazpacho?
Try fennel.
What if…you were serving multiple dishes for one course and wanted them eaten at the same time?
Downsize…how about a shooter size serving in an expresso cup?
Print
Fennel Gazpacho
A fresh, light and savory start to a tapas-style dinner.
1 pint

grape tomatoes

1/2

fennel bulb roughly chopped (reserve fronds for decoration)
l red pepper (chopped)

1/4 cup

sweet onion (chopped)

2

cloves garlic

1

lime (juiced)

2

pieces bread
dry seasonings to taste salt, pepper, cumin, fennel seeds

1/2 cup

extra virgin olive oil

1/2 cup

(or more for thinner consistency) water
Instructions
Blend ingredients in batches.
Combine.
Blend again to desired consistency.
Adjust seasonings.
Refrigerate.
Serve cold.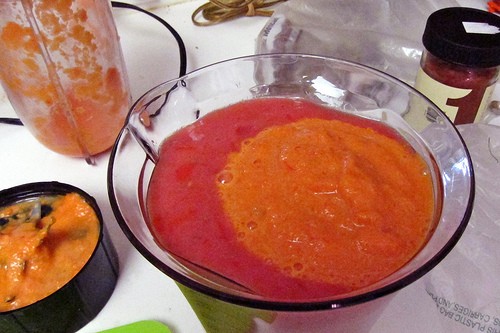 The fennel add a unique and welcome flavor and reserving the fronds for decoration brought it all together.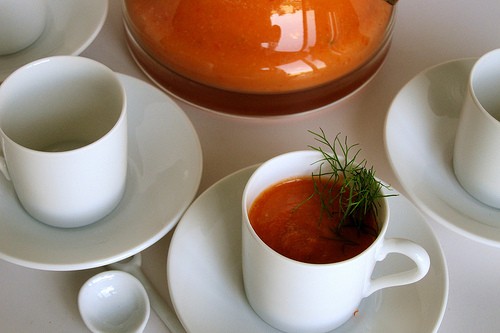 Joan Nova
Joan Nova is the publisher of FOODalogue: Meandering Meals, Musings + Travel which melds her lifelong passions for food, travel, photography and publishing. Her culinary style is bold and colorful with finishing touches that take each dish to the next level. She is an active participant in many online food organizations.