All different kinds of Eclairs: There is the classic Eclair with chocolate glaze and creme patissiere, the Eclairs with with rosewater glaze – and the ones with white chocolate glaze and mango creme patissiere…
By Trisha Jones
My sister is visiting me in Berlin at the moment. We decided to make eclairs of all different kinds… We did the classic chocolate glaze with creme patissiere. Then we made rosewater glaze… for some others, and finally, white chocolate glaze (with pink food colouring) with mango creme patissiere…. THOSE ONES WERE FANTASTIC…!
If you are going to try and make these.. I would say just clean up as you go along… you are going to need a LOT of pots and pans and having a partner in crime is also great. Sloj (my sister – photographed below, her real name is Selina) was so helpful and a great baker!
See Also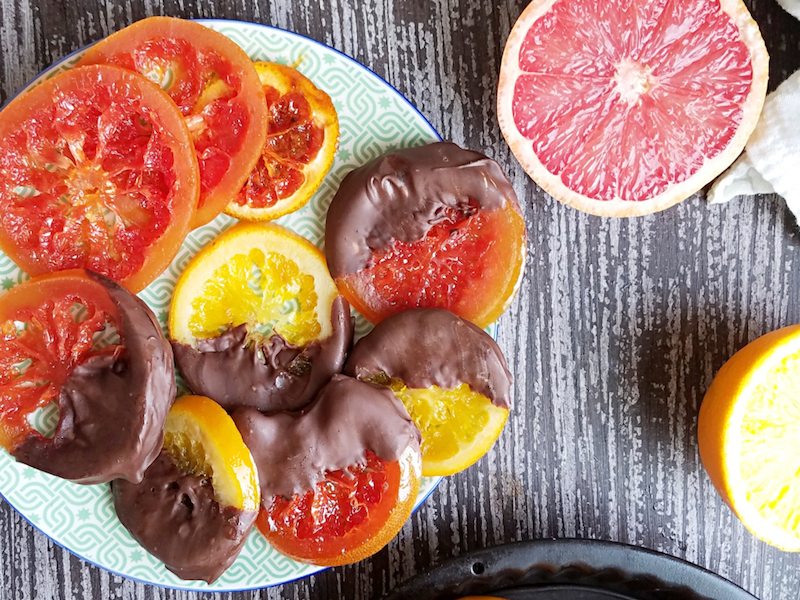 These are the ones with mango creme patissiere!
Print
Eclairs
Prep Time:

20 mins

Cook Time:

15 mins

Total Time:

35 mins

Category:

Dessert
50g

unsalted butter, diced

100g

plain flour, sifted

1 tsp

caster sugar

3

medium eggs, beaten
Chocolate Glaze

100

ml double cream

1 tbsp

soft light brown sugar

1 tsp

vanilla extract

100g

dark chocolate (70%), chopped

25g

unsalted butter
Instructions
The Creme Patissiere:
Heat the milk and vanilla to boiling point. Meanwhile, whisk the egg yolks and caster sugar until pale, then stir in the cornflour. Pour the hot milk over the egg yolk mixture and whisk until smooth. Return to the pan and heat gently, stirring constantly, until thick.
Put the thick custard into a clean bowl. Cover the surface with cling film and leave to cool completely.
The Choux Pastry:
Heat oven to 220C/200C fan/gas 7. To make the pastry, heat the milk, butter and 4 tbsp water over a gentle heat until the butter melts. Increase the heat and bring to the boil, then remove from the heat and quickly beat in the flour, sugar and a pinch of salt. Keep stirring until the mixture is smooth, glossy and comes away from the sides of the pan. Allow to cool for a few mins, then gradually add the eggs, mixing well between each addition.
Line a baking sheet with grease proof paper, then spoon the pastry mix into a piping bag fitted with a 2cm star nozzle (I prefer this to the plain one because it gives you a nice shape!  Pipe the pastry out with a good 2 cm distance between them and at whichever size you would like. Bake for 15 mins or until golden brown and doubled in size. Leave to cool.
The Glaze:
For the glaze, heat the double cream, sugar and vanilla to boiling point. Put the chopped chocolate in a heatproof bowl and pour over the cream mixture. Stand for 2-3 mins, then add the butter and stir until smooth and glossy.
To assemble the eclairs, pipe in the creme patissiere with a long pointy pipe nozzle. Spread the chocolate glaze over the top of each eclair and leave to set before serving.
Alternatives –
My sister and I didn't just make classic eclairs, we made ones with mango puree in the creme patissiere. Just chop some mango up and pulp it up in a food processor, then add sparingly to the creme patissiere.
If you don't like chocolate glaze, then just undertake the SAME process but use white chocolate instead of milk chocolate and add colourings as you which – we added pink.. because we LOVE IT!
Trisha Jones
I am originally from England but I am now living and baking like a maniac in Berlin. Noone would deny that I have a relentless sweettooth, but you will see the odd savory dish on my blog - Sugar Thumb - normally when I am going through a "I should cut down on sugar" phase!