The Wayfarer restaurant nestled beneath the Quin Hotel in Midtown Manhattan features contemporary American fare served in a spacious, elegant atmosphere.
This American spot on the ground floor of Midtown stands out from other eateries in Midtown's tourist hub. The bi-level restaurant boasting floor to ceiling windows overlooking the hustle and bustle of New York City. An upscale option that can be easily identified as the go to destination for professionals seeking a business dinner or after work happy hour excluding the rowdiness. It also has a pretty bar where you may find guests of the Quin Hotel sipping on the Wayfarer signature vodka-based cocktail. Or a family of four seated on the leather lounge enjoying a healthier fare of green juice, salads and cold brew coffee before adventuring to nearby attractions of Central Park or the New York Public Library.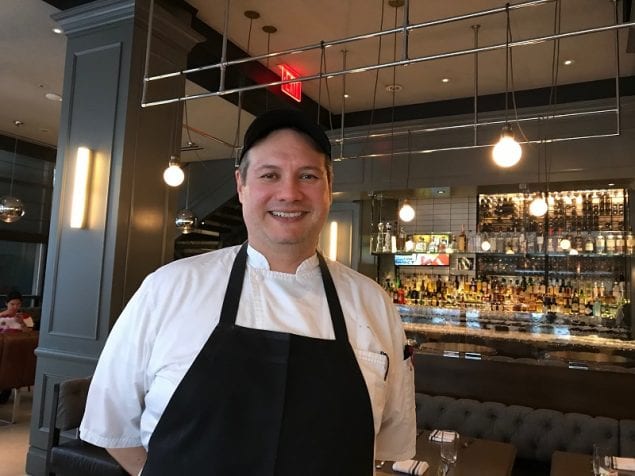 New to the Wayfarer team, Executive Chef Davis (previously at STK Downtown) helms the kitchen at the Modern American eatery. Defying confinement to one cuisine, he describes The Wayfarers menu (breakfast, brunch, lunch, dinner) as modern, serving variations of Asian, French, Italian, Mexican and other international flavors and tastes.
Bites from the Wayfarer Menu
Highlighting a few bites from the brunch and lunch menu. Let's first start with the Lobster Sandwich. We all know summers and lobsters go hand in hand. Dissimilar to its cousin the roll, this seafood sandwich is served with crispy bacon. Adding a salty smoky element to the lobster meat dressed in mayo, scallions and paired with crispy iceberg lettuce and tomato. Piled inside two slices of bread, the hearty summer sandwich is served with a side of homemade chips and a healthy share of mixed greens salad. Bites of the bacon definitely adds a punch to the sandwich but still somehow packs a ton of lobster flavor.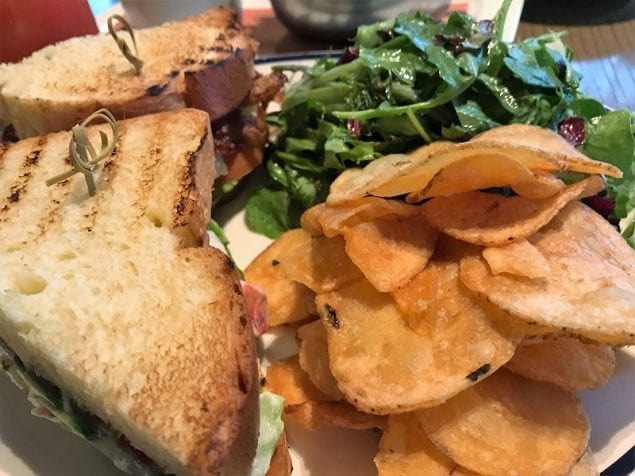 For a more traditional brunch selection, eggs like The Mushroom Gruyere Omelet are available to order. The Wayfarer uses a mix between American and French egg cooking methods. While French eggs tend to be fluffier and buttery, Wayfarer's version is denser, yet not too overdone. Sautéed mushrooms and melted gruyere cheese fill the folded omelet. Served with fingerling potatoes and a hearty mixed green salad. Side note the fingerling potatoes are delicious to order on its own for a mid-afternoon snack or lunch.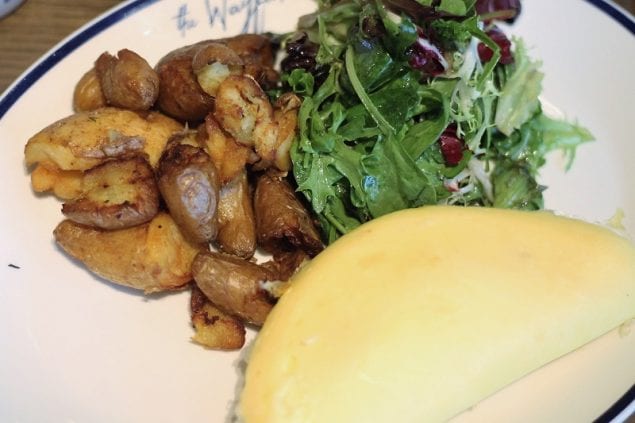 As an appetizer or happy hour nosh, guac is never a bad choice. Grilled pineapple and blackberries add a sweetness and twist to the Mexican favorite. Crack some pepper and salt into the dip, paired with chips and a couple cocktails like the Grey lady, another vodka-based drink or white wine to complement the bright creamy dip.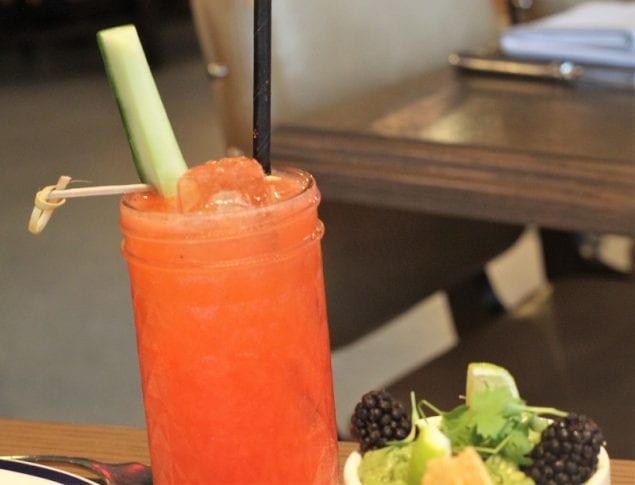 Aside from the savory choices, for a sweet note, get the thin and crisp apple tart. According to Chef Davis, this French-style apple tart is the most popular and favored dessert from the menu. The hype is valid. Drizzled with caramel, cubes of apple and a small ball of ice vanilla ice cream, it's really good.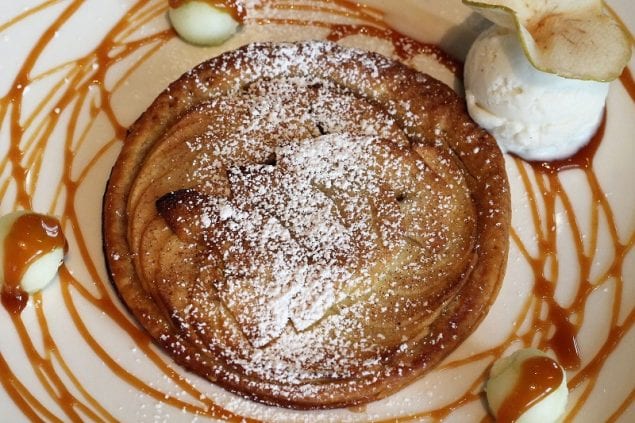 While hotel restaurants are usually a hit or miss, The Wayfarer pleasantly surprises us, serving unexpectedly good food for lunch, brunch or dinner reservation. Book yours here.
Alyssa Holder
I enjoy listening to the stories of the people who devote their time to fill our stomachs with scrumptious food. And of course, experiencing and sharing my thoughts on the cuisines that span across the world.