PARTNER POST: Discover the nutritious and versatile wonders of watercress with these tasty recipe ideas.
A simple and elegant dish, this watercress and shiitake risotto is made with fresh ingredients and can be served with scallops to make a complete meal that is perfect for spring and summer.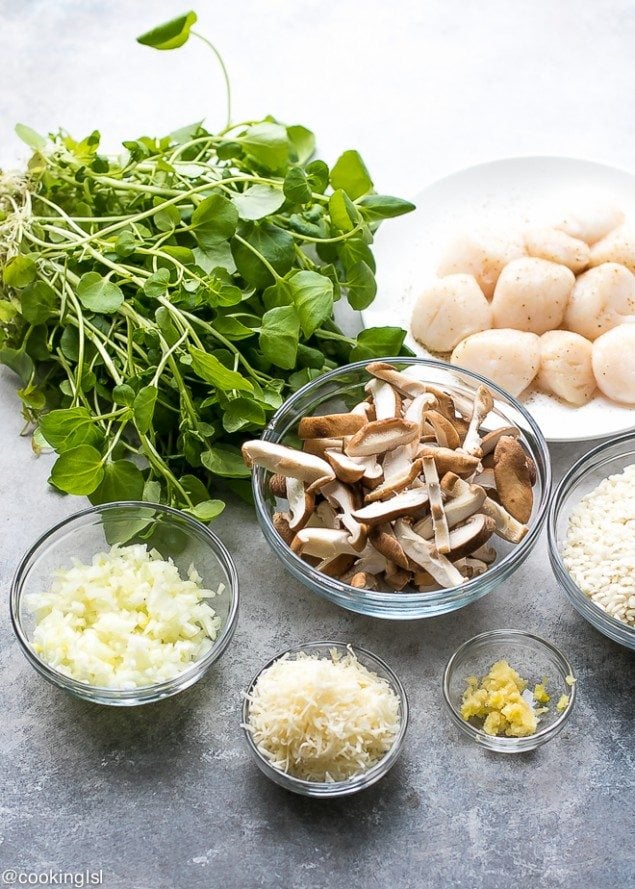 Light and simple one pot meals are my favorite. Easy to make and just one pot to wash.
Risotto is one of my go-to meals I like to make for dinner. In spring and summer, I like it with some veggies and greens. And this time I decided to add watercress to it. It brings the perfect spring freshness and flavor.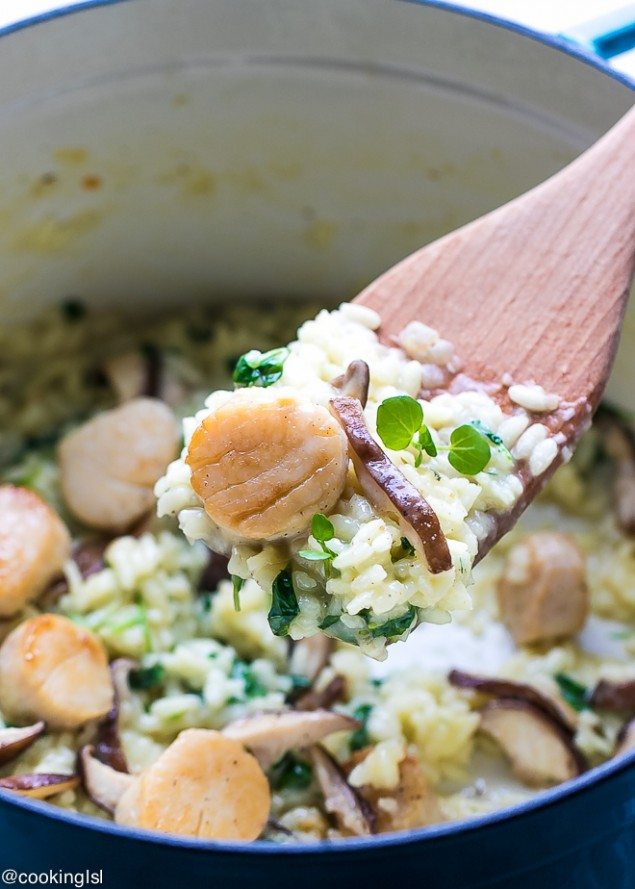 Watercress is a nutritious member of the mustard family. It is aquatically grown.
It has dark green leaves, what are pretty crisp, It has its roots attached to help retain moisture.
Watercress has nice peppery flavor that I love! It is the perfect addition to dishes like this Watercress Shiitake And Scallops Risotto, but also to soups, pizza, pasta, smoothies, salads and sandwiches. It makes a wonderful fresh garnish.
I wish I started using it long time ago, because you know, I love anything that will add freshness to a meal. I'd love to have a bag of watercress in the fridge at all times.
Just use whatever you need and return the bag of watercress to the fridge, the roots will keep it nice and fresh.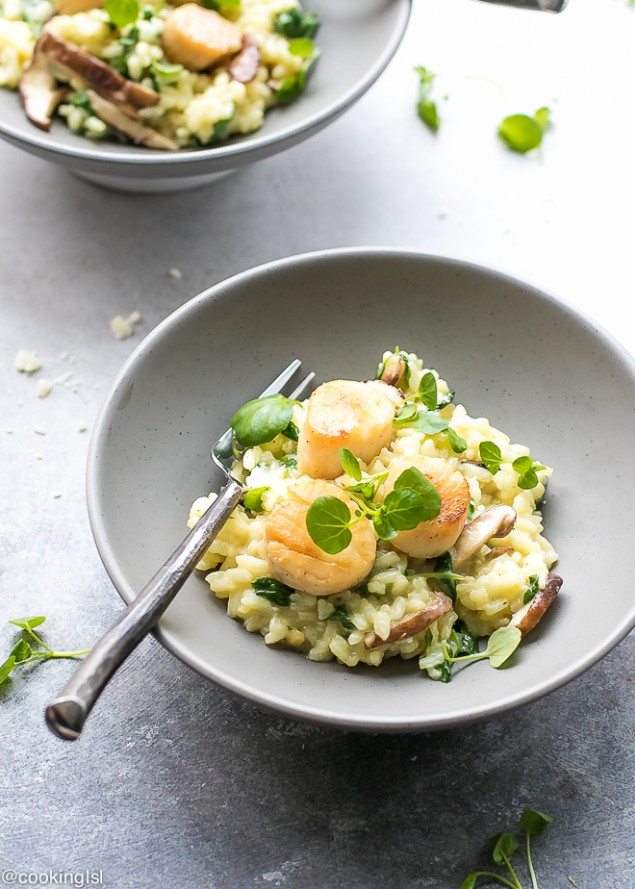 Watercress is a very nutritiously dense food and also considered a superfood. Rich in vitamins A, B, C, K and essential minerals.
There also is a current research focusing on the extensive amount of nutrients in watercress that make it a vegetable that can prevent the development of cancer cells and what makes this salad green stand far above other super foods, which is pretty awesome.
The combination of flavors is just perfect! Creamy risotto, fresh and crisp, peppery watercress, perfectly cooked scallops and flavorful shiitake mushrooms – it is a winner! It definitely has a pleasant umami taste.
The dish will taste just as good, if you are a vegetarian and decide to skip the scallops. My husband loves seafood, this is why I added them and they paired well with the rest of the ingredients. I did cook the scallops and mushrooms separately and added them to the pot of risotto at the end. This ensured that they were not over cooked.
See Also
Click HERE to get the recipe.And be sure to enter the giveaway below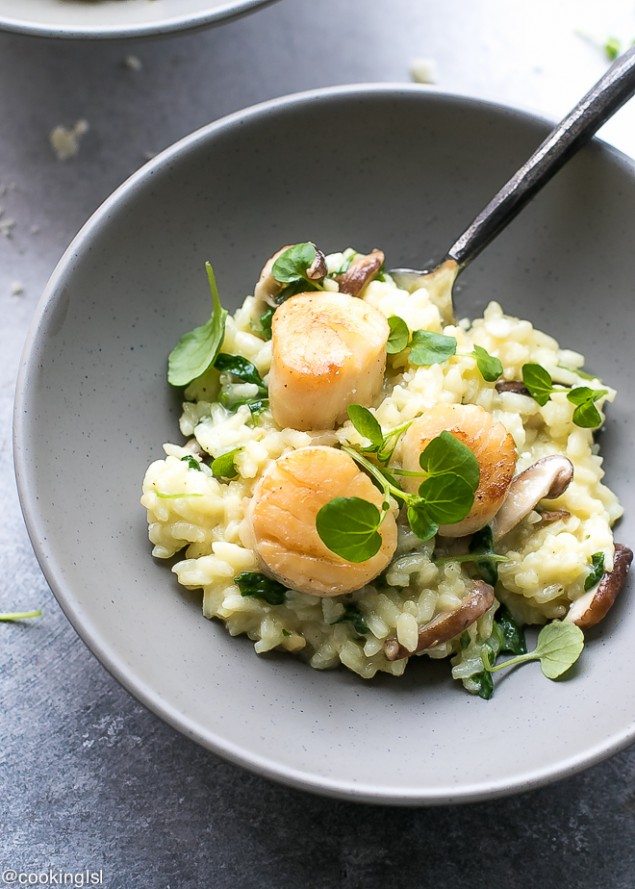 For another delicious spring recipe, check out this pizza.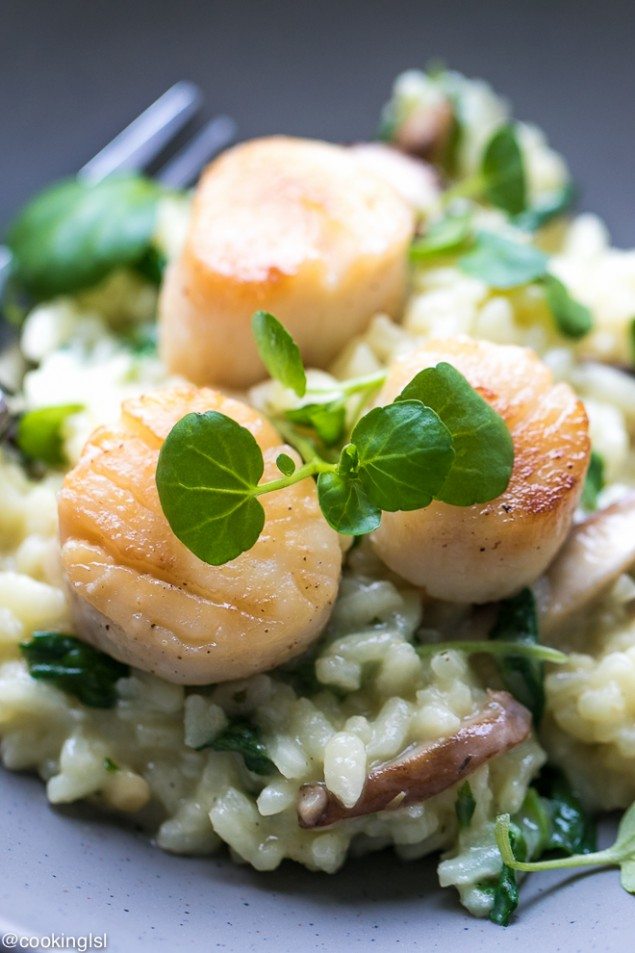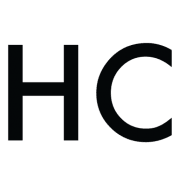 Lyubomira Lsl
Hi, I'm Lyubomira (people call me Mira). I have background in construction engineering and design, but recently discovered my new passion – cooking and food photography.I try to share simple, straightforward recipes, fast to prepare with widely available ingredients.