Without being nose-burning, these chicken wings are fried with wasabi powder and sprinkle with wasabi sauce before being dipped into delicious yuzu mayo.
By Sara McCleary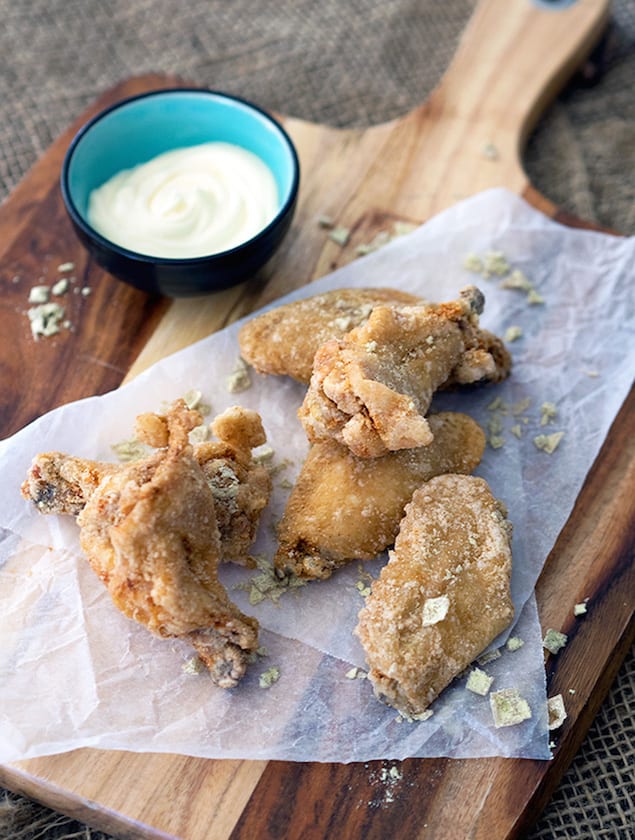 These wasabi chicken wings are a little bit fusion and a big dose of modern Japanese flavor.
If you haven't discovered wasabi powder yet, I suggest you hunt for it and grab some for the pantry. Yes you can add some water to it to make wasabi paste to eat with your sashimi, but I use it in so many different ways. I really do love to play around and experiment.
Wasabi powder is used in the flour coating that the wings are tossed in before they hit the deep fryer. Then to add that extra wasabi kick, I made a wasabi and smoked sea salt to sprinkle over them.
The idea came from the green tea salt I made to go with my beer battered mushrooms. When I made that the idea of wasabi salt was playing in my mind and I was itching to give it a try.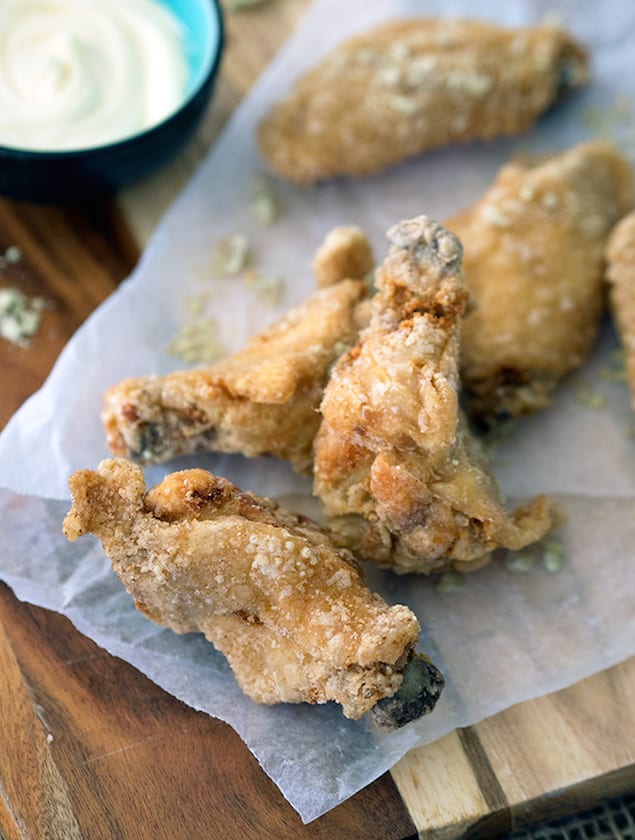 This recipe is not going to be hot hot hot with the double wasabi dose. In fact I didn't find these wings too hot at all, but they do have a great wasabi flavour.
To add some zing and freshen up the fried wings, there is a side of yuzu mayonnaise to dip them in. Be warned the yuzu mayo is extremely addictive.
Next, you have to try Baked Bourbon Maple Wings or Hot and Spicy Crispy Wings.

Wasabi Chicken Wings with Yuzu Sauce
Without being nose-burning, these chicken wings are fried with wasabi powder and sprinkle with wasabi sauce before being dipped into delicious yuzu mayo.
Recipe Type:
Appetizer, Main
Ingredients
1kg (2.2 pounds) chicken wings
200g (7 ounces) potato starch
10g (0.35 ounces) wasabi powder
10g (0.35 ounces) smoked salt
2g (0.07 ounces) wasabi powder
125ml (4.22 fluid ounces) Kewpie mayonnaise (or other Japanese mayonnaise)
2 teaspoons yuzu juice
Instructions
Remove wing tips from wings (the pointy end section). Then cut the remaining wing in half at the joint. You will end up with a piece resembling a small chicken drumstick and the flatter mid wing section.
In a wok, pour in oil until around 7cm deep. Heat wok over a medium heat to 170°C (340 deg°F) and pre heat your oven to 120°C (250 deg°F). Line a baking tray with baking paper and set aside.
In a large bowl mix potato starch and wasabi powder. Working with 3 or 4 pieces at a time toss wings in the potato starch mix until they are coated well. Shake off any excess flour and place in the wok to fry.
Fry for around 8 minutes and then turn the chicken over and fry on the reverse side until cooked.
Remove the wings from the oil, shake off any excess and drain on some kitchen towel. Then place the chicken on the baking tray and place in the oven to keep warm.
Repeat with the remaining chicken wing pieces.
In a small bowl mix mayonnaise and yuzu. Set aside and serve with wings
In a small bowl mix smoked salt and wasabi powder.
When all wings are cooked, sprinkle with wasabi salt and serve immediately with the yuzu mayonnaise.
Notes
If deep frying makes you shudder and want to run far far away. I know it does for some of you. Wok frying really is an easy and stress free method. Don't want to fry at all and would rather oven bake them? You could, but they wont be as good.
Sara McCleary
Food is a passion, not only eating but developing recipes with uniqueness and wow factor. Travel and photography fall a close second to food. A gifted recipe developer and food photographer. My blog, Belly Rumbles, was created to share my love of these things with willing readers. The ones that can put up with my rambling babble.