Warming Trends: Sweet Potato and Apple Soup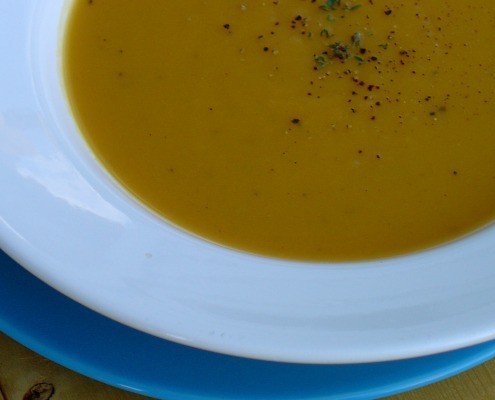 Rich sweet potatoes, apples, and chicken stock blend into a creamy soup that's finished with a fresh squeeze of orange.
By Jennifer Abbott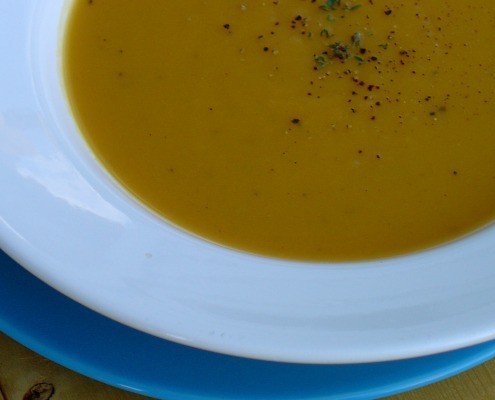 Soups are enjoying a season ticket at my table these days, for their warming qualities, but also their inherent thrift.  With a few seasonal vegetables, aromatics like leeks or onion, and some homemade or store-bought stock, you can blip up a healthful, cleanly flavored bowl of autumn's finest offerings.  Add a rich grilled cheese sandwich with bacon and a crisp, vinegary salad, and you're set.
Sweet Potato and Apple Soup
Rich sweet potatoes, apples, and chicken stock blend into a creamy soup that's finished with a fresh squeeze of orange.
Ingredients
3 Tablespoons extra-virgin olive oil
2 leeks, whites only, cleaned and sliced thinly
2 stalks celery, sliced thinly
3 large sweet potatoes (larger than a fist), peeled and cut into large dice
1 tart green apple, peeled, cored, and diced
7 cups chicken or vegetable stock
1 dried bay leaf
1 teaspoon fresh thyme leaves
¼ teaspoon ground cinnamon
½ teaspoon curry powder
½ cup half-and-half or light cream
salt and freshly ground black pepper to taste
½ cup freshly squeezed orange juice
extra thyme leaves for garnish
Instructions
Heat the oil in a medium to large soup pot over medium heat.
Saute the leeks and celery until soft, about 8 minutes.
Add potatoes, apple, stock, bay leaf, thyme, and spices, and bring to the boiling point.
Reduce heat to low, cover, and simmer about 20 minutes, or until potatoes are very soft.
Puree soup in the pot with an immersion blender, or transfer in batches to a standard blender and puree until smooth (if using a standard blender, leave the hole in the lid uncorked and cover the hole with a kitchen towel for safety). As each batch is pureed, pour into a large bowl; when all soup is pureed, pour contents of bowl back into your soup pot.
Stir in half-and-half and salt and pepper to taste.
Heat gently over low heat. Add orange juice and adjust seasonings to taste.
Garnish with extra thyme leaves and a good grind of black pepper.
Jennifer Abbott
Jennifer Abbott is a writer, music teacher, Southern food enthusiast, and soup aficionado. She lives in New Orleans and blogs about cooking and dining at Food Orleans.