This dish can be used for a side dish, or, with the addition of chicken or sausage, for a main course.  Either way you eat it, you will be satisfied, and counting down the days until you make it again.
By Jennifer Post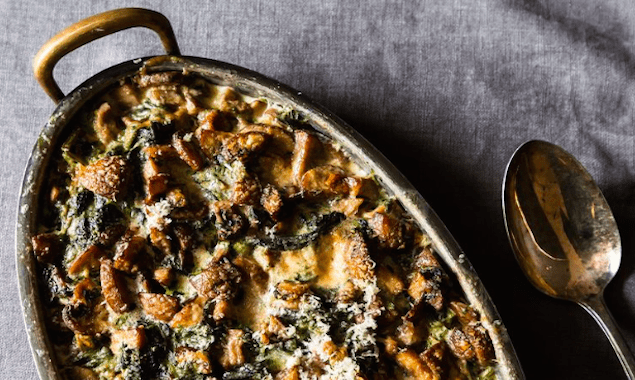 Image Courtesy of Food 52
I once made this bake on a cold winter night, and let me tell you, it warmed the entire kitchen.  I was surprised at how simple it was to make because it seems so gourmet.  While it definitely tasted gourmet, you don't need to be a fancy chef to make it.  The steps are very simple, and the ingredients are readily available at the grocery store.
When I put all the ingredients together and the pan hit the heat, the kitchen smelled of rich cream and earthy mushrooms with the slight nuttiness of the parmesan, especially when it was baking in the oven.  We ate it as a main course, and left it just as it is, but I can just imagine how delicious it would taste with some hot Italian sausage.  The mouthfeel is luxurious and in the end you are left feeling full and happy; exactly how a good meal should make you feel.
Spinach, Mushrooms, and Cream Bake
Recipe Type:
gratin, side dish,
Ingredients
1 pound spinach
1 pound crimini mushrooms
¼ cup white wine
¾ cup heavy cream
½ cup whole milk
⅓ cup parmesan cheese, grated
Instructions
Preheat the oven to 350 degrees. Cut the mushrooms into bite-size pieces. Warm a tablespoon of butter and two tablespoons olive oil in a saucepan, then add the mushrooms. Stirring occasionally, saute the mushrooms until some of their liquid cooks away and they start to brown. Add the white wine and boil for a couple of minutes. Then add the cream and milk and let simmer for several more minutes. Turn off the heat. (If you have time, leave this to steep; the cream and milk will get wonderfully mushroomy.)
Wash the spinach well and put in a saucepan over medium heat. Cover the pan and let the spinach steam for several minutes. Then drain it and squeeze the water out.
Add the spinach and a couple tablespoons of parmesan to the mushroom-cream mixture. Season with salt and pepper and transfer to a shallow baking dish. Sprinkle the remaining parmesan on top. Cook for about a half-hour, or until golden. (If the cheese melts but does not crisp, run it under the broiler for several minutes.)
Jennifer Post
As a journalist, Jennifer loves the opportunity to write about almost anything. As food is her first love, being able to write about food is more than she could have dreamed. She is always on the hunt for recipes, restaurants, and anything else food related!