Warm Mustard Seed Potato Salad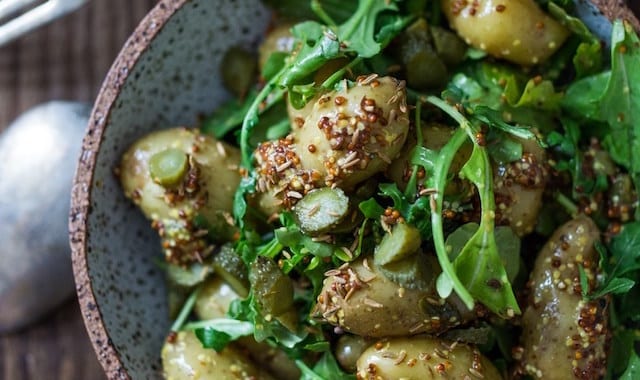 PARTNER POST: Reinvent potato recipes to be fresher and lighter in the new year. Make it your resolution to try these dishes as nutritious packed lunch ideas.
For a quick lunch or served with salmon, this refreshing potato salad is served warm with a mustard seed dressing. Perfect for a cozy winter meal.
By Sylvia Fountaine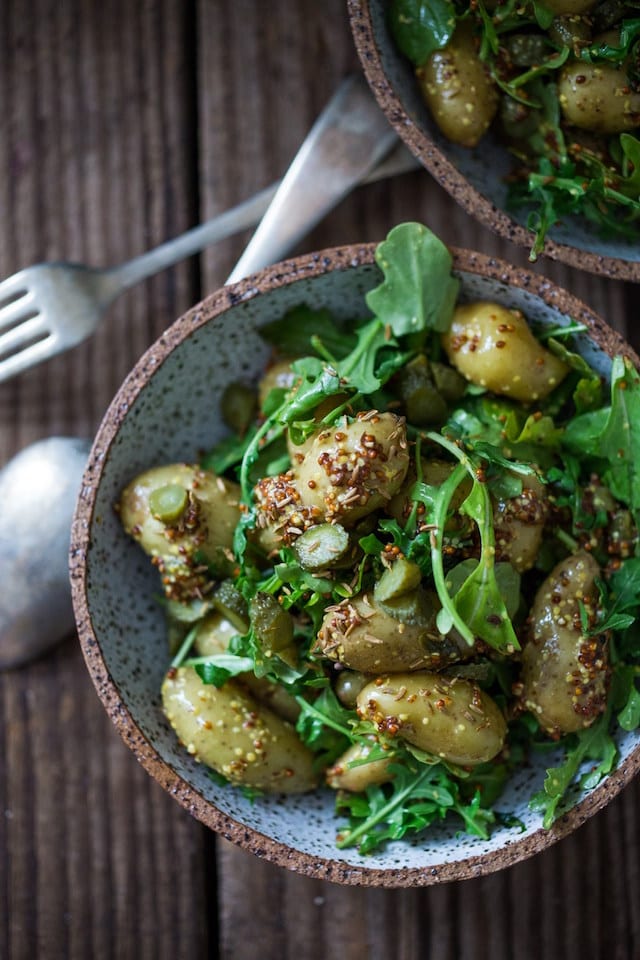 This warm potato salad is made with a mustard seed dressing, cornichons, caraway seeds and fresh baby arugula for a light and healthy way to serve up our favorite root vegetable, perfect for the new year. This is the time of the year we could all use something lighter, but because of the chill and cold I find myself seeking heartier meals.
Potatoes are my secret weapon. You see on their own, they are actually loaded with nutrients and low in calories, and very filling! The problem is we love to load them up with butter and bacon and cheese. Which I admit is hard to resist sometimes – but for the sake of my heart health, I'm trying to cut back.
I partnered with The US Potato Board to create a fresh, light and healthy potato recipe for the new year. To me, this Warm Potato Salad with Mustard Seed dressing fits the bill, while not compromising on flavor. Cornichons (tiny little pickles) give it a texture and tang, and toasted caraway seeds give it a unique and earthy twist. Fresh baby arugula adds extra nutrients and antioxidants and of course a delicious peppery bite. The flavors marry surprisingly well.
Serve with this with a piece of roasted salmon for a light and healthy dinner, or toss in chopped chicken breast for a low-calorie, yet filling lunch.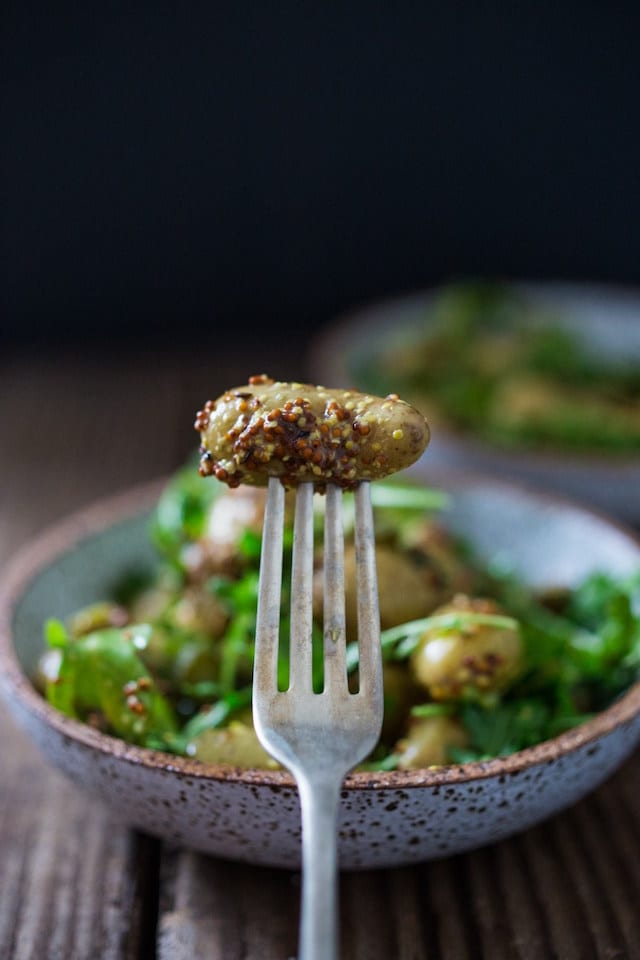 For another refreshing, but filling dish, try this butternut and potato frittata.
Warm Mustard Seed Potato Salad
For a quick lunch or served with salmon, this refreshing potato salad is served warm with a mustard seed dressing. Perfect for a cozy winter meal.
Ingredients
2 pounds tiny baby potatoes
1 cup chopped scallions
½ cup chopped cornishons
4 Tablespoons whole grain mustard
1 Tablespoon plus 1 teaspoon olive oil
1 teaspoon caraway seeds, lightly toasted
½ teaspoon salt
½ teaspoon pepper
3 cups baby arugula
Instructions
Blanch the potatoes in a pot of boiling water until fork tender, about 20 minutes.
Chop the scallions and cornishons and place in a bowl.
Add the blanched potatoes.
Add the mustard, olive oil, caraway seeds and gently mix.
Stir in the salt, pepper and arugula.
Place in a serving bowl and serve warm or at room temp. Salad can also be served chilled.
Sylvia Fountaine
Caterer and chef of Feast Catering Co., my blog Feasting at Home is where I share wholesome, seasonal recipes we cook at home.