The dynamic duo behind restaurant Villanos en Bermudas managed to claim a spot as one of Latin America's best, merely a year after opening.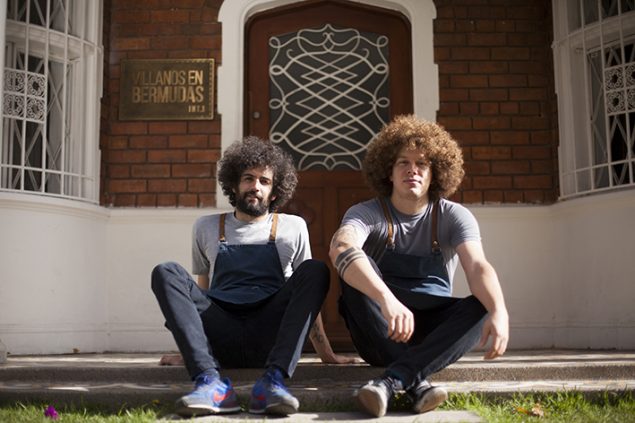 It can be a challenge to describe the two young and talented chefs spearheading the massively popular restaurant Villanos en Bermudas located in Bogotá. With combined experience from restaurants all over the world, they bring raw talent, an eye for design and detail, charismatic personalities accented by perfectly groomed afros. Nicolás López, 34, and Sergio Meza, 27, have certainly shaken things up on the Latin Americans culinary map lately. So much so that their ambiguously named restaurant landed a spot on the coveted "Latin America's 50 Best Restaurants" less than a year after opening its doors.
3.5 years in the making
For these two guys it hasn't been so much the destination as much as the journey here. Both of them have amassed great international experience from working in diverse kitchens, everywhere from Copenhagen over Hong Kong to Mexico. It was in Santiago, Chile however, that Argentinian Nicolás and Mexican Sergio would meet for the first time in 2012.
"At the time I was working as Head Chef for I+D in Santiago and Nico had just came back from a job in New York. A mutual friend of mine, whom I met in Noma introduced us, and the rest is history", Sergio explains to Honest Cooking.
Although the introduction happened back in 2012, it would still be almost another 4 years before the two creative chefs would meet up again. After their introduction, Nico moved to Chile where he opened a restaurant called "99." Around the same time, Sergio moved to Hong Kong for a while before moving back to Guadalajara in Mexico. It was here that Sergio received a phone call from Nicolás that would reunite them again after three and a half years.
"Nico just rang me out of the blue and asked me to come join him in a new project he was opening in Bogotá. At that point we hadn't seen each other in three and a half years. We had only cooked together once in Santiago, back when Nico used to host restaurant style pop-up dinners in his private home," Sergio explains, and further adds that there was professional chemistry between the two from the get go.
The freedom to be creative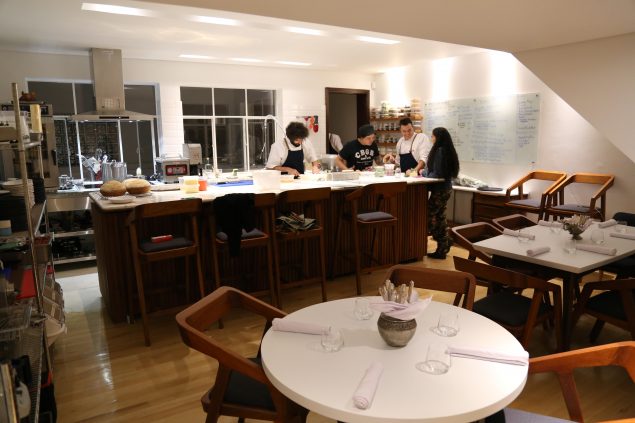 The creative partnership between the two resulted in the birth of Villanos en Bermudas, directly translated to Villains in Bermudas. A cleverly crafted moniker that has from the outset proved these guys don't like to take themselves too seriously.
"It basically happened because we had a deadline for giving the place a name in order to get all our permits approved in time. Otherwise we simply wouldn't be able to open. It has no clever or thoughtful backstory to it. We had a poster from Pulp Fiction – the scene where John Travolta and Samuel L. Jackson are wearing shorts and Nico just literally looked at it and said "Villanos en Bermudas" and we stuck to that".
With a name in place, the boys focused more on what they were passionate about; the food and concept of the newly named restaurant. For them it was important that the restaurant would be as they envisioned it, and as Sergio describes it, a way to "take the stiffness out of what people consider fine dining."
"We wanted to have fun with it and we wanted it to be a restaurant the two of us liked. It was never supposed to be a restaurant that the city needed, but a room for us to be able to freestyle and show off all the different techniques and styles we've learned from travelling the world. It's a business so we of course know we have to sell menus to pay our bills, but we never want to be too comfortable or stand still. Especially not with the menu," Sergio says.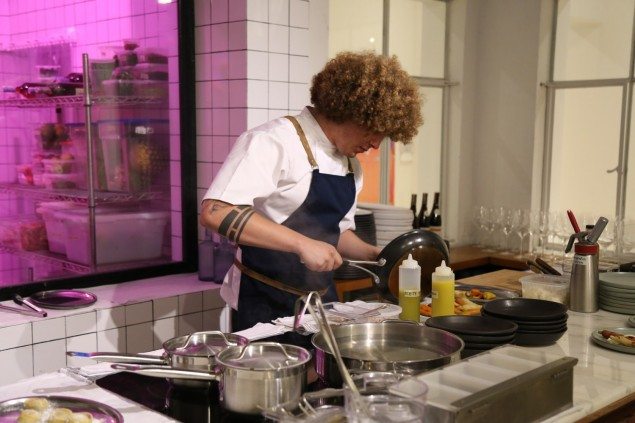 Daily changing menus
Standing still has not been a problem for these creative thinkers so far. Their menu is simple with nine courses where seven are savoury and the last two are desserts. On the menu there is always one main course but they try to steer away from using animal protein as much as possible, to introduce more fish into fine dining in Bogotá.
"In Colombia they have two different oceans (Caribbean and South Pacific), but they rarely eat fish because it's not considered high standards here. We get our fish freshly delivered on a daily basis. Our mission is really to show locals that ingredients you don't normally use can be used in incredible ways. We also try to incorporate ingredients that they think of as poor mans food, like beans and lentils," Sergio says and adds that with the exception of the fish, some olive oils and rare vinegars, all their ingredients are purchased locally.
Although the whole menu doesn't change, the boys change at least one of the courses every day depending on the availability of ingredients. Sergio explains that when guests ask them to keep a certain course, this request always propels them to go in the opposite direction and change that particular course the next day.
"It never is as good the second time, so we always change that. We want people to try new stuff and not just get too comfortable," Sergio says and adds that there is one exception to this rule:
"The only thing that hasn't really changed since we opened is our bread serving. But this is again because of locals not viewing bread as an element of fine dining. We serve it with butter mixed with black garlic that we ferment in-house, and it's been popular from the very beginning."

Fundamental flavors and international techniques
Changing the menu constantly is no easy task so the creativity of the duo is often challenged. Like with most other chefs it all boils down to the availability of local produce, but with the menus changing daily, it often forces them to think extra creatively – both with the produce and the techniques used to prepare them.
"We are not trying to educate people, but just to show them how different common ingredients can be cooked in different ways. I didn't learn to cook in Mexico and Nico didn't learn to cook in Argentina, and we aren't trying to cook Colombian food either. We are working with the ingredients available here and adding the elements from different kitchens to it," Sergio says and further explains how they integrate ingredients such as elderflower in Nordic-inspired desserts, Mexican purslane and French sauces like béarnaise and hollandaise in their cooking.
Examples of creative dishes in the past include a dessert of roasted cauliflower with sunflower seed ice cream and burnt white chocolate.
"It's about knowing the fundamental flavours of ingredients. Cauliflower has a nutty flavour to it once you roast it, which the fatty chocolate compliments. The ice cream was just an experiment that one of our chefs was playing around with and it turned out really good. We go about it on a trial and error kind of way."
Custom made menus for the tables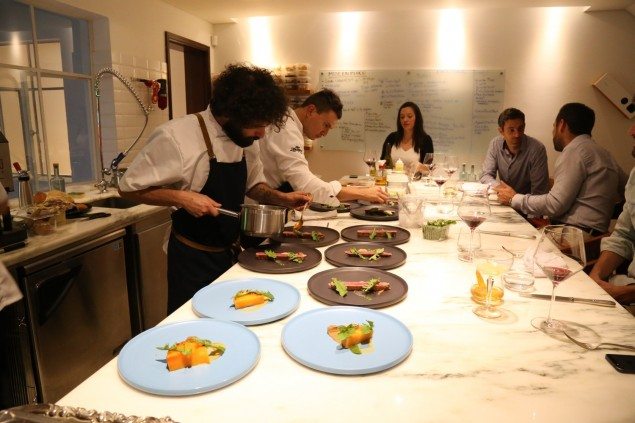 Micro managing these daily menus can be a challenging task, which is also why this restaurant has limited seating available.
Villanos en Bermudas is open Tuesday through Saturday for dinner service. The restaurant is spread out over three floors, whereas the first floor serves as the main dining room with an open style kitchen. Second floor is the bar area, where they sell an array of custom made cocktails and spirits infused with herbs on site. The third floor is a more intimate dining area with only 16 seats, giving it more of a chefs' table feel that houses another open kitchen with sight lines between the diners and the kitchen talent.
"Each kitchen serves it's own room and our daily menu is also decided upon based on our bookings. If we for example can only get pork jowl for eight people, then we will create this for a table of eight and create something else for the rest of the tables," Sergio says, adding that he and Nico control the kitchens each and every night.
The open kitchens also look more like what you would see in a private home rather than an industrial kitchen. This is a deliberate choice by the guys, who wanted to create a warm and welcoming environment rather than a polished fine dining-like restaurant.
"Everything about us is up close and personal and we want that to shine through in our restaurant. It would be too much with industrial ovens and machinery. We also like to create more lighter and rich courses, so we don't really do much of roasting and grilling. The guests are sitting in a counter in front of the kitchen and have a direct view of us. Actually we have become quite an attraction ourselves," Sergio jokingly says and explains that their big afros and equally sized personalities are the most photographed thing among visiting diners.
Creative art exhibitions promoting guest chefs
The bubbling creativity not only shows in the creative cooking and the bobbing afros, but also in the aesthetics of the interior.
Unlike many of their peers, the walls at Villanos en Bermudas aren't filled with expensive artwork, nor are their ceilings adorned with unique chandeliers. Stepping into the restaurant you are greeted by disco balls and custom-made graphic posters. Interpretations of pop culture references from The Simpsons, Super Mario and Charlie and the Chocolate Factory are but a few of the posters decorating the walls serving two different purposes.
"It's about being entertaining while not being over the top, but definitely showing off our personalities. We encourage people to have fun while they are here. We don't want people to feel like they have to sit and be quiet during all the nine courses, so this is a free haven where you can be noisy and have fun. We have our own graphic designer in house who does all of our promotion including the posters, menus, flyers and such. We feed him the ideas and he brings them to life," Sergio says and adds that the posters are also used for promotion for events when they have had guest chefs from all over the world.
So far the duo has bid nine guests welcome to their kitchen. When a guest chef is invited, the restaurant uses solely the third floor to accommodate them, to ensure the event is down to earth with a cozy atmosphere.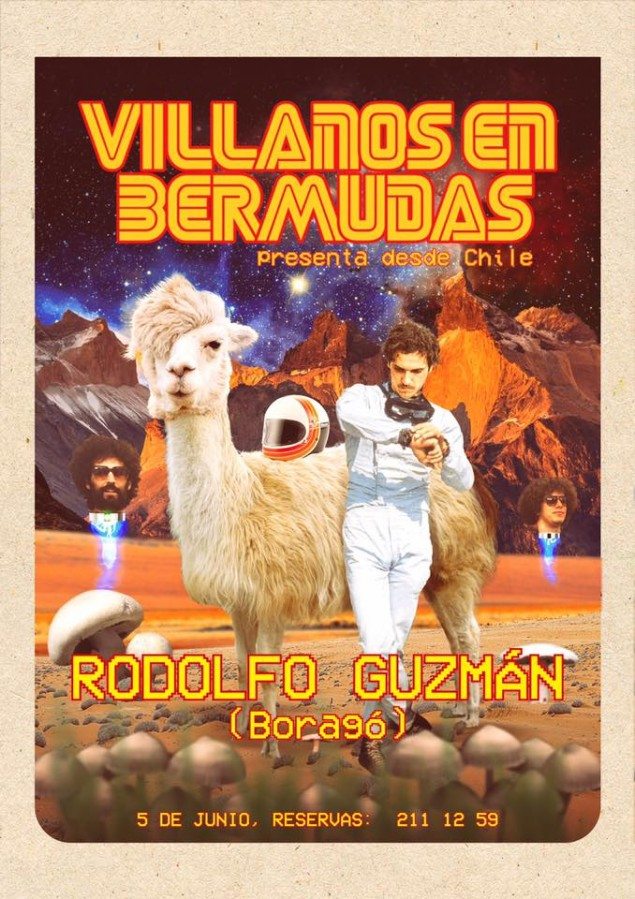 "We only do two seatings of 16 guests with the guest chef, while the bottom floor is serving the tasting menu as usual. We started out with Chilean chef Rodolfo Guzmán of Boragó in Santiago. Our last guest was Danish Mads Refslund (of NOMA fame) who came this past October and brought his clean and subtle Nordic style, which our diners were super excited about", Sergio says, continuing:
"We also did the extreme opposite and did an anti-fine dining even where we served burgers from Panama's Mario Castrellón. It's about introducing locals to international cuisine in a way that hasn't necessarily been available for them before, while also introducing the world to Colombia and that it is much more than just drugs, beaches and big breasted women."
4Oth best restaurant
Having some of the worlds best chefs cook in your kitchen is definitely something that will make you the talk of the town, but the truth of the matter is, Villanos en Bermudas never really needed any help.
Right out of the gate food connoisseurs' eyes were looking at these two talented chefs. While many restaurants have to wait years before being acknowledged by industry experts and peers, Villanos en Bermudas debuted at number 40 on Latin Americas 50 Best Restaurants less than a year after opening, being one of only three Colombian restaurants represented. 27-year old Sergio also stands out as being the youngest chef on the list.
Villanos en Bermudas actually hosted the unveiling of the list where the majority of the acknowledged restaurants on the list were present, which was in turn a bit nerve-wracking for the duo.
See Also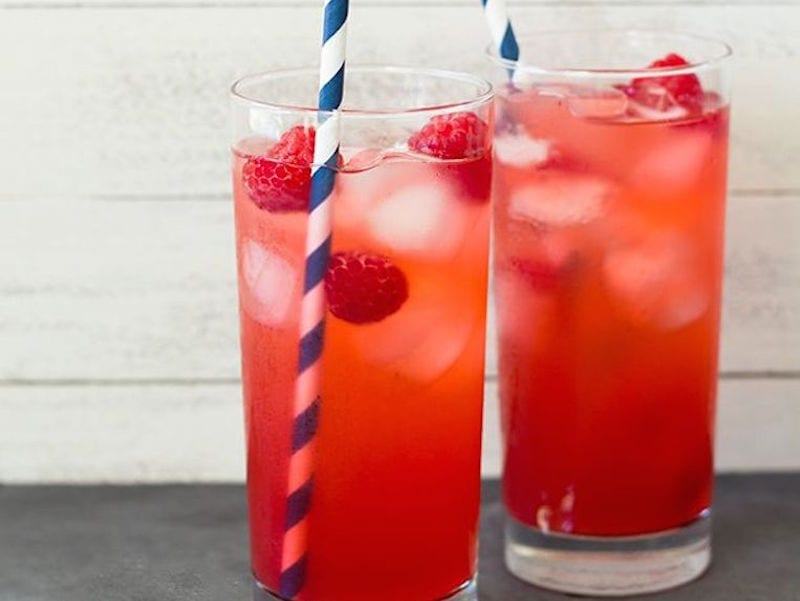 "We never had so many people here before that and we were very worried if the structure would hold, cause the building is very old. Most people were really nice about it and congratulated us, but we also encountered a bit of negativity from people who thought we didn't belong on the list as a representative of Colombia, since we don't cook Colombian food," Sergio says.
He explains that they still only use predominately Colombian sourced food in their cooking, yet never claimed that they were a Colombian restaurant. "Colombia has so many great fruits and vegetables in their jungle that they aren't exploring. So I see a lot of opportunities in the produce from here, that I think traditional Colombians can't see, which is why they thought we didn't belong. For us it's more about looking inwards instead of outwards when looking for produce. I think Colombia needs a food revolution, because there aren't that many restaurants here doing interesting things and pushing boundaries like we are," Sergio says. He further divulged that their philosophy about food is that it's more about enjoying rather than surviving—a philosophy that is clearly a recipe for success.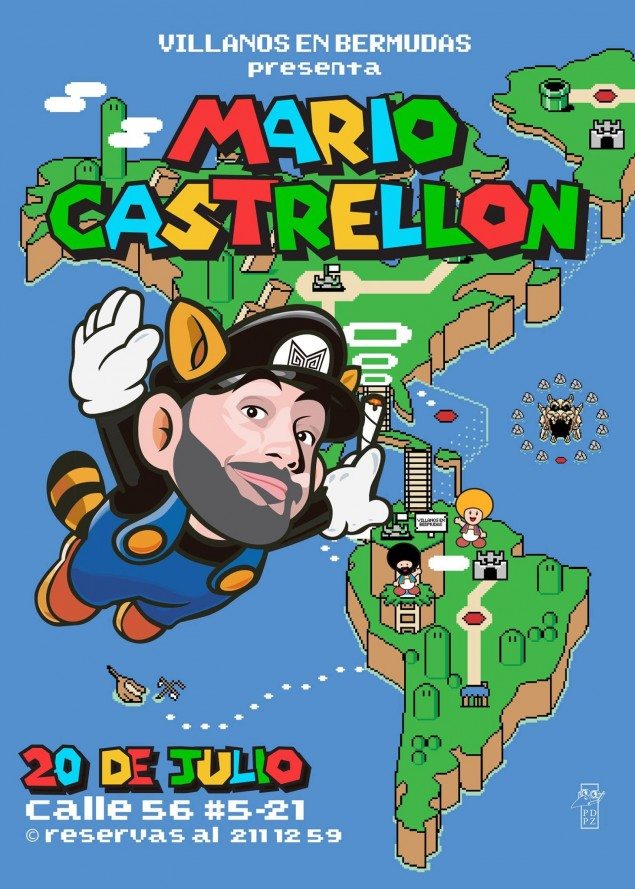 Plans of early retirement
Creating a successful restaurant right off the bat means sacrificing other things. In the case of these two culinary magnates, the priority afforded to their ambitions as chefs meant sacrificing their personal lives. Both guys are currently single and never go out on weekends, but prefer a night home on the couch ordering take away and watching Netflix. Both do however believe that the fruits of their labor will pay off in the end.
"Having a girlfriend also means being able to take her out on the weekend for nice dinners and weekend trips, and opening a restaurant have just not made it able for us to do so at this point. But we are putting so much hard work into it because we are aiming for retirement in 10 years. Meaning that we want to be able to have our chefs do most of the work so we can just supervise the business and think about family then," Sergio says.
At the speed they are currently going, it seems to be an entirely plausible mission that in ten years time both boys will be able to switch out the proverbial chef hats on their heads for margaritas in their hands instead.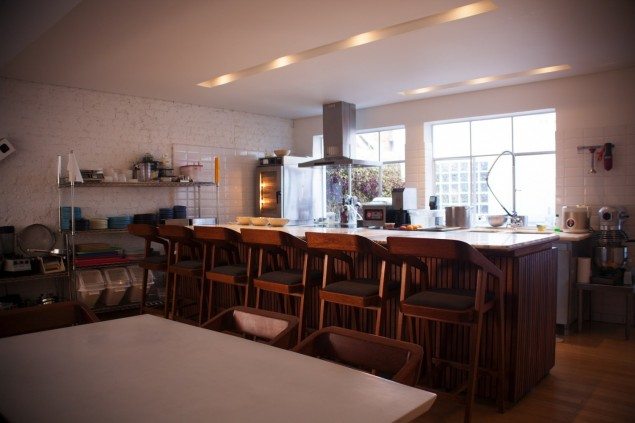 Facts about Villanos en Bermudas
Nicolás López, 1983, born in Salta, Argentina.
Sergio Meza, 1990, born in San Luis Potosí, Mexico
Villanos en Bermudas
CALLE 56 #5-21,
CHAPINERO ALTO.
www.villanosenbermudas.com/
Daniel S. Bahrami
Daniel S. Bahrami is a Barcelona based writer with a background in digital communication and journalism in Copenhagen, Denmark. He has been part of the editorial staff of the biggest Danish fashion magazine, Eurowoman, and has worked freelance for several other publications as well as experience in fashion and gastronomy PR.