Honest Cooking visits Restaurant Marchal at D'Angleterre Hotel in Copenhagen, the new home of Executive Chef Ronny Emborg.
By Kalle Bergman
The D'Angleterre Hotel in Copenhagen is arguably one of the most famous luxury hotels in Northern Europe. This grande dame first opened up its doors in 1755, and ever since, it has been the preferred accommodation in Copenhagen for celebrities, politicians and movie stars passing through the region. In 2011, the hotel closed its doors for a multi million dollar renovation that took over 2 years to complete. And when it opened up again in May 2013 it was with a new executive chef at the helm of the hotel's flagship restaurant Marchal. Ronny Emborg, who received a Michelin star at AOC, has been brought on to create a menu that is aimed to cater to foodies and hotel guests alike.
Chef Emborgs cooking at D'Angleterre has by some Danish food writers been labeled as being more bistro style, and perhaps less sophisticated than the food he served at AOC. And while there is both club sandwiches and burgers available through room service at the hotel, Honest Cooking begs to differ. Marchal might not strive to be a multi Michelin star establishment, but it is certainly one of the most interesting hotel restaurants we have tried. And the level of technique, presentation and sheer beauty the dishes at Marchal posess, is far surpassing many of the hailed "casual gastronomy" restaurants of Copenhagen.
While there is no tasting menu available at Marchal, most dishes are half or quarter portion sized, so you can easily experiment and create your own 3-4-5 or even 6 course menu from the selection. And if you do, any fan of Ronny's will find a very clear point of view in his gastronomy – the Emborg hallmark of lightness and freshness combined with both bold and comforting flavors. Ronny moves very delicately around the New Nordic Cuisine, but he is never confined to it, never dogmatic. He uses his local terroir when it makes sense, stays away from it when it doesn't, uses his experience from the molecular kitchens of Spain to create fanfare, but always nods respectfully to classic French cuisine – ensuring that evergreen quality of yumminess to be omnipresent in all dishes.
Copenhagen has many inspiring culinary destinations these days. Most of the hipper ones veer towards the casual, the natural and the down to earth. For anyone who appreciates a more international, and perhaps classic luxury ambience, combined with one of the most talented chefs in the world, will find gold at Marchal. And even if your wallet isn't padded enough to dish out the 600+ USD a night to actually stay at D'Angleterre, a visit to Marchal and Ronny Emborg is certainly a great way to get a taste of la dolce vita.
Restaurant Marchal
Hotel d'Angleterre
WEBSITE
34, Kongens Nytorv
1050 Copenhagen K
Denmark
Tel: +45 3312 0095
Email: marchal@dangleterre.com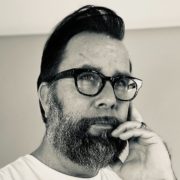 Kalle Bergman
Kalle Bergman is a food writer and media entrepreneur who is the founder of Honest Cooking and PAIR Magazine. As a food writer, his writing has been regularly featured in publications like Gourmet, Los Angeles Times, Huffington Post and Serious Eats. He is obsessed with simple food, more often than not from his native Scandinavia.