A video recipe for a delicious French gourmet version of pizza. The Tarte á la Tomate.
By Alana Lowe and Paul Helzer
Tarte á la Tomate is a savory tart that I first encountered at my mother-in-law's house a couple of years ago. It's a gourmet French version of pizza. And what can be better than that? Brigitte Helzer shows us how it's done in this video, featuring music by Billy Banks and His Rhythmakers.
Enjoy!
See Also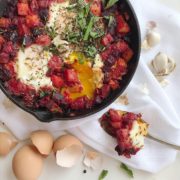 this is a delightful savory tart that might be served with salad as a main course
Author:
Cooking by Heart via Brigitte Helzer
Ingredients
2 cups flour
¼ tsp salt
1½ stick unsalted butter
⅓ cup ice water (may need a little more if the air is really dry)
4 tomatoes
3 tbsp mustard
1 cup grated cheese (emmental, gruyere and parmesan)
1 tsp fresh chopped oregano
1 tbsp olive oil
fleur de sel
Instructions
Preheat the oven to 450°F.
Prepare the dough. Combine flour, salt and butter in cuisinart or bowl. Add ice water slowly while pulsing in cuisinart until it gets clumpy. Gather the dough together, being careful not to over handle it (if overworked it won't be light and flaky). Cover in saran wrap and if you have the time, let it rest in the fridge for 20-30min (or longer if you want to prepare the dough ahead of time, allowing it to return to room temp before working with it).
Prick a few holes in the dough to prevent it from puffing up. Cook it for about 10 min at 450°F or until it begins to brown.
Spread mustard onto the dough. Brigitte prefers the dish with dijon. She feels the grainy mustard can overwhelm the dish. But I like it both ways. Layer tomatoes, then half of the combination of gruyere, emmental and parmesan cheeses. Add another layer of tomatoes and another layer of cheese. Cook it for about 20 min at 450°F. The crust needs to be "golden to brown" and the cheese should be nice and melted and almost browned and crusty.
Sprinkle the finished tarte with fleur de sel, fresh oregano, and drizzle with olive oil. Serve warm or cold.
Alana Lowe and Paul Helzer
Alana Lowe and Paul Helzer own a boutique production company and do all sorts of visual story telling for a living and since they love food, cooking and moving images, shooting food just made sense. In their blog, Cooking by Heart, they document family recipes. They are currently pumped for their new series UNFARMED, in which they'll explore wild, foraged, and otherwise under appreciated uses of various resources - like unexpected sources for natural dyes, wild medicinal plants and herbs, and even dinner.