Food hanging from the ceiling, and rubber gloves instead of forks? It's all true at the Copenhagen based experimental dining experience I'm a Kombo. Honest Cooking Editor in Chief Kalle Bergman checked it out.
By Kalle Bergman
I'm a Kombo is located in a distant corner of the Copenhagen Meatpacking District – Kødbyen. It is a creative, and slightly odd space – a combination of professional kitchen, culinary playground and dining room. It certainly doesn't look like your regular restaurant. In fact, it doesn't look like a restaurant at all.
For 4 days every six weeks or so, chefs Bo Lindegaard and Lasse Askov open the doors to their gastronomical laboratory to the public. Normally, they are flown in by wealthy clients across the globe for exclusive private events, but on their home turf – everyone is welcome.
As a guest at Imakombo, you don't know what you will be eating until it's served in front of you. Furthermore – you don't know HOW you will be eating it. Because at Imakombo, it's not just what you eat that matters – it's how you eat it. Expect to have your boundaries pushed. Food might hang from the ceiling. Rubber gloves might be your fork and knife. And the chef might just feed you dessert with a spoon. It's fun, charming and sometimes a litte bit scary.
But if you think this is just another gimmicky pop up restaurant, you're wrong. Most of the food is delicious, and even the dishes that are more scary than delish are interesting and extremely well executed.
An evening at Imakombo is cosy, intimate and slightly confusing – in a good way. So if you ever find yourself in Copenhagen, and Imakombo happens to be open – you should definitely try and get a seat at one of their events.
Check imakombo.com for more information and reservations.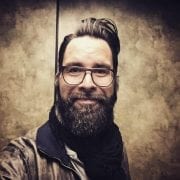 Kalle Bergman
Kalle Bergman is a food writer and media entrepreneur who is the founder of Honest Cooking. As a food writer, his writing has been regularly featured in publications like Gourmet, Los Angeles Times, Huffington Post and Serious Eats. He is obsessed with simple food, more often than not from his native Scandinavia.