Vibrant Watermelon Radish Salad with Spring Microgreens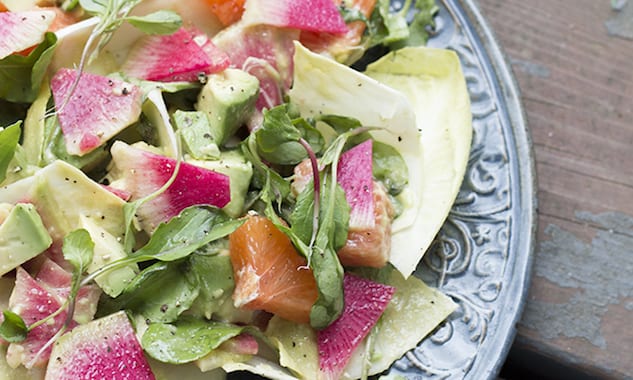 A delicate salad that is ideal for using up thinned greens. Let the crunchy radishes with a drizzle of avocado-shallot dressing steal the show.
By Rebekah Hubbard
This salad is perfect food for a weekend of fabulous weather and relaxing. I wanted a way to use the tiny sprouts that I thinned from the garden. But I think the avocado dressing is the real highlight. We'll definitely be finding more uses for it.

Vibrant Watermelon Radish Salad with Spring Microgreens
A delicate salad that is ideal for using up thinned greens. Let the crunchy radishes with a drizzle of avocado-shallot dressing steal the show.
Ingredients
For the salad:
½ cup peeled and VERY thinly sliced watermelon radish
½ ripe avocado, cubed
1½ cups microgreens such as radish sprouts
1 Cara Cara orange, peeled, cut into rounds and then halves
1 Belgian endive, leaves separated and roughly chopped
For the dressing:
1 shallot, finely diced
½ very ripe avocado
¼ cup best quality olive oil
1½ Tbsp. lemon juice
1½ Tbsp. white vinegar
Salt and pepper
Instructions
Toss all ingredients under "for the salad" in a large mixing bowl.
Add all dressing ingredients to a bowl and use the back of a spoon to smash up the avocado as much as you can. Then, whisk until the mixture emulsifies. Between these two segments, you should have almost no avocado chunks left.
Toss the salad ingredients with the dressing, season with salt and serve
Rebekah Hubbard
I'm the writer and photographer at PDXfoodlove.com. I love living in Portland, Oregon and the lifestyle in the beautiful Pacific Northwest.