Translating to "army stew", Budae Jjigae traditionally incorporates preserved meats and sausages and whatever vegetables are on hand.
By Audrey Ling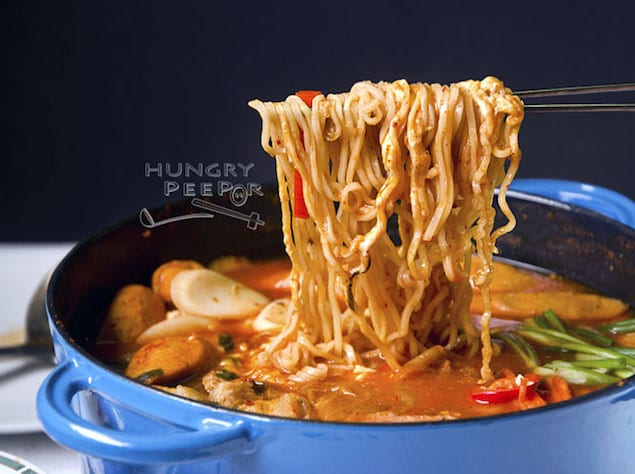 I first learned about budae jjigae in one of the earlier episodes of 'Running Man' – that was probably two years ago. The members had to team up to buy ingredients from the supermarkets and then whip up something delicious according to their allocated themes.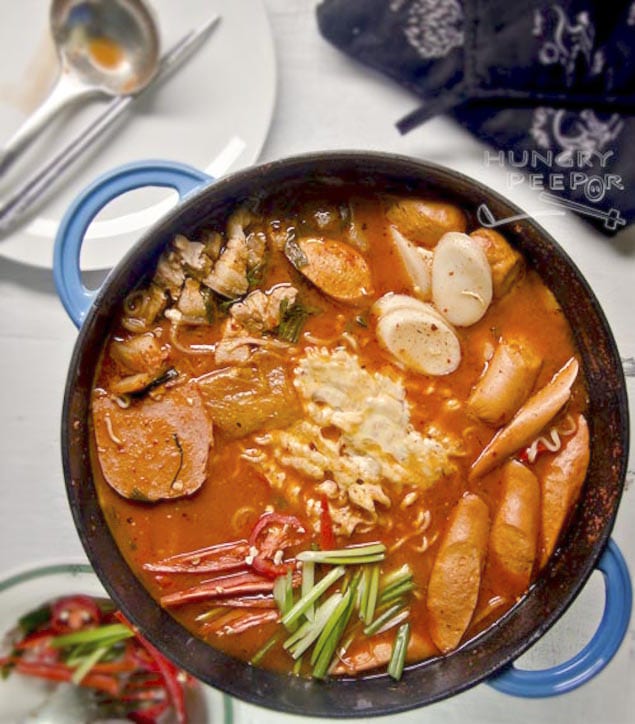 See Also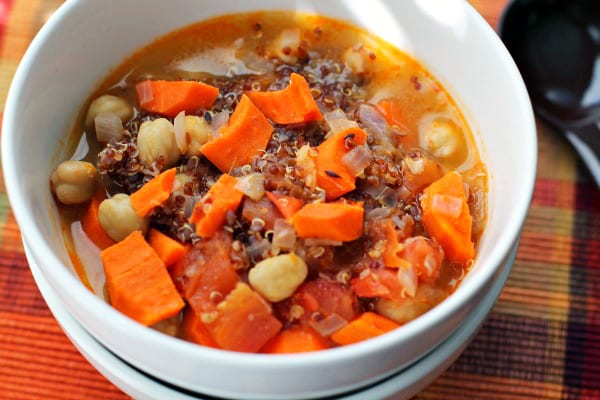 This dish is one that is often cooked in the army using leftover ingredients as well as whatever is brought along for a mission for outdoor cooking (hence the term 'budae jjigae', or 'army stew'). Which is why ingredients like Spam meat, kimchi and frankfurters are commonly found in this particular type of Korean stew. In fact, this dish is very similar to the one that I cooked last year – 'A Fermented Napa Cabbage Stew Called Kimchi Jjigae', which uses a similar stew base with gochujang. I have a stronger preference for this army stew though – it is a lot more fragrant and meaty.

Vibrant Korean Budae Jjigae
Translating to "army stew", Budae Jjigae traditionally incorporates preserved meats and sausages and whatever vegetables are on hand.
Ingredients
Dried mushroom: 3
Dried kelp: 4 small pieces
Dried anchovy: 10 pieces
Dried shrimp: 2 tbsp
White onion: ½, peeled, whole
Water: 6 cups
Spam meat: ½ can, sliced
Pork belly: 120g, sliced thinly
Kimchi: 1 cup, roughly chopped
Silken tofu: 300g, sliced
Rice cake (oblong): 1 cup, soaked in cold water for 30min
Chicken frankfurter: 3, sliced diagonally
Hot red pepper paste (gochujang): 3 tbsp
Light soy sauce: 2 tbsp
Rice wine: 1 tbsp
Chilli powder (optional) : 2 tbsp
Instant noodles: 1 pack
Cheddar cheese slice: 1
Red chilli: 2, chopped
Spring onion: 1 stalk, chopped
Instructions
Add mushrooms, kelp, anchovies, shrimps & onion into water.
Bring to boil. Reduce to a simmer and cook for 20 min.
Drain and keep the stock. Discard the remaining ingredients.
Arrange spam meat, pork belly, kimchi (including sauce), tofu, rice cakes & frankfurters in a wok.
Pour stock into wok. Bring to a boil.
In a separate bowl, mix gochujang, soy sauce, rice wine and chilli powder with 1 cup of stock.
Pour chilli paste mixture into wok. Leave to simmer for 5 min.
Add noodles into the center of wok. Place cheese slice on top of noodles.
Leave to cook for another 3 – 5 min.
Garnish with chilli and spring onion to serve.
Notes
Make sure to add in lots of gochujang and kimchi sauce to create an appetisingly sweet, sour and spicy stew all at once. And don't forget to top it all off with that tantalising piece of cheese slice!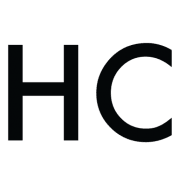 Audrey Ling
The whole process of toiling in the kitchen and later taking pictures of what comes of it is a symbiosis of my hobbies – a perfectly crafted deal for me. All of these hobbies allow me to learn something new every day. When it comes to food and cooking, I love trying out a bit of everything (that's my style) – from learning how to cook and plate in Michelin style to attempting local Singaporean dishes at home; from replicating remote flavours and delights to retaining family legacies and traditional essences. I hope to share my passion and joy with the larger community of food and photography bloggers and enthusiasts out there.