As winter passes by the Northern Hemisphere, this vegetarian Thai soup is a perfect warming weeknight meal.
By Dassana Amit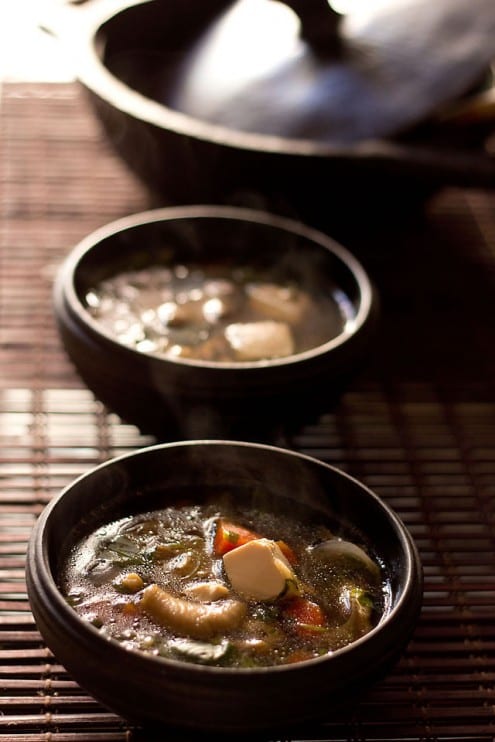 Winters are the times for having soups. India is witnessing a really chilly winter this year and apart from the heart & belly warming food that we make there are many varieties of soups or shorbas we also make.
Now this post is not of an indian soup, but a comforting and healing thai vegetable tofu soup. There is the fiery & pungent galangal and fragrant lemon grass along with the hot hot red piri piri chilies, not to mention the soothing basil and lime leaves. So the ingredients that go in this soup heals you – from the cold ailments experienced in winters.
Warming Vegetarian Thai Soup
This is a perfect warming weeknight meal.
Ingredients
125 gms dry oyster mushrooms, halved or quartered
1 inch galangal, peeled
½ inch ginger, peeled
1 small onion or medium sized onion, sliced or quartered
1 lemon grass stalk, halved in two
2-3 piri piri chilies or bird's eye chilies
1 medium size carrot, chopped
200 or 250 gms extra firm silken tofu or regular tofu, diced (i used mori nu's silken tofu)
1 tbsp sunflower oil
2 kaffir lime leaves or lime leaves or zest of one small lime
¼ cup chopped or torn basil leaves or thai basil leaves
¼ cup chopped coriander leaves
4 cups water
½ tbsp soy sauce (add more if you prefer)
some basil & coriander leaves for garnishing
salt and black pepper as required
Instructions
Crush the galangal and ginger in a mortar and pestle to a semi coarse or fine paste.
Take all the veggies, piri piri chilies, lemon grass, lime leaves, curshed galangal-ginger, salt in a pot.
Add water and keep the pot on a medium flame.
Cover and let the soup boil first, then lower the flame and let the soup simmer for 10 minutes.
Meanwhile, in another pan, heat oil and pan fry the tofu for 2-3 minutes stirring often.
Add the tofu with the oil to the simmering soup and simmer for 2-3 minutes, season with black pepper and soy sauce.
Lastly add the chopped basil & coriander leaves and simmer for a minute.
Before serving remove the piri piri chilies, lime leaves and lemon grass stalks.
Serve hot in soup bowls garnished with some basil leaves.
Notes
if the galangal is fibrous and hard, then make a fine paste. otherwise you may taste the galangal threads when having the soup. The amount of pepper and soy sauce can be adjusted as per your preference
Dassana Amit
Dassana never intended to start a food blog. She never ever thought about blogging in her wildest of dreams. Her only passion in her life was meditation. As she went deeper in meditation, she realized that her inborn gift of cooking delicious & healthy food needs some creative expression. So she started her blog " Veg Recipes of India " as an outcome of creative flowing energy. Now she has also combined her another gift i.e photography with cooking. When not blogging & food photographing - she works as a web developer and seo expert.