Nancy Lopez-McHugh with a delicious Middle Eastern treat for your next meze platter.
By Nancy Lopez-McHugh
Stuffed grapes (also know as dolma, dolmathes, or sarma) are eaten from Southern Europe all the way to the Middle East. Depending on the country or region they can be stuffed with a variety of meats or vegetarian rice filling. Meat versions are served warm and make part of the main meal. Meatless are served cold or at room temperature and alongside other meze.
This Vegetarian Stuffed Grape Leaves recipe comes courtesy of cookbook author and blogger Faith Gorsky. The recipe is included in her cookbook titled An Edible Mosaic: Middle Eastern Fare with Extraordinary Flair. Ms. Gorsky explains that the recipe is "light and fresh" and suggest serving with plain yogurt and fresh lemon wedges.
Though it involves several steps the effort is very much worth the end results. I found the recipe to be scrumptious and rather easy to prepare. Having tasted stuffed grape leaves from the Balkans, Greece, Turkey and several Middle Eastern countries, these were among some of the best I've ever eaten. The clear step-by-step instructions make the rolling process easy to follow and even a stuffed grape leave novice, like myself, can achieve great results. Additionally you can't beat the fact that this is a family recipe handed down and taught to her by her mother-in-law.
See Also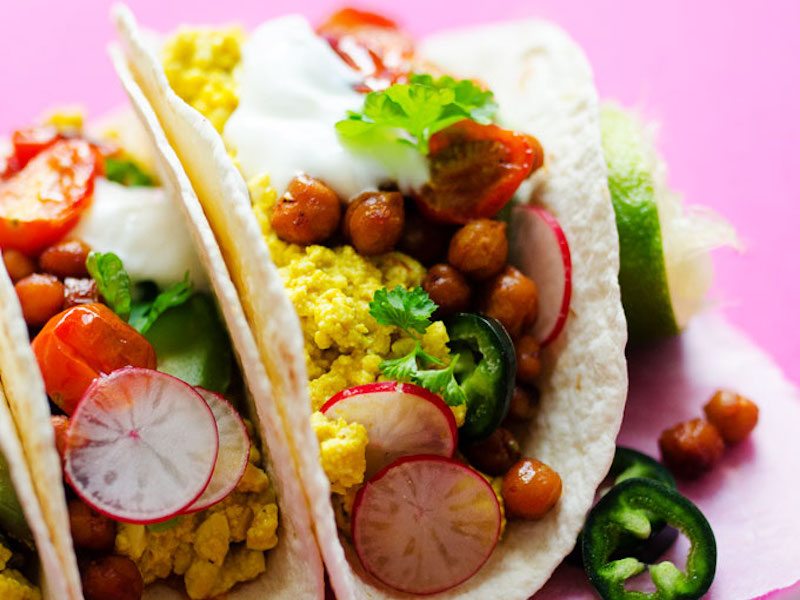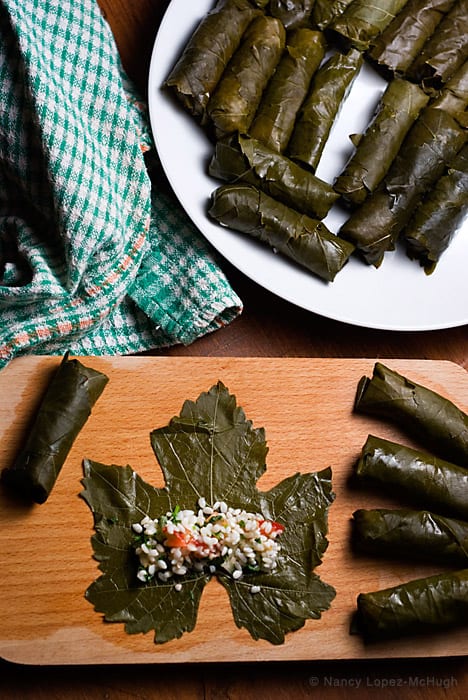 Print
Vegetarian Stuffed Grape Leaves Recipe from An Edible Mosaic Cookbook
Vegetarian Stuffed Grape Leaves recipe from An Edible Mosaic Cookbook. A Middle Eastern treat for your meze platter.
Author:

Faith Gorsky

Prep Time:

2 hours

Cook Time:

1 hour 45 mins

Total Time:

3 hours 45 minutes

Yield:

8

to

1

0

1

x
1½ cups

(

325 g

) uncooked medium-grain white rice, rinsed

3 tablespoons

oil

1

onion, finely diced

2½ teaspoons

salt, divided

2

tomatoes, finely diced

1

bunch fresh parsley, minced

6 tablespoons

(

90

ml) fresh lemon juice, divided

4 tablespoons

olive oil, divided

4 tablespoons

dried, crushed mint
One (1 lb/500 g) jar of brined grape leaves, rinsed

2

medium potatoes, peeled and sliced
Hot water, to cook the grape leaves
Plain yogurt (optional, for serving)

2

lemons, wedged (optional, for serving)
Instructions
Soak the rice in tepid water for 10 minutes; drain.
Heat the oil in a large skillet over medium heat; add the onion and 1 teaspoon salt, and sauté until the onion starts to soften, about 3 to 5 minutes. Cool completely.
Combine the onion, remaining 1¼ teaspoons salt, tomato, parsley, 3 tablespoons lemon juice, 2 tablespoons olive oil, mint, and rice in a large bowl; cover the bowl and refrigerate 3 hours.
Soak the grape leaves in hot water for 10 minutes, changing the water twice; drain. Trim off the stems, if necessary.
To stuff the grape leaves, lay 1 leaf ?at on your work surface with the shiny side facing down. Place 2 to 3 teaspoons of ?lling (adjust the amount based on the size of your leaves) across the leaf above the point where the stem was cut off. Fold the bottom of the leaf up over the stuffing, and then fold over the sides of the leaf onto the stuf?ng. Roll up the leaf, tucking in the sides as you go. Continue this way until all the leaves are stuffed. (Note: If you have any leaves that are very small, you can place 2 leaves overlapping and stuff them.)
Line the bottom of a medium-large, thick-bottomed, lidded pot with the potato. Arrange the grape leaves (seam-side down) in compact rows on top of the potatoes, continuing with additional layers until all the grape leaves are in the pan.
Sprinkle the remaining 3 tablespoons of lemon juice, remaining 2 tablespoons of olive oil, and remaining ¼ teaspoon salt on top of the leaves; place a heavy, ? at, disc-shaped object (such as a heat-safe lid or plate) into the pan on top of the leaves. Add enough hot water to cover the leaves by 2 inches (5 cm).
Bring to a boil over high heat, then cover the pot, turn the heat down to low, and simmer until the rice is tender, about 1 hour, 15 minutes to 1 hour, 45 minutes; cool.
To serve,
Drain the stuffed grape leaves in a large colander, reserving the liquid in a bowl under the colander (store any leftovers in this liquid). Arrange on a platter and serve at room temperature, along with plain yogurt and lemon wedges, if using.
Notes
Grape Leaves (Waraq al Ainab or Dawali):
These are the tender leaves that grow on grapevines; they are used to make Vegetarian Stuffed Grape Leaves. If you have access to fresh grape leaves that have not been sprayed with pesticides, look for leaves that are the size of the palm of your hand or larger, that are free from holes or blemishes. Before stuffing grape leaves, they require a little bit of preparation. Rinse them under cold running water, trim off the stems (without cutting the leaves), and blanch them for 2 to 3 minutes in a large pot of boiling water with 1 tablespoon salt and 1 teaspoon sugar. Rinse and drain them, and then they are ready to use or freeze (they can also be canned in a brine solution). To freeze, pat each leaf dry and then stack them on top of each other (try to place as many in a stack as you will need for a recipe); place the stack(s) in a plastic bag, press out all the air, and freeze. If you don't have access to fresh grape leaves, you can buy them frozen, canned, or jarred, just be sure to soak them for about 10 minutes in hot water (changing the water three times) before using.
*Recipe is published with author and publisher consent. For a visual step-by-step walkthrough of assembling grape leaves refer to An Edible Mosaic cookbook.*
Nancy Lopez-McHugh
Nancy Lopez-McHugh is a food blogger, photographer and published author. Most recently she has published "Yummy Pics: A Food Blogger's Guide To Better Photos".