Vegetarian Quinoa Chickpea Stew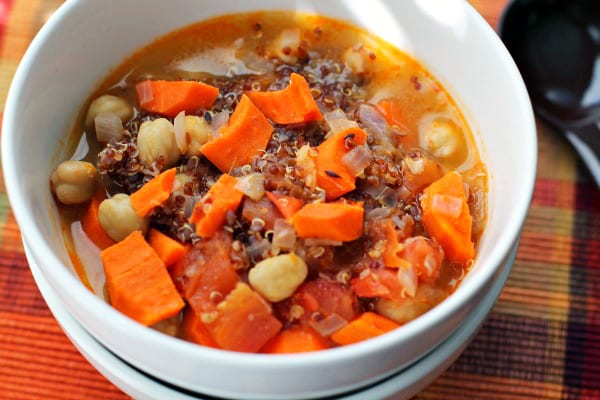 This soup is hearty enough to satisfy vegetarians but it could easily be be adjusted for meat-eaters with the addition of sausage.
By Soni Sinha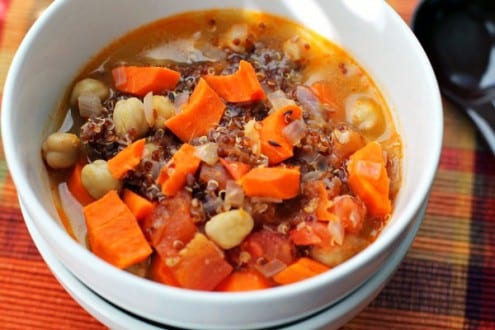 Vegetarian Quinoa Chickpea Stew
This soup is hearty enough to satisfy vegetarians but it could easily be be adjusted for meat-eaters with the addition of sausage.
Ingredients
Quinoa-3/4 cup
Carrots-1 cup
Chickpea- 1 14 oz can
Onions-1 medium
Ginger-1 inch crushed
Green Chili or jalapeño -1 seeded and chopped
Tomatoes-1 14 oz can or 2 fresh chopped
Cumin Seeds-1 tbsp
Ground Coriander- 2 tsp
Salt -to taste
Water-2 cups
Oil-2 tbsp
Instructions
In a pot heat the oil and add cumin seeds until they crackle.
Add the chopped onion.Saute on medium heat for about a minute.
Add the crushed ginger and the chili.
Saute for another minute.
Add the ground coriander and stir until fragrant and add the tomatoes.
Mix well and the Carrots and Quinoa.
Add water and salt and bring to a boil.Check the seasonings.
Reduce the heat, cover and continue to cook until Quinoa is all cooked about 15 minutes.
Add the Chickpeas and continue to cook for another 5-6 minutes.
Add a little more water of too thick.
Serve hot!
Soni Sinha
Soni is a recipe developer, food writer/blogger who creates recipes with a healthy Indian twist. She is a passionate cook and her recipes cater to readers who are are willing to try contemporary Indian flavors in wide ranging fusion dishes that she creates.She shares all her cooking adventures on her blog Soni's Food.