Vegetarian Meatballs – Paneer Potato Koftas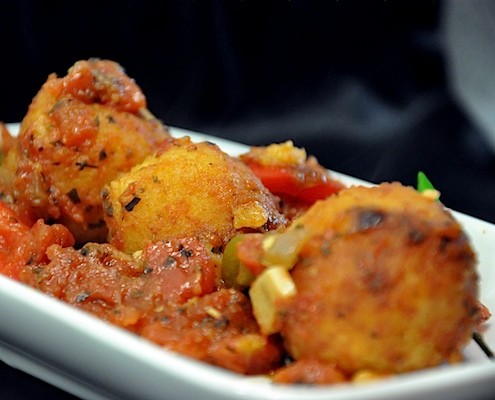 A meatless take on the much loved Indian meatballs.
By Shuchi Mittal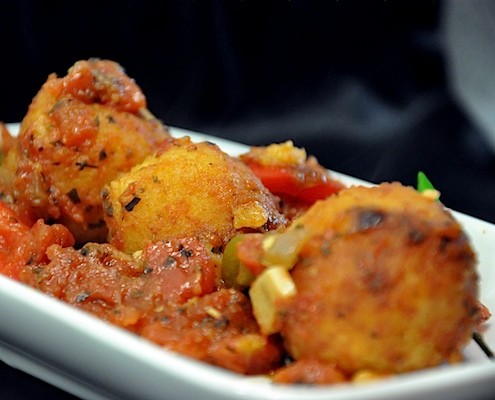 If you are Indian, there will come many occasions in your life when you must turn to vegetarian food. Be it a Hindu wedding, Navratras, Festivals, Solemn occasions or well you may simply be born into a vegetarian family. Nevertheless, meatless food takes a very critical place in our lives, and therefore I always try and create vegetarian version of some popular dishes. Here is a twisted version of the much loved meatballs.
"Born from a mash
Shaped by hand,
This is the story
Of a meatball grand.
Flavors that find fame
Authentically with meat,
My twisted version
Hopefully just as neat"
Paneer Potato Koftas (Veg Meatballs)
If you are Indian, there will come many occasions in your life when you must turn to vegetarian food.
Ingredients
For the Koftas
1 medium sized potato, boiled
1 lt full cream milk (to make the paneer or Indian cottage cheese)
1 tbsp white vinegar
½ tsp coriander powder
½ tsp curry powder
1 tbsp bread crumbs
Salt & pepper to taste
For the Gravy
1 can diced tomatoes
2 pods of garlic, crushed
½ onion, finely chopped
½ cup green and red peppers, c hopped
1 tsp oregano flakes
2 tsp chopped basil leaves (you can use dried basil for the fresh)
2 tsp olive oil
Instructions
Make the Koftas
Bring the milk to boil. Add the vinegar and stir till the water separates and the lumpy paneer begins to form. Drain and keep the paneer aside.
Mash the potato. Add the paneer to it and the remaining ingredients for the koftas. Mix well
Make 8-10 balls from the mixture. Grease each ball with some olive oil and grill at 200 degree C for 10 minutes, or till they are lightly browned.
Make the Gravy
Heat the oil in a pan. Add the onions and garlic and cook till the onion turns transparent. Add the tomato, and the remaining ingredients and cook covered on medium flame for 10 minutes. The tomato & peppers should be completely cooked. Stir on high heat for a few minutes till all excess liquid has dried. Now add the koftas and cook for another few minutes. Remove from heat, and serve immediately with some bread rolls.
Shuchi Mittal
Shuchi cooks with the heart of a poet. Banker turned chef, she runs the 29. Private Kitchen in NYC focusing on social tasting events, dining experiences and small-scale private events. Using simple & wholesome ingredients, she likes to re-invent homemade Indian flavors into modern tapas & small plates. Her dream? To cook, feed, write, and eventually open her own communal dining cafe - with a published recipe book on the stands.