Carol Egbert makes a wonderfully tasty carrot falafel recipe for our reading pleasure.
By Carol Egbert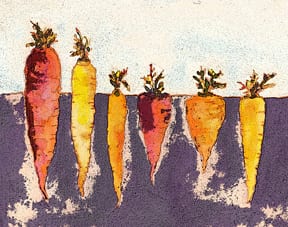 Vegetarian Carrot Falafel
A wonderfully tasty carrot falafel recipe for your reading pleasure.
Ingredients
Carrot Falafel:
1 medium onion, diced
1 tablespoon unsalted butter
2 cups carrots, coarsely grated – divided
1 Tablespoon water
1 19-ounce can of chickpeas, rinsed and drained
1 Tablespoon lemon juice
1 teaspoon ground cumin
pinch of cayenne pepper
½ teaspoon kosher salt
1 cup breadcrumbs
2 Tablespoons olive oil
Tahini Sauce:
2 Tablespoons tahini, (sesame seed paste)
1 teaspoon lemon juice
water
Instructions
Saute onion in butter over medium heat until soft and beginning to brown.
While onions cook, zap 1 cup of carrots with 1 Tablespoon water, in microwave until soft; about 3 minutes.
Put drained, cooked carrots, chickpeas, lemon juice, cumin, cayenne pepper, and salt into food processor, pulsed until chickpeas are coarsely chopped.
Combined chickpea mixture with 1 cup raw carrots and cooked onions.
Form heaping tablespoonfuls of the mixture into patties and rolled in breadcrumbs.
Heat olive oil in nonstick skillet over medium heat and cook patties in batches until golden brown, about four minutes on each side.
Serve with sauce made by combining tahini with lemon juice and enough water to make a sauce with the consistency of mayonnaise.
Carol Egbert
Carol Egbert is a writer, painter, graphic designer and cook. Her studio is on a country lane in rural Vermont. During mud season she escapes, for a couple of months, to a flat in Sicily overlooking the Ionia Sea. Her newspaper columns, magazine articles and blog are illustrated with her watercolor paintings – Honest Cooking means beautiful food.