Dig into these colorful and hearty vegetarian bowls that range from smoothies bowls to soups, noodles, grain-based layerings and even dessert. It's vegetarian bowls of goodness at their finest.
Vegan blogger Nina Olsson is out with a new book to fill you up with refreshing and hearty recipes. Served with no-fuss, stunning style, Bowls of Goodness: Vibrant Vegetarian Recipes Full of Nourishment with bring creativity to your weekly meal plan.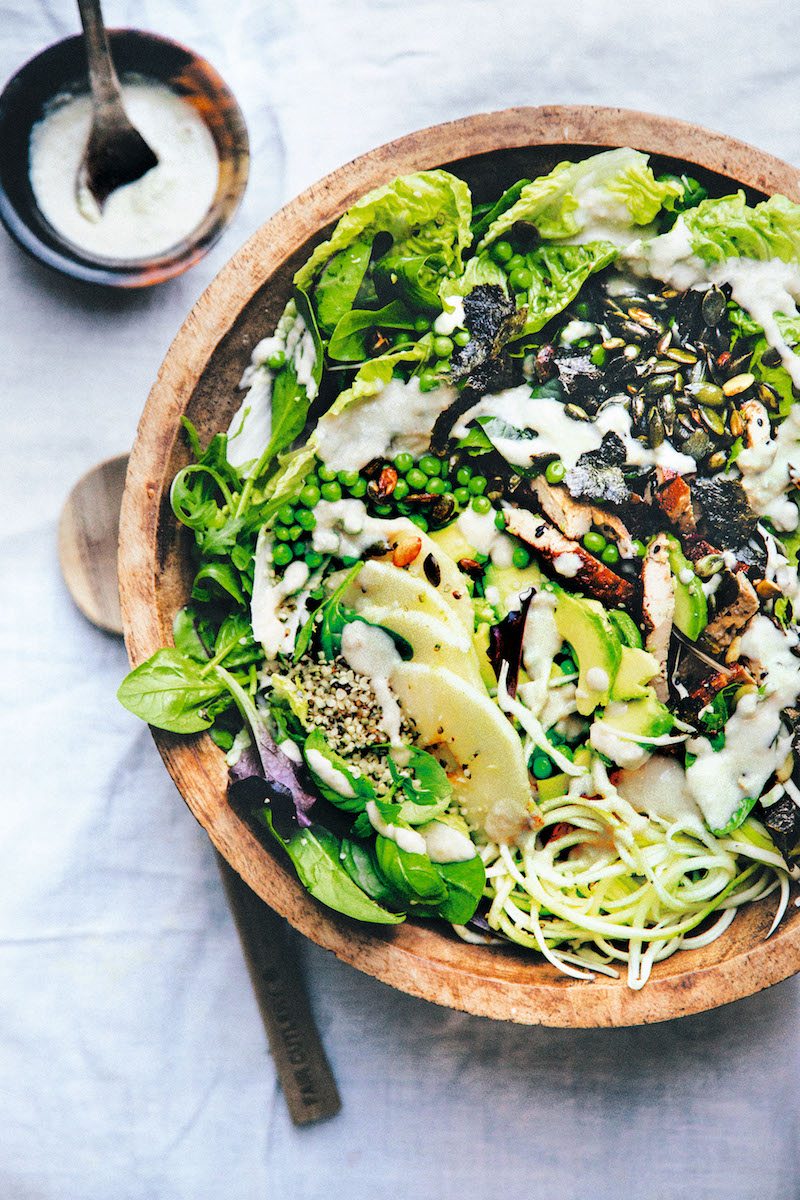 Smoked Tofu and Green Pea Salad
The book is filled with recipes for bowl-served meals that range from breakfast to dinner, with bowls of side dishes and even desserts scattered throughout. We were captivated not only by the beautiful photography, but also by the stunning pottery featured in the images. Nina says that her favorite bowls are from second hand and antique shop or hand-me-downs from relatives. So, if you're looking to expand your bowl collection before you start cooking the recipes, it's time to start thrifting. If you'd rather purchase new bowls, Nina suggest Speck and Stone or Gaya Ceramic.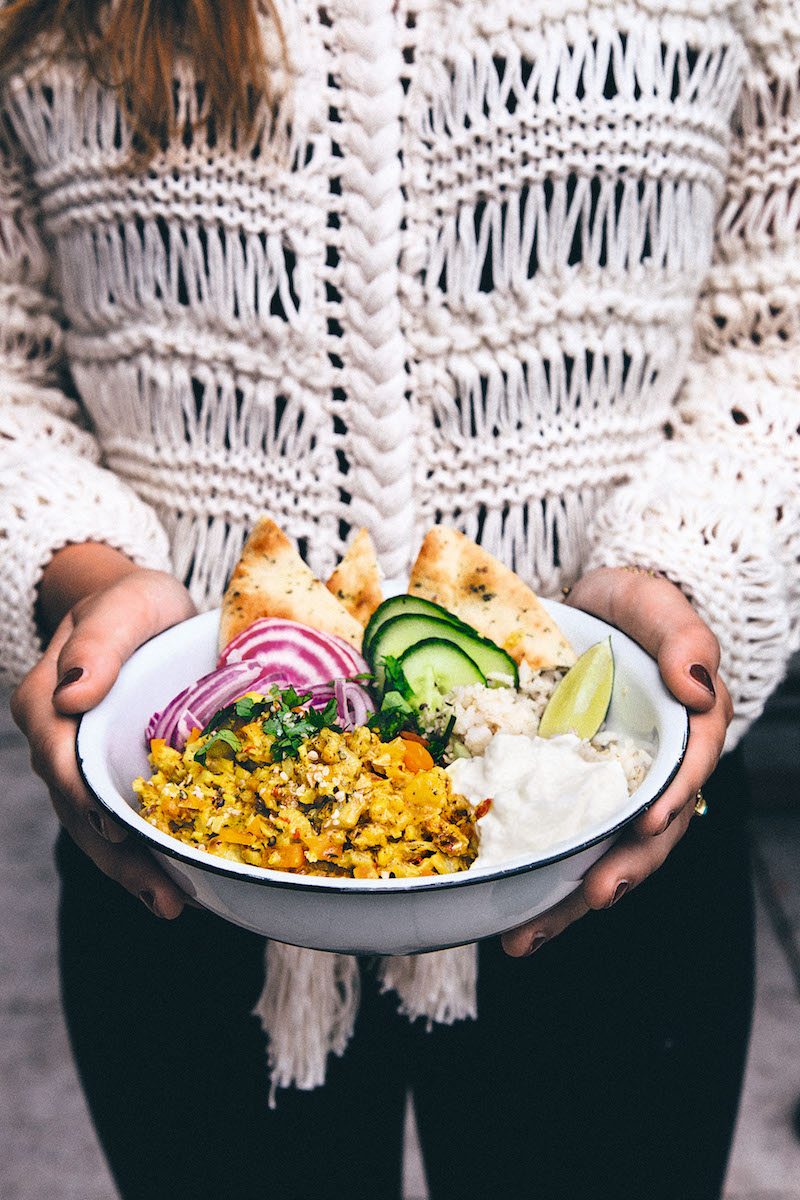 Royal Korma
While she is not from southeast Asia, you will notice many recipes in the book reflective of such cuisines, especially Indonesian foods. Nina admits that she has a soft spot for cuisines from this region. Their traditional dishes are perfect for bowl presentations and they are comforting, while still being vegetarian. "I love the layering of textures, the nutty crunchiness and sweetness often found in their curries and salads," Nina says.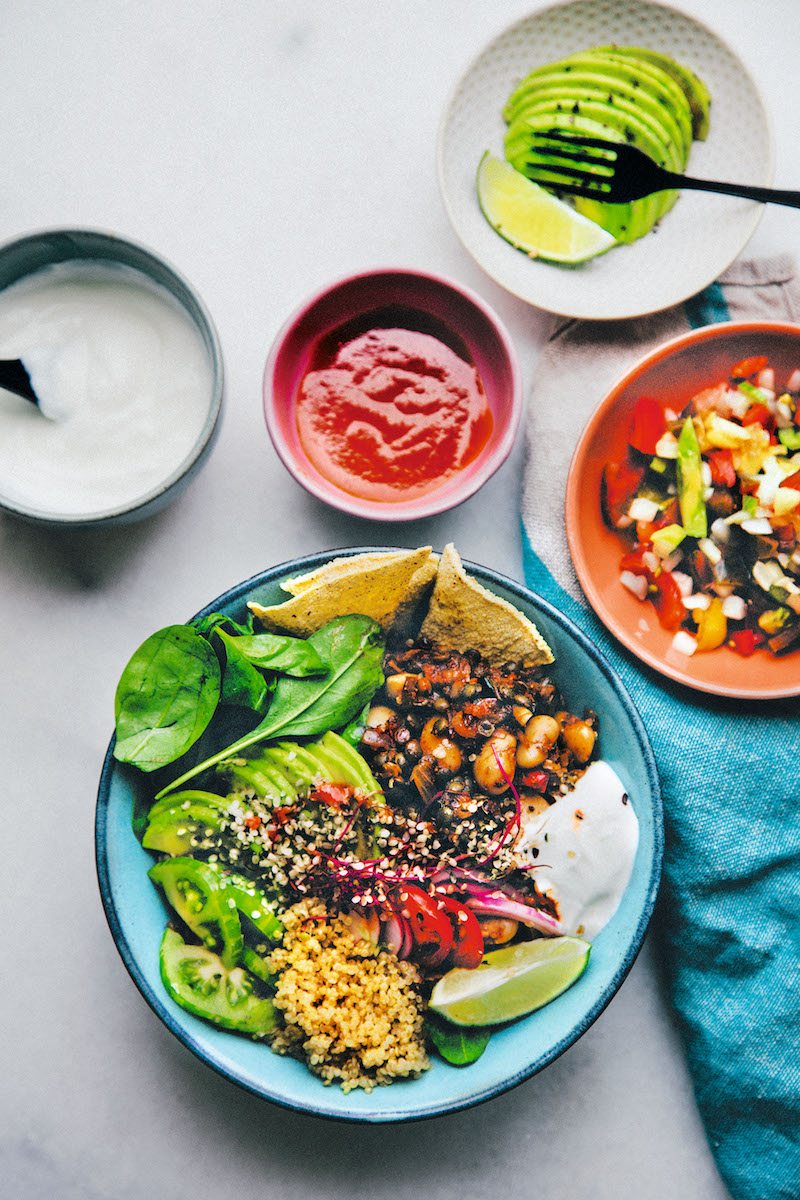 Baja Mexican Taco Bowl
This fall, if you'd like to cook like Nina, be sure to include lots of pears and pumpkin in your breakfast, dinner and even dessert bowls. One of our favorite aspects of the book is how adaptable each bowl seems to be. The recipes inspired us to create a flavor profile and then add in seasonal produce or whatever we have on hand. So a morning oat bowl in the summer might feature berries, but in the fall we will make the same recipe, but with pears swapped in .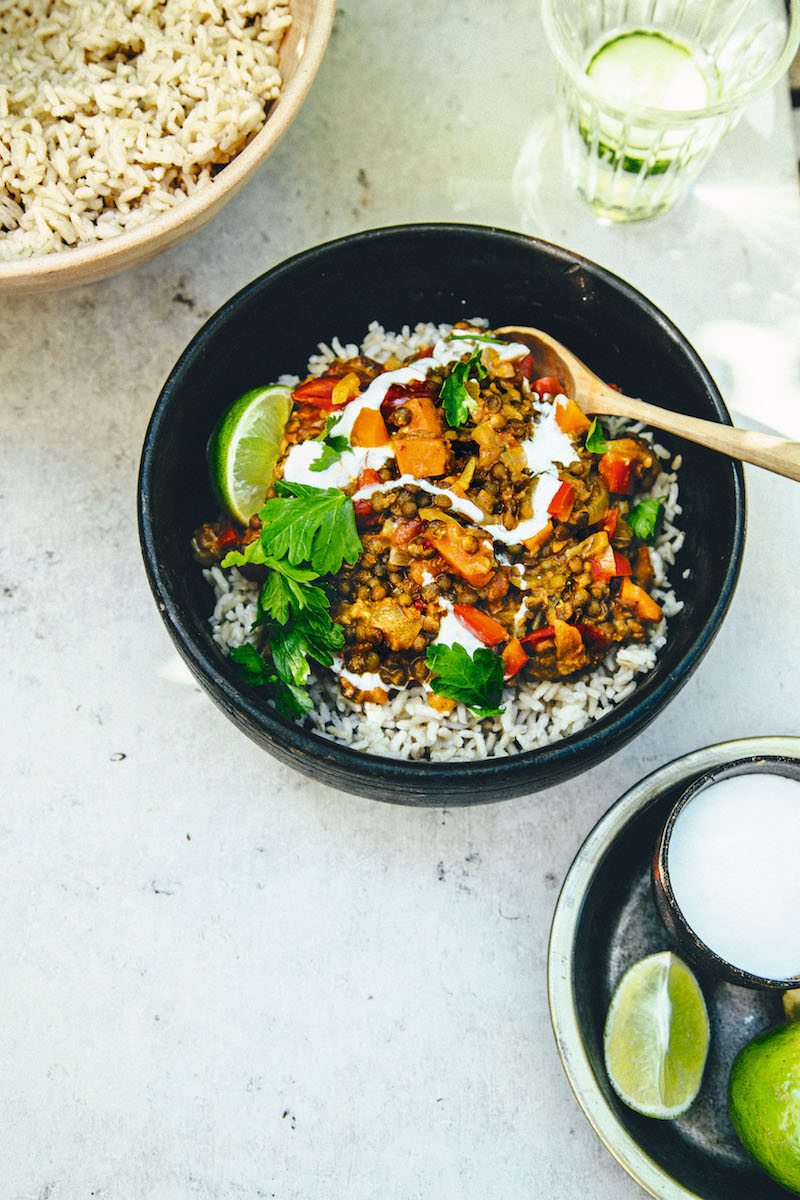 The Loyal Lentil Chili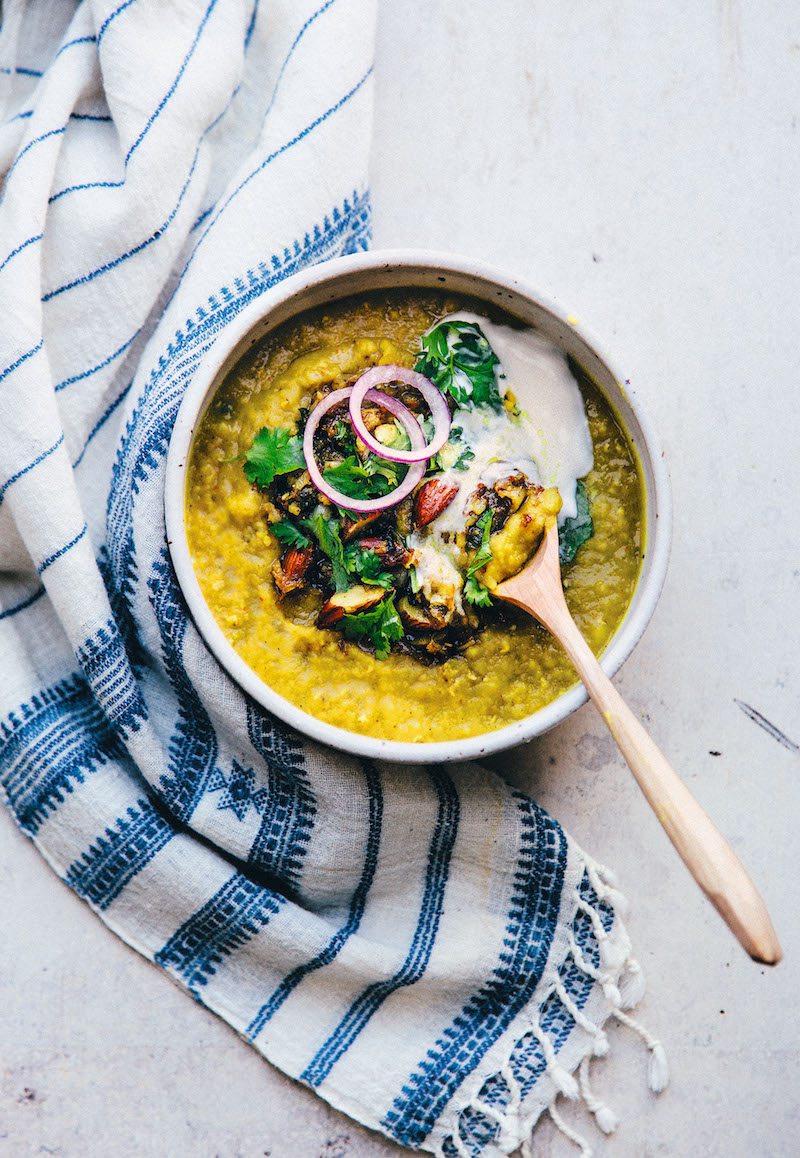 Dhal Tadka
We asked Nina what her go-to meal is when she makes it home well past dinner time after a busy day. The secret to a good meal? It's all about the prep. Make sure you have some cooked beans or lentils ready to go at the beginning of the week to add to lunches or to have on hand for quick dinners. Nina starts her on-the-fly dinner with a base of lentils or beans, some spinach of shredded cabbage that she drizzles with any dressing she has ready to go. Or, she will quickly sauté the beans and cabbage in a pan with herbs and spice. That base is then topped with sliced veggies, fruit and usually some mushrooms. Top it all off with seeds or nuts for crunch and add a dollop of tahini, yogurt or hummus.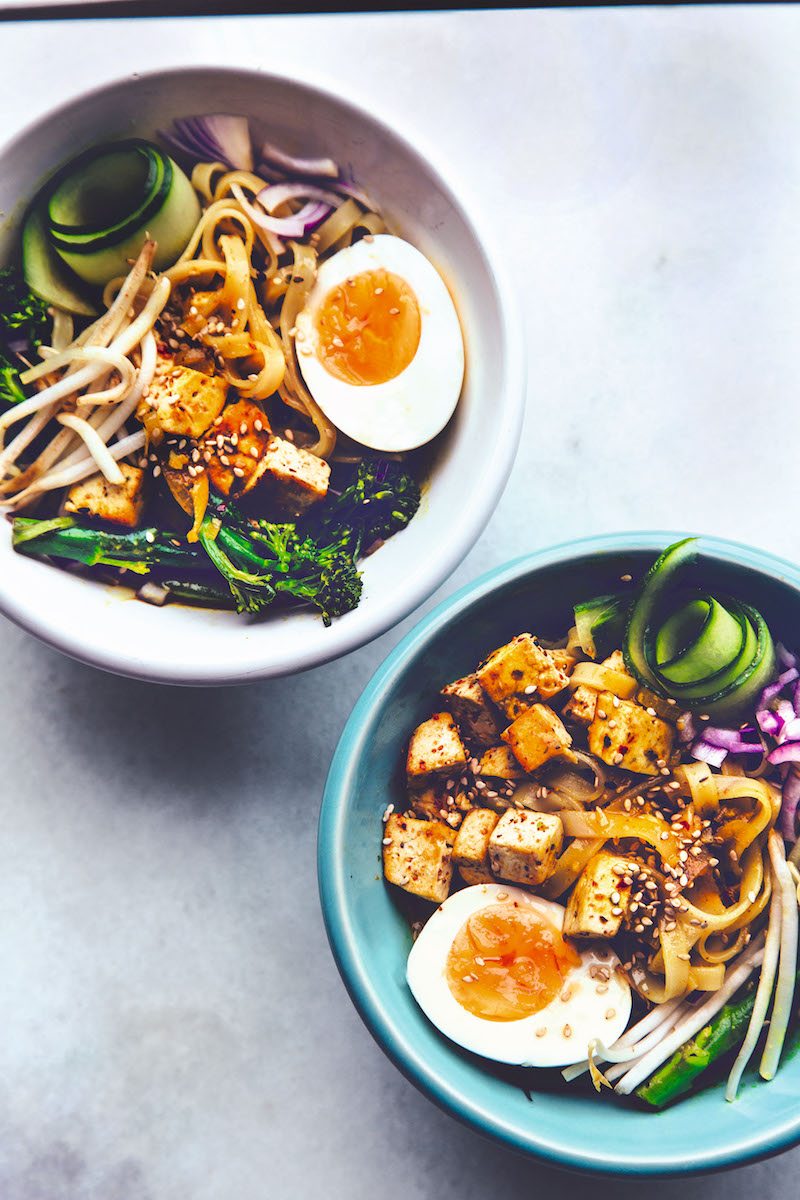 Laska Noodles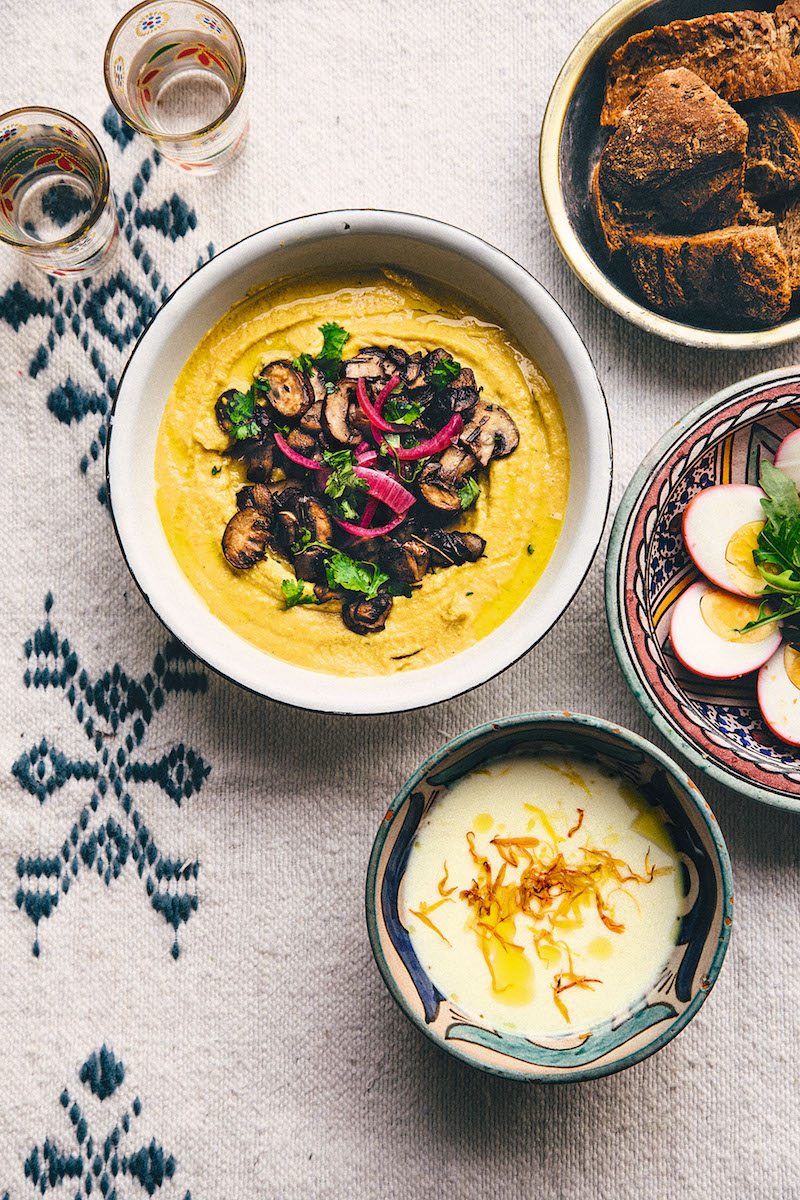 Pumpkin Hummus with Mushrooms and Pickled Eggs
Check out the recipe below for the Baja Mexican bowl.
Print
Baja Mexican
Mexican is one of the most popular cuisines in our house, especially when the kids getto choose. The bonus of Mexican taco-style meals is the pick-and mix flexibility of adding hot sauce and other ingredients to taste. Oregano, cumin, chile powder, and paprika add distinct Mexican flavor to thebeans. You can use any mixture of beans or lentils, or just one. Other signature flavors for a Mexican bowl are salsa and Baja sauce.
Author:

Nina Olsson

Yield:

4

servings

1

x
salsa
bunch of heirloom cherry tomatoes or tomatillos (finely diced)

1

white or red onion (finely diced)

1

red bell pepper (finely diced)
juice of

1

lime
Baja sauce
2/3 cup

sour cream
juice of

1

lime
pinch of salt
Spicy beans
olive oil

2

shallots (diced)

14 ½ oz

. can beans (rinsed and drained)

2 ½ cups

Le Puy lentils (cooked)

1 teaspoon

ground or fresh oregano

2

garlic cloves (finely chopped to a paste)

½ teaspoon

cumin

1

–

2

jalapeño peppers (seeded and finely chopped)

1 teaspoon

paprika

3/4 teaspoon

salt
Serve with
2

avocados (pitted, peeled, and sliced)
lime wedges
corn tortilla chips (optional)
hot sauce like Cholula or Sriracha
hemp seeds
bunch of spinach
Instructions
Cook the quinoa according to the package instructions, then drain and set aside.
Mix the ingredients for the salsa and the Baja sauce and set aside.
Heat a skillet and add a drizzle of olive oil. Cook the shallots over medium low heat until translucent. Add another drizzle of olive oil and the rest of the spicy bean ingredients, cooking for 5 minutes over low heat.
Divide the quinoa and spicy beans in serving bowls. Add the avocado, lime wedges, tortilla chips, salsa, and Baja sauce. Serve with hot sauce, hemp seeds, and spinach leaves.
Tip! Use avocado instead of the sour cream for making the Baja sauce.
Notes
Recipes taken from Bowls of Goodness by Nina Olsson. Photography by Nina Olsson, published by Kyle Books.
Not all quinoa are created equal!Since the anicent super nutritious, faux grain quinoa conquered the world it's become a huge industry in its home countries of Peru and Bolivia, bringing wealth and development to the natives. But it's not a totally sunny story. The massive rise in demand has lead to rocketing prices, meaning many locals are unable to afford quinoa themselves. The intense production, with its reliance on toxic pesticides and chemicals, has also depleted the farmland. Choosing organic Fairtrade quinoa ensures that the the local producers are working to reduce the impact on the environment and paying fair wages.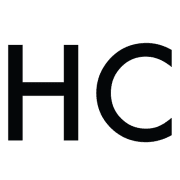 Honest Cooking
The Honest Cooking editorial team handpicks inspiring culinary stories to share with you that we think are beautiful. We strive to create an inspiring place for culinary exploration, salivating recipes, interesting personalities and stories.