Make one of the most classic comfort foods vegetarian with a delicious spiced bowl of tofu bolognese sauce over pasta.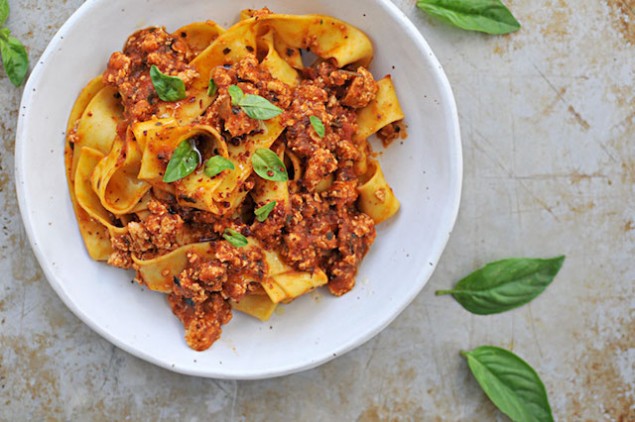 If there's one thing I crave every time we take a turn for chillier weather, it's pasta. Red sauced, finished with a slick of glossy butter and studded generously with little braised bits of short rib or piggy things — or draped lazily around tender meatballs or glistening crumbles of spiced sausage. Praise the lord. It gets me every time. And if we're telling stories (when are we not?), at least once a year I'll be standing in line at the market when I catch a glimpse of unapologetically sexy meatballs on the cover of a food glossy and I've got to hop out of line and restock my basket accordingly.
Rich, meaty, tomatoey pasta. It's the kind of thing rainy Sundays were made for.
And then there's this.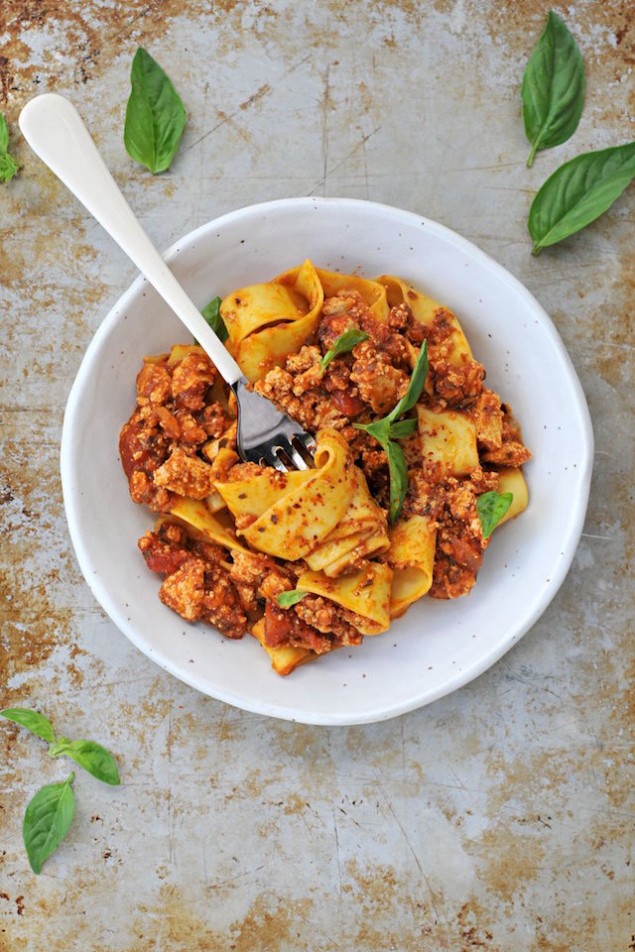 This. Is weeknight pasta. Red and saucy, indeed, but by all means lighter and simpler. Today we'll just leave it at this: crumbled tofu, sausage-y spices, jarred marinara and bright herbs.
Oh, and it's on the table in about 15 minutes.
Fauxlognese!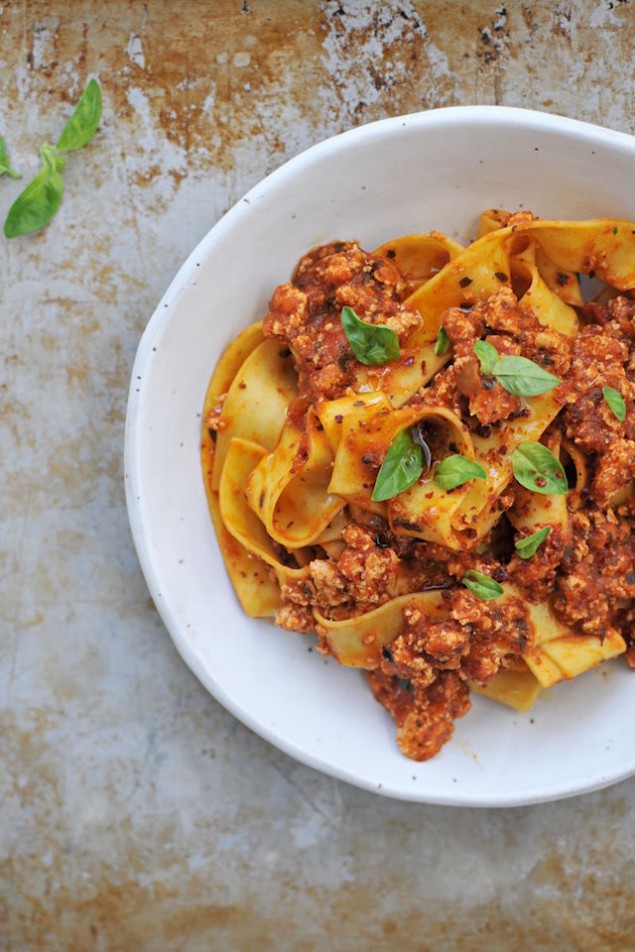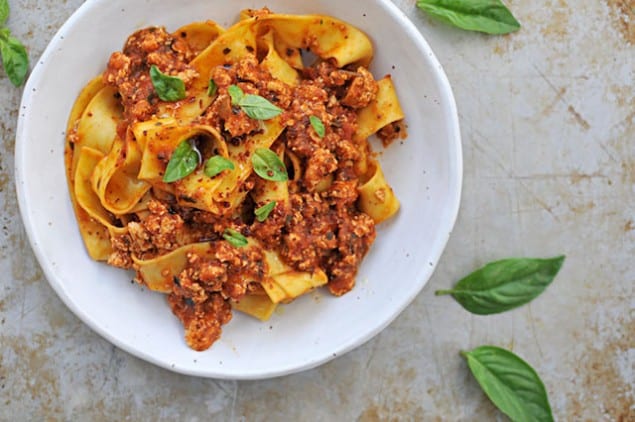 Vegetarian Bolognese with Tofu
Emily Stoffel
Make one of the most classic comfort foods vegetarian with a delicious spiced bowl of tofu bolognese sauce over pasta.
Course
Italian Pasta Dish, Main, spaghetti
Cuisine
American-Italian, Italian, Italian-Inspired
Ingredients
1 14

oz

package tofu

frozen solid and thawed completely (see note)

3

T

olive oil

plus extra for serving

1

tsp

ground fennel seed

1

tsp

garlic powder

½

tsp

salt

pinch

of crushed aleppo pepper or other red chile pepper flakes

freshly cracked black pepper

1

jar marinara sauce

or equivalent homemade

handful fresh basil leaves

hot pasta for serving

about ½ a pound or so, I like papardelle or orechiette
Instructions
Slice frozen and thawed tofu into four large slabs and press each slab between two plates to extract as much liquid as possible. Crumble drained tofu.

In a large skillet or dutch oven, heat oil over med-high flame. Add crumbled tofu, fennel, garlic powder, salt, red pepper flakes and plenty of cracked black pepper and sauté, stirring frequently, until tofu is browned in places, about 5 mins.

Add marinara and cook until warmed through. Serve over hot pasta with a generous drizzle of olive oil, fresh basil and more crushed red pepper over the top. Enjoy!
Notes
I love this meal for weeknights, in particular, since the sauce comes together in about the time it takes to boil a pot of pasta -- so long as you've frozen and thawed the tofu in advance. Doing so changes the texture of the tofu completely and allows you to extract an extraordinary amount of liquid before browning it for the sauce.
Keyword
bolognese, pasta, spaghetti, vegetarian
Emily Stoffel
Emily Stoffel (Em) is the voice behind The Pig & Quill, a food blog featuring original, (mostly) mindful & real food-based recipes -- plus salty scribblings about life, love and all the miscellany that falls into that goofy little crack between the fridge and the cabinetry. When she's not in the kitchen, you can find Em (pretending to enjoy) running, nerding out over marketing, chatting with Momma and planning elaborate vacations that sometimes work out. She lives in the San Francisco Bay Area with her husband, Chris, and their three bicycles.