Crisp, yet tender fresh market vegetables packed with flavor and drizzled with a spicy cilantro herb sauce for a delicious herbaceous tang. The key here is finding the most fresh, organic ingredients, which will ensure maximum flavor in the dish.
By Tania Goulart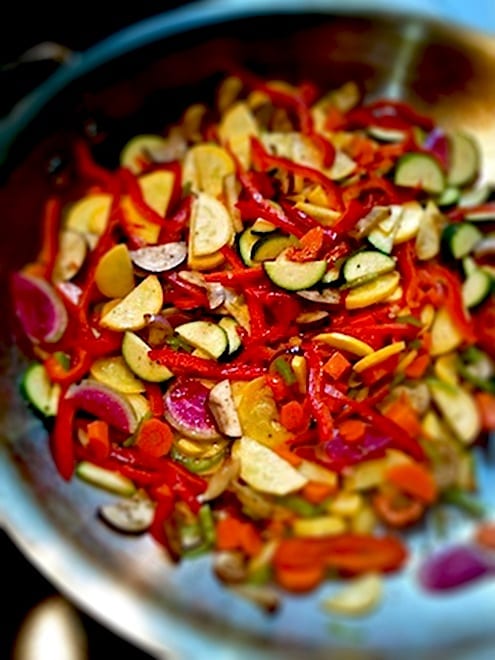 Vegetable Stir-Fry with Spicy Cilantro Herb Sauce
Crisp, yet tender fresh market vegetables packed with flavor and drizzled with a spicy cilantro herb sauce for a delicious herbaceous tang. The key here is finding the most fresh, organic ingredients, which will ensure maximum flavor in the dish.
Ingredients
4 cups of mixed vegetables, sliced thinly: red/green/yellow bell pepper, yellow squash, zucchini, chinese eggplant, watermelon radishes, carrots
½ cup scallions
2 tblsp vegtable oil
½ cup cilantro
2 tblsp tarragon, very finely chopped
For Cilantro Herb Sauce:
2 cups cilantro
½ cup of mint
¼ cup of tarragon
½ cup scallions thinly sliced
1½ inch piece of ginger peeled and sliced
2 garlic cloves
2 Serrano chiles, both stemmed and 1 seeded (more seed means more spice, adjust accordingly)
2 tblsp sesame seeds, lightly toasted (1 tblsp brown and 1 tblsp black sesame seeds)
2 tblsp rice vinegar, unseasoned
4 tblsp extra virgin olive oil
Instructions
Make cilantro herb sauce:
In a food processor, combine and chop cilantro, mint, tarragon, scallions, ginger, and garlic.
Add olive oil, vinegar, and .25 cup water and pulse into a thick wet paste/purée.
Add sesame seeds.
Season with salt and pepper, to taste. Set aside.
Stir Fry:
In a large skillet or wok over high heat, heat 2 tblsp of vegetable oil until it just starts to smoke.
Add the vegetables.
Add salt and pepper to taste.
Stir-fry the vegetables for 4-5 minutes until they are barely tender but still crunchy and immediately turn the heat off.
Add .5 cup scallions and herbs, toss and remove from heat.
Drizzle with the cilantro herb sauce.
Enjoy atop a mound of couscous, brown rice, or quinoa.
Notes
Inspired by Bon Appétit