This homemade family recipe for vegetable beef stew is hearty and rich in flavor. Full of tender chunks of beef and loaded with vegetables, it's easy to make dinner for two or a crowd.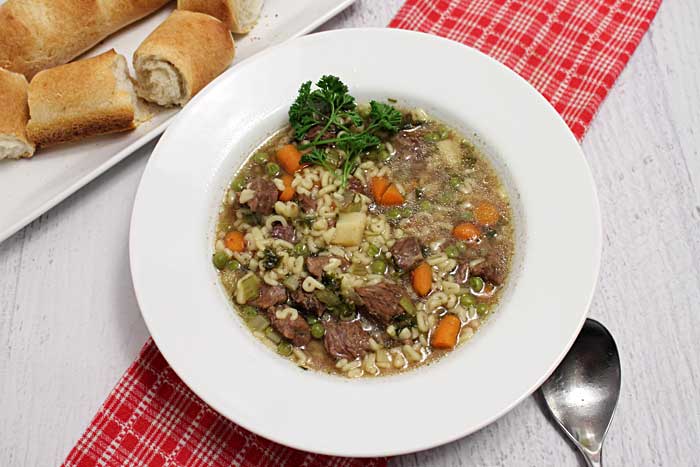 This soup recipe has been in my family for years. My mom was a fantastic cook and baker but my dad was excellent in his own right and liked to share kitchen time with her. He loved making breads, coffee cakes and any kind of soup. And I can tell you, when the weather dipped into the single digits and there were feet of snow on the ground, his soups were the highlight of our day.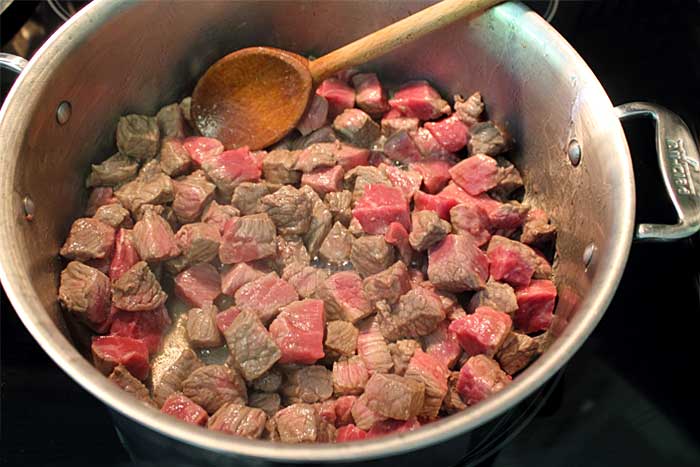 This Vegetable Beef Soup was one of his all time favorites but his Split Pea Soup and Turkey Soup were just as incredible. I actually had to ask my sister for this recipe again, although I have been making it from memory for years, just because I wanted to have it just right to bring to you. She told me the recipe was written on some letterhead from his insurance company and written in story form. No list of ingredients, just a story from start to finish. Yep, that was my dad, an excellent and totally entrancing story teller and short story writer. Sure do miss him!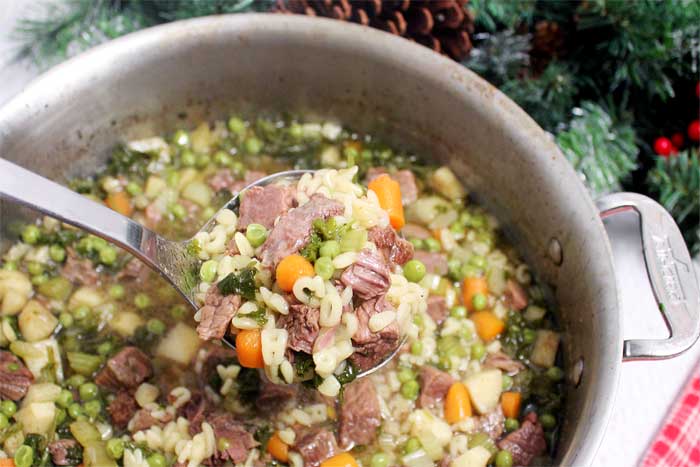 So on to the recipe, First things first – to get a rich broth, which will absolutely make the soup, brown the meat in a hot stock pot. When the meat has browned on one side, add a small amount of water, scrape up the bits from the bottom of the pot, then drain it off and reserve it. Do this to all sides of the meat prior to adding the beef stock, tomatoes (which you might notice I forgot) and water then simmer for 1-2 hours. The longer you simmer, the richer it will get.
You can add your favorite vegetables but he always added carrots, celery, onions, parsnip and parsley. I like to add peas to my soup so that was the only change I made to his original recipe.
Let it simmer another hour and just enjoy the aromas that fill your house. My husband came home from work the day I was making this and the first thing he said was "I can't wait to have some of whatever you're cooking, it smells incredible!"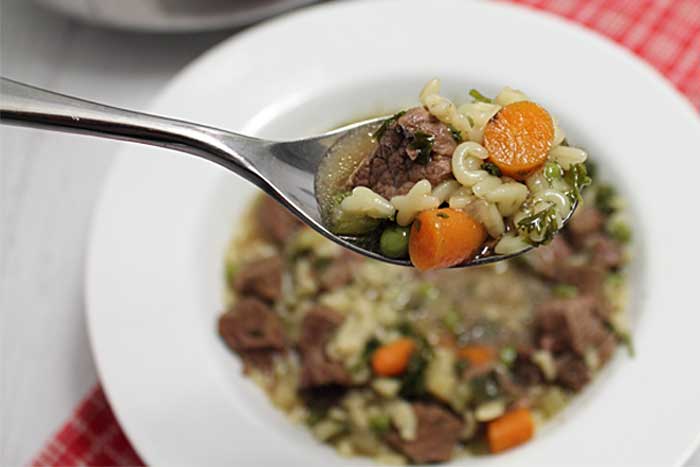 Lastly, he always added alphabet noodles. Boy, are those little noodles hard to find! If you can't find them, pastina or other small pasta will work just fine. You just won't have the fun my sister and I had when we were young spelling words out in our soup. Of course, that never lasted long since the soup was so delicious it got slurped down pretty fast. I mean, just look at that ladle of deliciousness!
I like to serve my Vegetable Beef Soup with a side of crackers or warm freshly baked French bread. It really is the perfect lunch or dinner to warm you up on a cold winter's day.
Print
Vegetable Beef Stew
Author:

Linda Warren

Prep Time:

20 minutes

Cook Time:

2 hours 30 minutes

Total Time:

2 hours 50 minutes

Category:

Main
2

lbs. rump roast (cubed)

4

beef marrow soup bones (optional)

15 oz

can stewed tomatoes (cut up)

32 oz

. beef broth

1

medium onion (chopped)

5

–

6

stalks celery (chopped)

5

–

6

carrots (chopped)

1

–

2

medium parsnips (chopped)

10 oz

. pkg. frozen peas

1/2

–

3/4

cup alphabet noodles
Salt and pepper to taste
Instructions
Heat a large stock pot over medium high heat. Add meat and sear to a nice brown, add a little water and scrape bits off bottom, let brown slightly and pour off browned broth into a bowl. Turn meat and sear each side, adding water and pouring off browned broth as you go. This broth is rich and adds a nice depth to the soup.
Remove meat from stock pot.
Add a slight bit of olive oil to the bottom of the pot and sauté onion for 5 minutes or until soft and translucent.
Add meat back into stock pot with onions. Add bone marrow soup bones, beef broth, stewed tomatoes and enough water to cover beef.
Bring to boil, lower heat and let simmer, uncovered, on stove for 1-2 hours.
Add vegetables and seasoning and continue to simmer for another hour.
Add alphabet noodles and cook for 15 minutes or as directed on package.
Serve hot with a side of warm bread.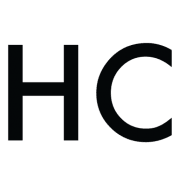 Linda Warren
Linda is a wife and mom with a background in marketing and exercise. She attributes her creativity and love of cooking to her mom and grandmother who were always willing to let her lend a hand in the kitchen. Linda currently resides in South Florida, where she raised two children with the help of her wonderful husband. She loves living in sunny Florida with its abundance of fresh fruits, vegetables and seafood that are available year round. Linda started her blog, 2 Cookin' Mamas, with her daughter Christina after her grandson's birth. Her daughter wanted to learn to cook healthy meals while still meeting the demands of work and baby. That provided the inspiration for the healthy, quick and easy meals on their blog. Of course, they sweetened it up with a few goodies too! When Linda is not in her kitchen she loves traveling, wine, reading, walking and yoga.