Sponsored Post: We've partnered with North Coast Organics, makers of delicious apple products, to bring you fun recipes ideas for the coming season. Their apple sauces, vinegars, juices and ciders are made with only U.S. grown apples. You're sure to taste the difference!
This recipe is a delicious take on the classic Waldorf salad. Deliciously creamy apple cider vinegar dressing is used instead of mayonnaise for a lighter and fresher vegan version. Perfect for your Labor Day vegan menu.
With Labor Day coming up, the end of summer grilling season is near. Being the last gasp of summer, Labor Day weekend might be your last chance to throw an awesome BBQ party with all the amazing late summer foods.
If you are looking for some inspiration for your Labor Day (vegan) menu, here is a side dish your family would definitely enjoy. This healthy vegan Waldorf salad would surely be a highlight of your Labor Day menu. No one would guess how healthy it is, as it tastes forbiddingly good! Plus it is completely vegan, too!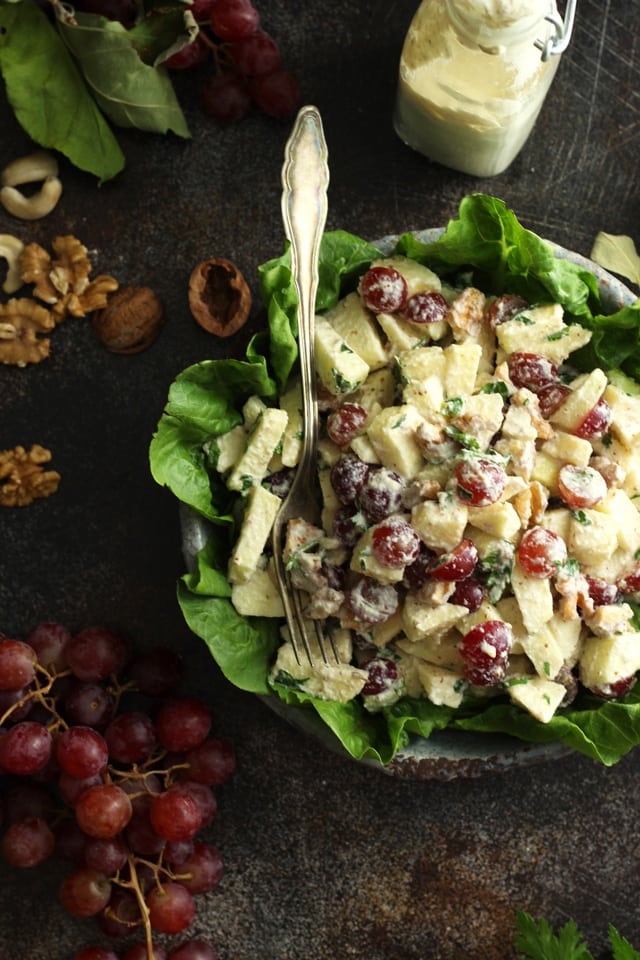 According to Wikipedia, Waldorf salad was invented in 1896 by Oscar Tschirky, the maître d'hôtel of the Waldorf Astoria Hotel in New York City.
The original recipe contained of apples, celery and mayonnaise. Nowadays you can find plenty of variations of this dish. Adding raisins, walnuts, cauliflower, chicken or tuna and using yogurt dressing instead of mayo are some of the most popular twists.
My favorite version of the Waldorf salad includes apples, grapes, walnuts, parsley and lettuce with creamy apple cider-vinegar cashew dressing.
Combining late summer and early fall flavors, this salad is especially good for your Labor Day menu because all of the ingredients are in season. Here is why you should be happy about it.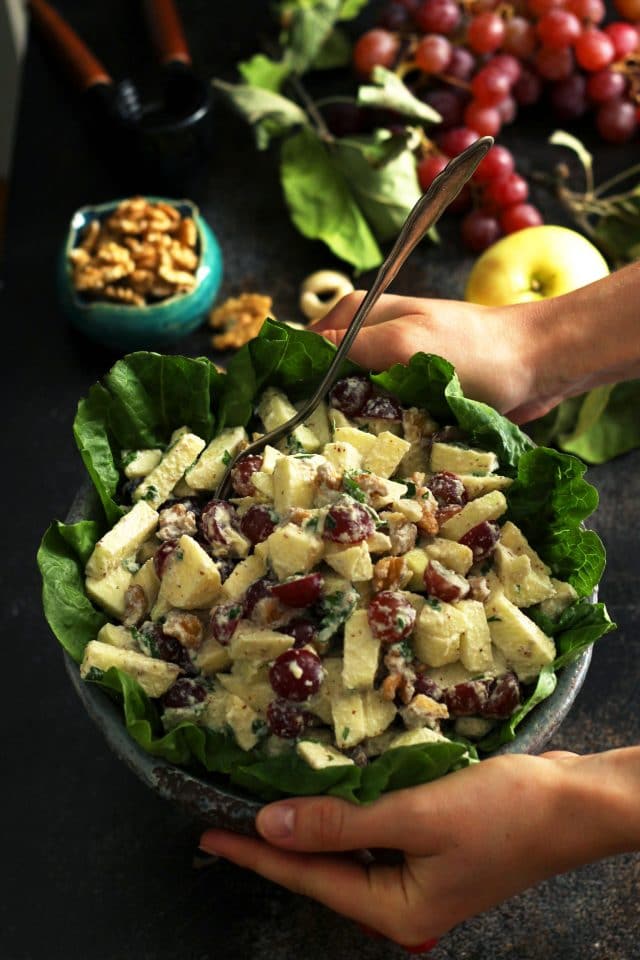 I love eating seasonal because that's my chance to get a little extra nutrients and help the environment. I try to buy locally grown, sustainable and organic foods whenever possible. It's not only beneficial for your health but also for the environment and your wallet.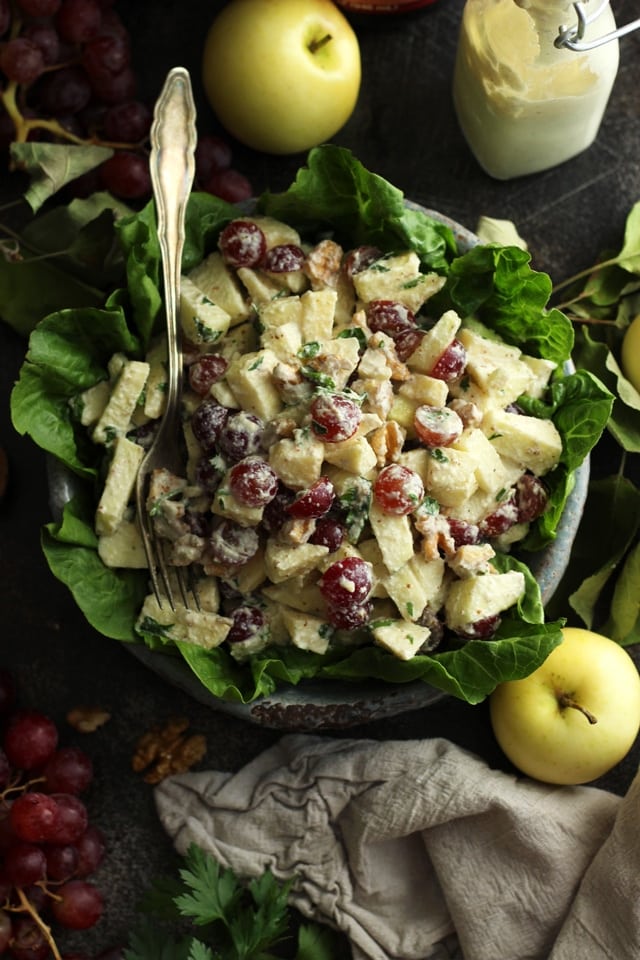 Health wise, seasonal eating offers you the best quality foods with as much nutrients and as less contaminates as possible. They don't get spoiled during transportation, because they are locally grown and sold right away at the peak of their season. Fruits and veggies don't have time to lose their health benefits and flavor if they aren't shipped far.
On the other hand, foods that are out of season have to travel from afar to reach your local grocery store. They have to be harvested before the peak of their ripeness to be able to sustain the shipping. That makes them more expensive and less nutritious, not to mention less flavorful.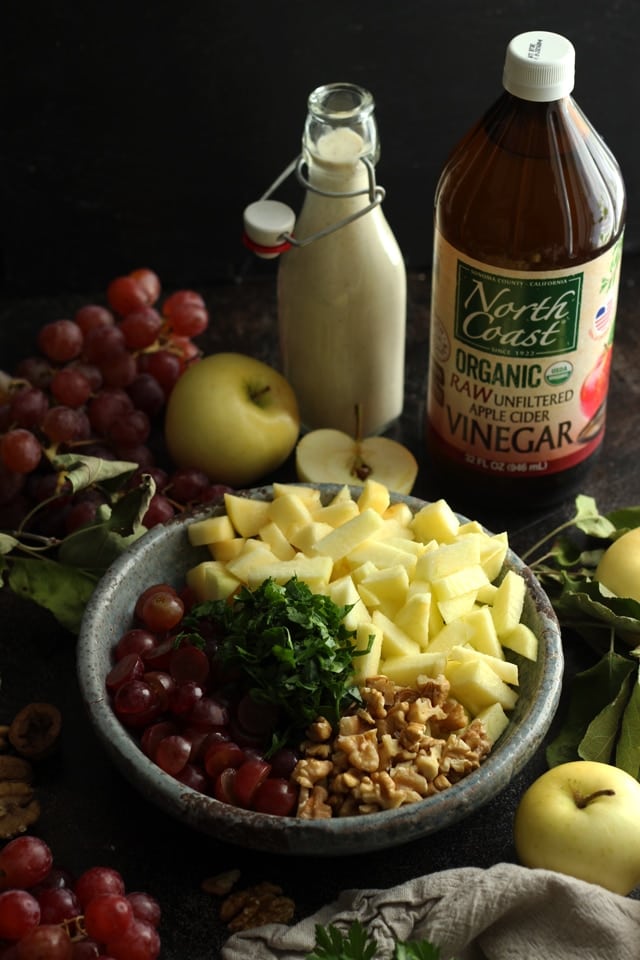 Eating seasonal saves tons of energy used on transportation, storage and refrigeration that makes seasonal foods cheaper, more sustainable and environmentally-friendly. Seasonal produce means that it has reached the peak of its supply, so the cost of it is the lowest. That makes it cheap for farmers to harvest and for retailers to sell. It's also nice to support your local farmers and community by purchasing their fresh produce!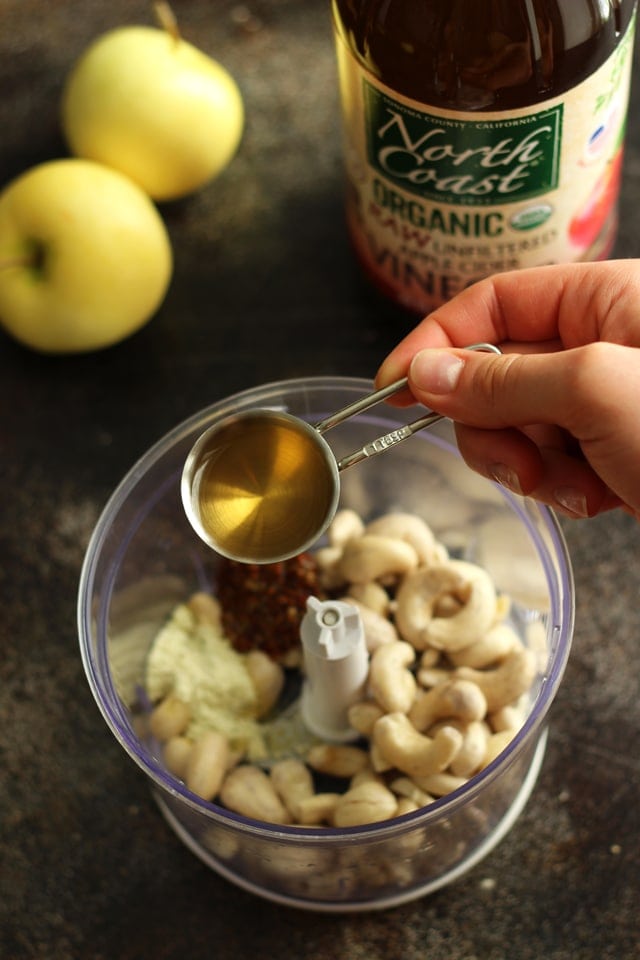 It's always great to discover sustainable brands that care about environment, nutrition and their customers satisfaction. North Coast is one of those amazing brands you feel so excited with you tell all your friends about it. North Coast is committed to sustainability and produce organic products of the highest quality. Their products include freshest organic apple juices, apple sauces, ciders and vinegars all made from freshly-pressed ripe California-grown apples.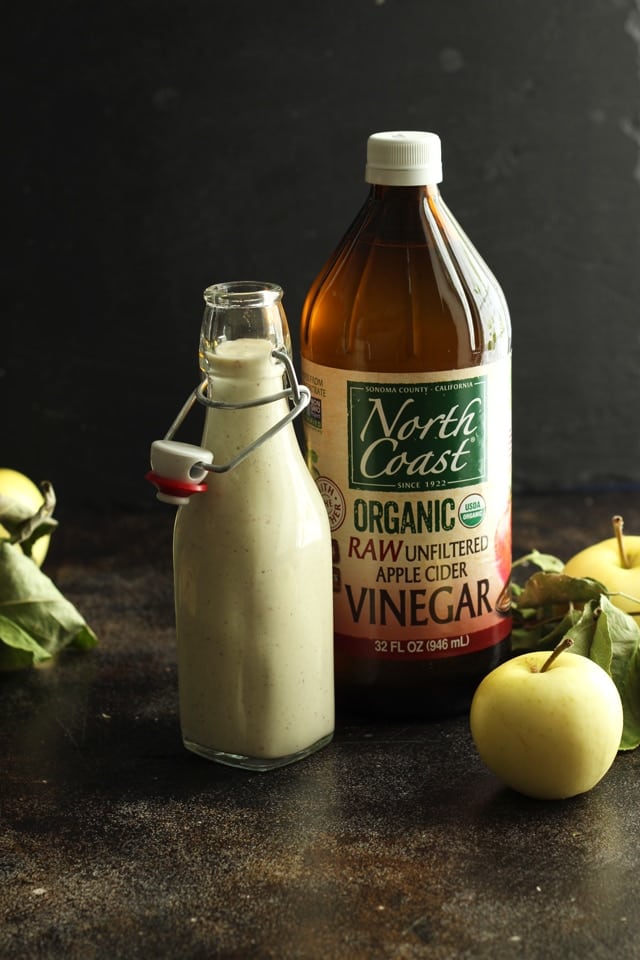 I've got a chance to try their organic raw unfiltered apple cider vinegar that can be used in so many ways! Add it to salad dressings for a little tangy note, use it as a baking agent along with baking soda to make your baked goods lift (same counts for fluffy pancakes), add to marinades, use it for your skin, hair and teeth or as a food preservative. The possibilities are endless!
Another piece of good news is that North Coast is hosting a sweepstake to win a $250 Visa gift card. Create a recipe using North Coast apple juice, applesauce, or apple cider vinegar and post it on Facebook. Details on their Facebook page.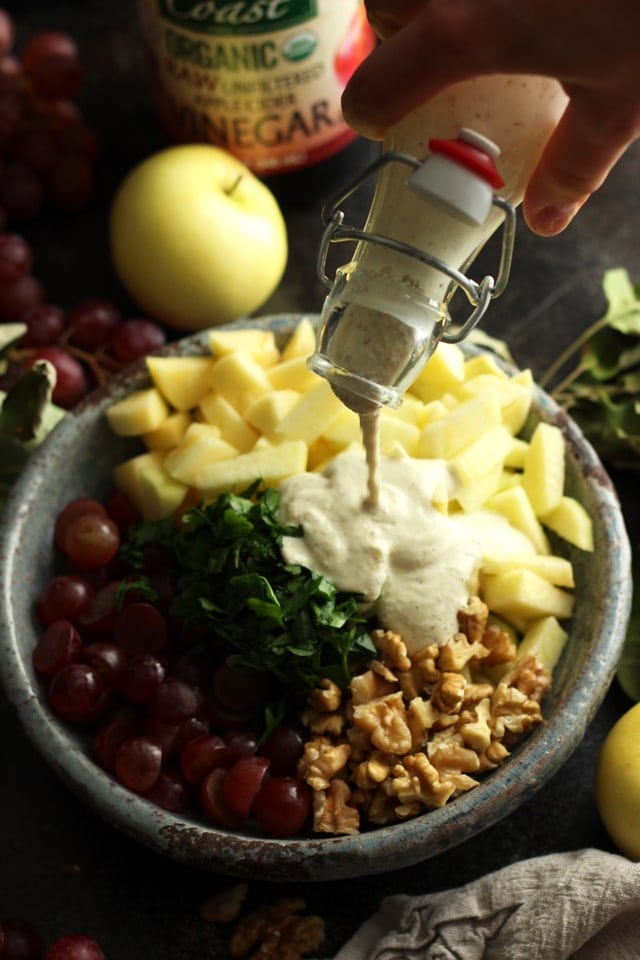 Raw unfiltered and organic apple cider vinegars contain healthy probiotics and enzymes, providing numerous health benefits that include but are not limited to:
regulation of blood sugar levels;
has anti-bacterial properties;
helps you lose weight;
lowers cholesterol;
improves heart health;
keeps your gut healthy;
improves digestion;
and soothes a sore throat.
Today I'm sharing this Waldorf salad with healthy apple vinegar-based dressing instead of mayonnaise. North Coast organic raw unfiltered apple cider vinegar makes it extra nutritious and very tasty!
Celebrate Labor Day with this healthy Waldorf salad and don't be sad because summer is coming to an end. I know it always feels bitter sweet but there is so much to look forward to in fall!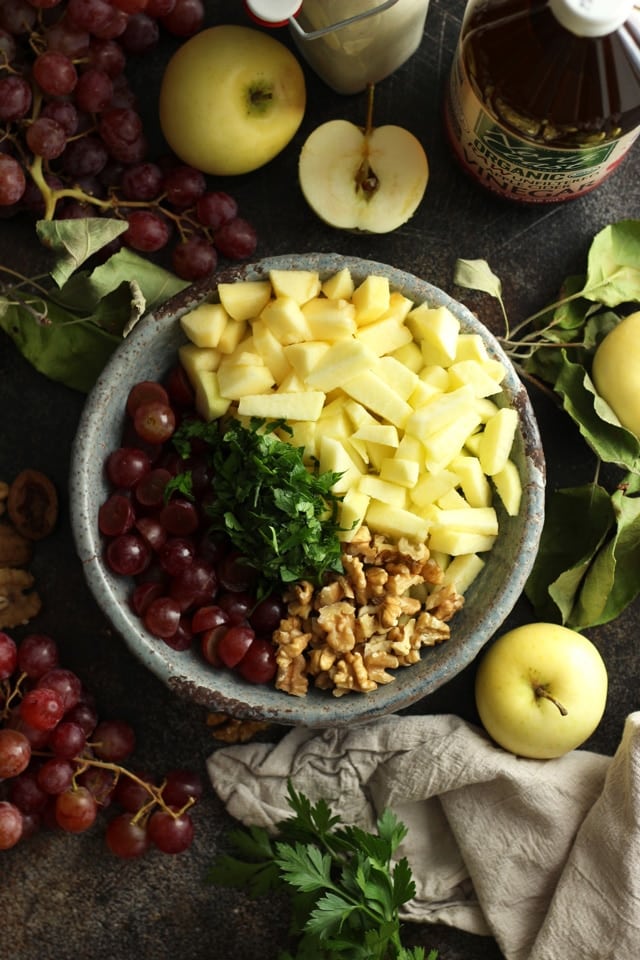 Vegan Waldorf Salad
Ingredients
For the dressing:
1 cup cashews soaked (to quickly soak your cashews, use this method)
2 tablespoons North Coast organic raw unfiltered apple cider vinegar
2 teaspoons Dijon mustard
1 tablespoon agave syrup
1½ tablespoons nutritional yeast
about ⅓ cup water
sea salt and freshly ground black pepper, to taste
For the Waldorf salad:
8 oz or 220 g red seedless grapes about 1½ cups
3-4 crisp apples
¾ cup or 95 g walnuts toasted
3 tablespoons parsley chopped
5-8 leaves fresh lettuce
Instructions
Make the dressing:
Start by making the dressing. Place soaked cashews, apple cider vinegar, mustard, agave syrup, nutritional yeast into a high speed blender and pulse until smooth gradually adding water until the dressing looks as thick as mayonnaise. Try and season with salt and black pepper to taste.
Prepare the salad:
Slice grapes in halves. Core and chop apples. Combine grapes, apples, toasted walnuts and chopped parsley with the dressing and stir well. Serve the Waldorf salad on a bed of fresh lettuce. Enjoy!
Notes
Instead of serving the salad on a bed of lettuce, you can chop the lettuce leaves and toss them in the salad.

If you don't plan to serve the salad immediately after you've made it, store it separately from the walnuts and the dressing in the fridge for up to 3 days. Combine directly before serving.

The excessive dressing can be used for as a dip or spread for sandwiches and wraps.