This creamy – without the cream – soup is full of warm spices and hot chillies and makes for an exciting first course to a Thanksgiving feast.
By Sowmya Dinavahi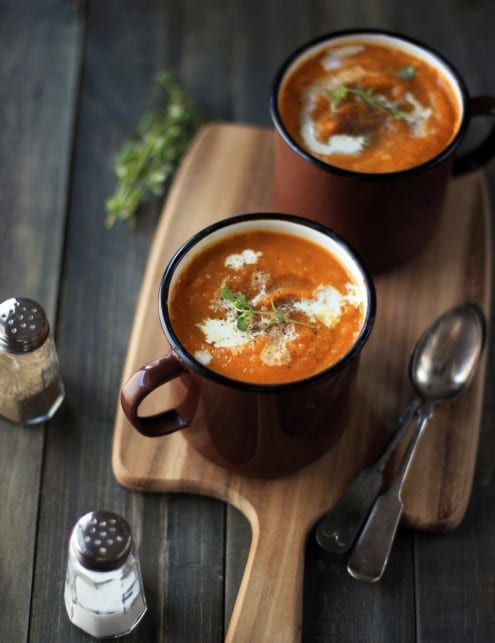 Vegan Spicy Butternut Squash Soup
This creamy - without the cream - soup is full of warm spices and hot chillies and makes for an exciting first course to a Thanksgiving feast.
Ingredients
4-5 cups of vegetable stock
750 g butternut squash, peeled, seeds removed, cut into 2cm dice
4 tbsp olive oil
1 tsp ground cumin powder
1 tsp ground coriander powder
1 tsp curry powder
2 onions, peeled and chopped
2 carrots, peeled and chopped
2 sticks celery, trimmed and chopped
1-2 cloves of garlic, peeled and finely chopped
1 mild red or green chilli, seeds removed, finely chopped
lemon juice, to taste
sprigs thyme, to garnish (optional)
Cashew cream , to garnish (optional)
Instructions
Preheat the oven to 450 Deg F
Add the squash to a roasting tray with 2 tablespoons of olive oil and all the spices. Mix and coat them well to cook in the oven for 20 to 25 minutes, or until soft.
Meanwhile, place a wide pan on a medium heat and add the remaining olive oil. Add the onion, carrot, celery, garlic and chopped green chilli and fry for 10 minutes, or until softened . Add the roasted squash and vegetable stock to the pan. Bring to the boil then reduce to a simmer for 5 to 10 minutes, or until all of the vegetables are soft and cooked through.
Pulse them all in a food processor until smooth. Taste and check for spices and salt. Add some lemon juice to it and serve warm with bread.