A delicious recipe for all the vegan friends and family members this fall season.
By Pallavi Gupta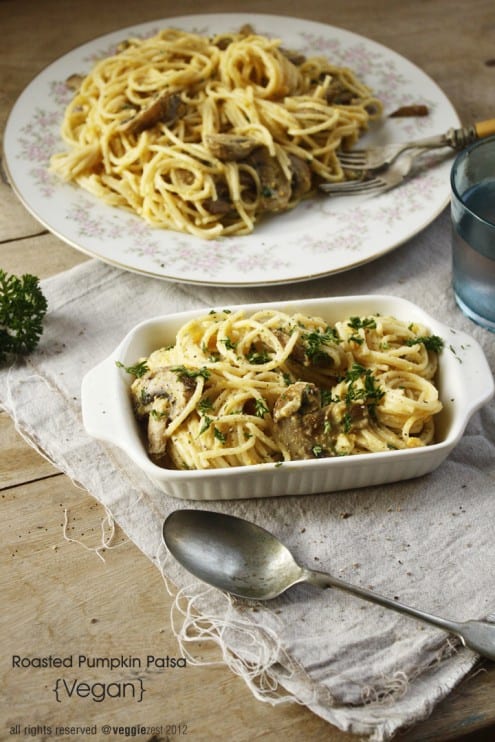 I have been meaning to make a vegan pasta recipe for sometime now and this time just seemed perfect. A delicious recipe for all the vegan friends and family members this fall.
I roasted  pumpkin in the oven (which caramelized the sugars in it) and then pureed it. To make the pasta sauce I added some cashew nut puree to the pumpkin and cooked them in olive oil with some parsley, garlic and shallots. The cashew puree gives this recipe a really creamy and rich consistency adding a little bit of nuttiness at the same time.
If you want to do a vegetarian version of this recipe instead or if you are allergic to nuts, substitute cashew puree with equal amount  of heavy cream. The consistency of the pasta sauce is a lot like Alfredo sauce, but its lighter on your stomach and has good calories and nutrients from the cashew nut. Cashews are very low in cholesterol and sodium. They are also a good source of magnesium, phosphorus, copper and manganese.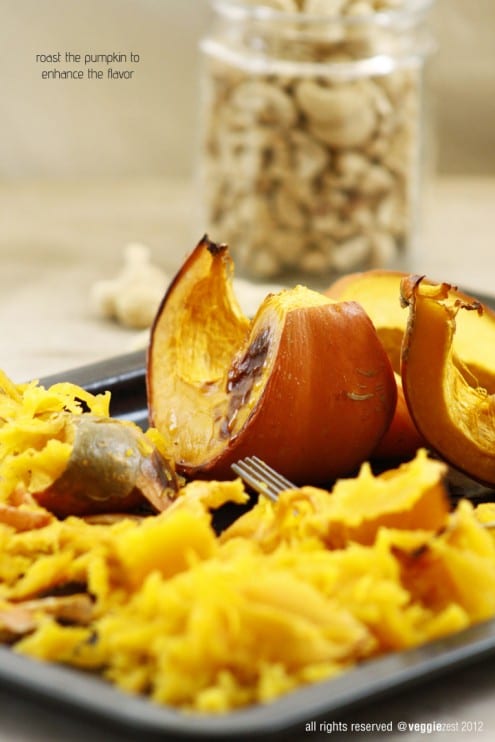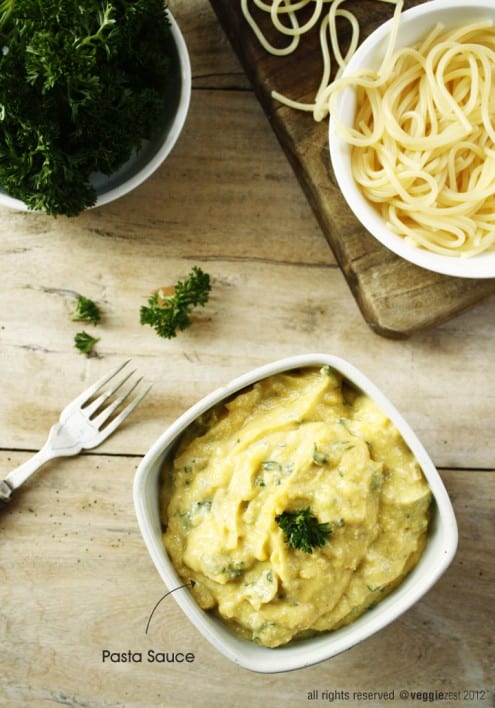 Serving for 2
Cooking time 20 min plus roasting time
Things You Will Need:
1 cup puree of roasted pumpkin (see below for directions)
3/4 cup cashew puree (see below for directions)
1 cup button mushrooms, sliced
1 cup vegetable broth
2 cloves garlic, finely chopped
2 tbsp olive oil
handful of fresh parsley, chopped
See Also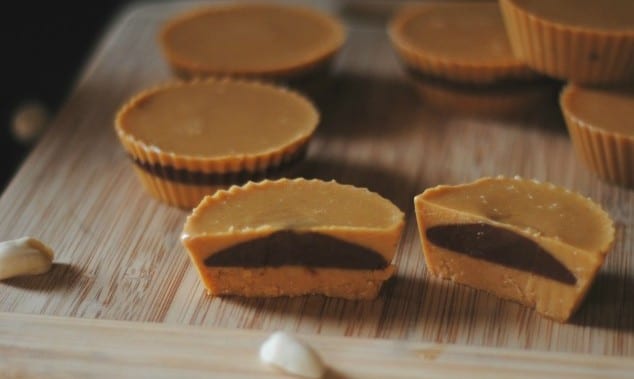 vegan linguine or spaghetti for two people
To Make Pumpkin Puree:
Preheat the oven at 400F. Quarter a medium size pumpkin and roast in the oven for about 50 to 60 minutes or till it turns soft. Let cool. Pull the pumpkin out of the skin using a fork. Puree it in a blender with little bit of water. You need one cup of this puree. You can freeze any extra for the next time.
To Make Cashew Puree:
Toast about 1/2 cup of cashews slightly in a pan on low heat. Let cool and soak in 3/4 cup water for about an hour. Puree it in the blender.
To make Pasta Sauce:
Saute mushrooms in a pan with little oil till all their water is evaporated.
Heat oil in a deep sauce pan and add garlic and shallots to the oil. Cook for about a minute till they turn soft.
Add half of the parsley and stir for a few seconds.
Add the pumpkin puree and and the vegetable broth. Cook for a minute.
Stir in the cashew puree and cook for a few more minutes.
Add cooked linguine to the sauce, mix well and serve immediately.
Pallavi Gupta
Pallavi is a vegetarian globetrotter, who currently lives in the southern part of India. Past ten years of her life includes living in six cities in three different countries. It has added to her vast exposure of cuisines from different parts of the world which is now reflected in her cooking. She shares her knowledge of vegetarian and vegan recipe from around the world via her blog Veggie Zest. When not cooking or photographing, she does graphic design.