Vegan Red Bean and Oats Burger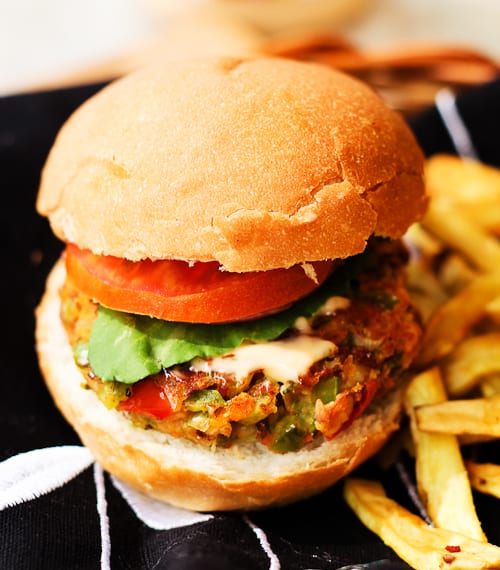 These vegan patties are full of flavorful veggies and legumes that are delicious in their own right and as a healthy alternative to fast food burgers.
By Siri Pulipaka

Vegan Red Bean and Oats Burger
These vegan patties are full of flavorful veggies and legumes that are delicious in their own right and as a healthy alternative to fast food burgers.
Ingredients
2 cups of boiled/canned red beans (rajma beans) - Any kind of legumes work for this recipe. If using canned, thoroughly wash and rinse the beans.
1 medium green bell pepper
½ onion
1 tomato
2 cloves of garlic, minced
2 green onions
2 small carrots
1 bunch of fresh cilantro/coriander leaves
½ cup of instant oats
1 tsp cumin powder
½ (or more) tsp chilli powder (or 1-2 tsp sriracha/hot sauce)
salt - to taste
few tbsp of rice bran oil - for shallow frying
Instructions
To cook any dry beans, soak them overnight in filtered water. Then pressure cook them on HIGH heat for 10-12 minutes (or) until cooked. Let the pressure be released and drain the water. they must be fork tender.
In a bowl, mash the beans.
Cut the veggies - bell pepper, tomatoes, onion and green onions (both white and green parts) into very fine pieces. If you have a food processor, dice them all in 1 or 2 turns. Peel and shred carrots. Chop cilantro leaves.
Add these cut veggies to the beans and oats. Mix well and season with chilli powder (or hot sauce), cumin powder and salt. Refrigerate for atleast 30 mins for the flavors to blend. A cool trick to make perfect, round patties is to - lightly oil the insides of a bottle cap, press the bean mixture and shake a little to unmold. Since we are not adding any binding agent such as eggs or flax seed water, freeze the bean patties for atleast an hour or until ready to use. these can be easily frozen in plastic containers for many months, if you wish to make a big batch.
Once ready, heat few teaspoons of oil in a pan and cook each patty on low heat for 5-6 mins on each side. Carefully flip them on each side once or twice for even cooking. Drain them paper towels.
How to assemble the burger: Spread some eggless mayo on the bottom of a burger bun, then place the bean patty, some mayo again, spinach or lettuce leaves, onion, tomato and top with other half of bun! Tadaa!.. the ultimate red bean and oats burger is ready to be be devoured.
Siri Pulipaka
Siri is an obsessed foodie, an avid blogger, a passionate photographer and one who yearns for simple pleasures of life. She writes about recipes, her culinary adventures and reviews local restaurants & events on her blog - Cooking With Siri, which she started in summer of 2007 during her stint in the US. She believes in farmer's markets, growing her own food and eating responsibly & locally. She also has a photography blog - 365 Days of Siri, where she shares and documents a slice of her daily life through the camera lens. She currently lives in Hyderabad, India along with her food-loving husband.