Vegan and gluten-free, this tart with a deliciously thick coconut-rose pastry cream filling is a feast for the eyes, too.
By Natasha Steinberg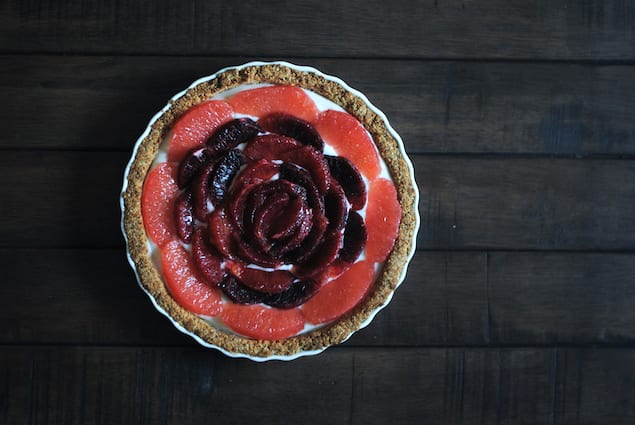 This is one of my favorite tarts I've made. The rose water coconut pastry cream was sort of an experiment and turned out amazingly good, especially considering it has no dairy or eggs. The consistency and texture is just like the real thing, and the nutty and floral flavors marry perfectly with the bright citrus.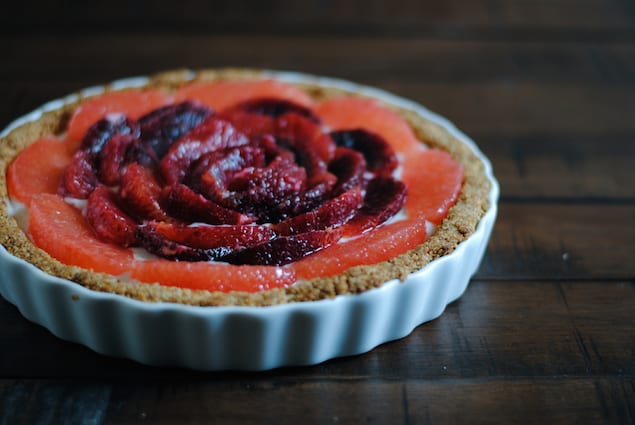 Vegan Coconut Tart with a Citrus Rose
Vegan and gluten-free, this tart with a deliciously thick coconut-rose pastry cream filling is a feast for the eyes, too.
Author:
Natasha Steinberg
Recipe Type:
Dessert, Baking
Cuisine:
Vegan, Gluten-Free
Ingredients
Crust
70 g (1/2 cup) raw sunflower seeds
120 g (1 cup) millet flour
120 g (1 cup) oat flour
60 g (1/2 cup) almond flour
¼ tsp salt
56 g (1/4 cup) coconut oil
8 dates, pitted and halved
1 Tbsp maple syrup
Rose Coconut Cream
1 can light coconut milk
100 g (1/2 cup) pure cane sugar
pinch salt
30 g (3 Tbsp) cornstarch
2 Tbsp coconut oil
1 tsp rose water
1 can full fat coconut milk, refrigerated overnight
Rose-Shaped Topping
1 large grapefruit
3-4 blood oranges
Instructions
Preheat oven to 350 F. In a food processor, pulse sunflower seeds into small, crumb-size pieces. Add flours and salt and pulse to combine. Add oil, dates, and maple syrup and pulse until thoroughly combined and evenly moistened. Mixture should be moist but crumbly and should stick together when pressed between your fingers. Dump into a 9-inch tart pan or pie plate and press into the bottom and up the sides. Bake for 8 minutes, rotate, and bake another 8-10 minutes, or until edges are browned. Let cool completely on a wire rack.
Meanwhile, whisk together 250 ml (1 cup) of the light coconut milk, sugar, and salt in a saucepan and set over medium heat. Whisk together remaining light coconut milk with cornstarch. When saucepan mixture is hot, whisk in cornstarch mixture. Cook until thickened, whisking frequently, about 5 minutes. Whisk in coconut oil until smooth. Remove from heat and whisk in rose water. Let cool at room temperature for about 30 minutes then cover with plastic wrap, pressing the wrap down flush with the cream to prevent a skin from forming, and place in the fridge to continue cooling
Scoop separated coconut fat from the full fat coconut milk into a bowl. Beat until smooth and light. Fold into cooled rose water cream. Pour this mixture into the cooled crust and chill tart for several hours. When you are ready to assemble, supreme citrus to remove all peel and pith (see note above). Arrange citrus beginning on the outer edges and moving inward. Place tart in the freezer for 45 minutes or so to firm up the filling for slicing. Enjoy.
Notes
Although this tart is super beautiful all assembled, it is less so once you slice it. It didn't really matter to me since I made this just for us, but if you want individual servings that are prettier, I might suggest making this into smaller tartlets. Just decrease the baking time on the crust. This recipe should make about five tartlets. You could also freeze the tart for longer than called for, although I've not tried that, so I'm not how it would affect texture/flavor.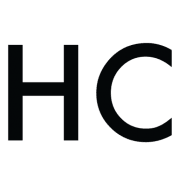 Natasha Steinberg
Natasha is a love-and-matriarch-taught maker of sweet things. She is passionate about using local and seasonal ingredients and making simple, satisfying sweets that make even the least of sweet tooths swoon. Although she is a native Texan, she currently resides in Atlanta where she is finishing up law school and documenting her sweet adventures through photos, recipes, and stories on her blog at tartletsweets.blogspot.com.