This flaky crusted treat is the perfect way to show a vegan or someone with a dairy allergy that you care.
By Vicky Cohen & Ruth Fox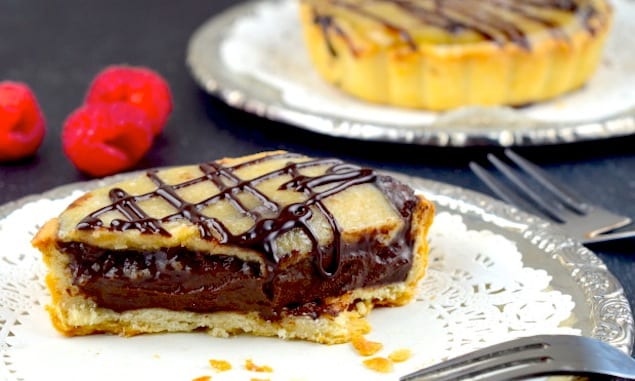 Over the years we've learned to tweak our recipes so all of our guests, especially those with dietary restrictions, could enjoy them. A few years ago that might have been a daunting task. But not anymore, thanks to all the amazing products available on the market. When it comes to dairy free cooking, one of our go to products are dairy free cream cheese alternatives (like GO! Veggie). It's not only super versatile and a perfect alternative to its dairy counterpart, but it's also completely dairy free and vegan, gluten and preservative free.

Vegan Chocolate Salted Caramel Tarts
If you have any leftover dough and filling, use it to make fabulous chocolate filled sandwich cookies! Roll out the dough, cut out circles with a cookie cutter and bake until golden brown. Let them cool and fill with chocolate.
Author:
Vicky Cohen & Ruth Fox
Ingredients
Crust
1¼ cups unbleached all purpose flour
5 tbsp coconut oil
3 tbsp Plain Cream Cheese Alternative
1½ tbsp granulated sugar
Pinch of salt
6 tbsp ice water
Caramel
¼ cup coconut oil
¼ cup full fat coconut milk (not beverage)
½ cup light brown sugar
? tsp Himalayan Pink Salt (you can also use regular sea salt)
Chocolate filling
7oz vegan chocolate chunks (about ¾ cup)
? cup full fat coconut milk (not beverage)
½ cup plus 2 tbsp Cream Cheese Alternative
2-3 tbsp unsweetened cocoa powder (use 3 for a stronger cocoa taste)
1 tsp scotch or bourbon (optional)
Instructions
To make the crust:
Combine flour, coconut oil, vegan cream cheese, sugar and salt in a food processor. Pulse a few times it has the consistency of coarse corn meal
Add water and keep pulsing until it forms a dough (Note: if the crumbs don't come together in the food processor, but they do when you pinch them with your fingers, place them on a floured surface and knead with your hands until it forms a soft dough)
Divide the dough in 6 pieces. Roll out each piece on a floured surface into a round disk big enough to fit into a tartellette mold, about ? inch thick (trim the excess if necessary). Prick the dough with a fork and refrigerate for 20 minutes
In the meantime, preheat oven to 350F. Bake chilled dough for about 25 minutes, until golden brown. Set aside to cool
To make the caramel:
Combine all ingredients in a medium sauce pan. Cook at medium heat for about 9-10 minutes, whisking constantly, until it thickens and turns a golden color. Set aside
To make the chocolate filling:
Place chocolate chunks in a heat proof bowl. Bring coconut milk to a simmer and poor over chocolate, stirring constantly until it's completely melted. Set aside to cool slightly.
In a medium bowl, whip vegan cream cheese with an electric mixer at medium speed. Reduce speed, add cocoa powder and melted chocolate and mix until well incorporated. Fold in scotch or bourbon (if using)
To assemble the tart:
Spoon chocolate filling onto the tarts. Pour caramel over and sprinkle with salt. Drizzle melted chocolate for decoration
Vicky Cohen and Ruth Fox
We are two sisters born and raised in Barcelona, Spain, with Sephardic and Middle Eastern roots. We grew up eating the best, most flavorful, comforting home-cooked meals prepared by our mom, who taught us everything we know about cooking. When we moved here to the U.S. we felt it was really important to keep our traditions and background alive, and we've done so by sharing it with everyone we've met throughout the years. After all, what better way to make new friends and share our love and culture than through food, right? Our friends have come to enjoy our food and gatherings so much that are always asking us for our recipes. That inspired us to start a cooking blog called "May I have that recipe" where we share recipes we've created inspired by our multicultural background.