These fresh berries are perfectly paired with a homemade, raw dark chocolate shell for a delicious vegan treat.
By Christine Curran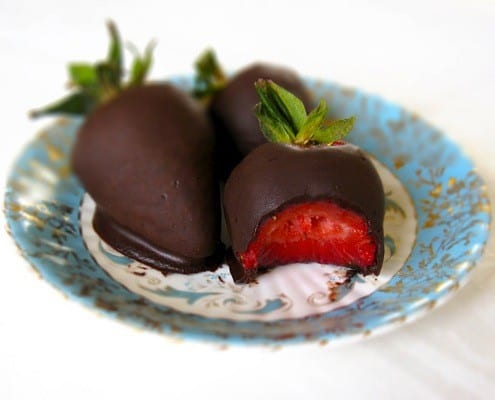 Strawberry season is just around the corner here in Santa Fe.  Some friends went hiking in the Los Alamos area last week to discover plentiful strawberry patches growing out of the dust and ash from the wildfires we had last summer.  It is a rebirth this spring and I am guessing those wild strawberries are going to be pretty amazing!
Strawberries seem to be the harbinger of the amazing fruits to come late spring and summer.  They greet us after the cold winter with a soft, sweetness and vibrant red color that reminds me of fruit crisps and fruit salads.  Picnics and outdoor gatherings that are just starting to be organized amongst our friends.
These fresh berries are perfectly paired with a homemade, raw dark chocolate shell.  This is such a simple treat to pull together, but seems so special when you share it with unsuspecting guests.  So start planning your springtime picnic and bring some Chocolate Dipped Strawberries along.
Vegan Chocolate Dipped Strawberries
Vegan and Raw Chocolate Dipped Strawberries
Ingredients
3 tablespoons coconut oil
⅓ cup raw cacao powder
2 tablespoons raw agave
1 16oz container of organic strawberries
Instructions
Rinse strawberries and pat them dry.
Warm coconut oil on very low heat, just enough to bring it to liquid form.
In a small bowl whisk together coconut oil, raw cacao and agave until smooth.
Dip strawberries into chocolate holding onto the leaves of the strawberries. Slowly roll the chocolate around the edges of the strawberry until the chocolate stops dripping.
Place each dipped strawberry onto parchment paper and refrigerate the berries for about 1 hour.
Christine Curran
Christine Curran has been passionate about cooking since she was little and has become a self-taught Gluten-Free Baker and Vegetarian Cook. She has been sharing this passion on her successful food blog Nourish the Budding Lotus since 2008.