Vegan Bean and Oat Burgers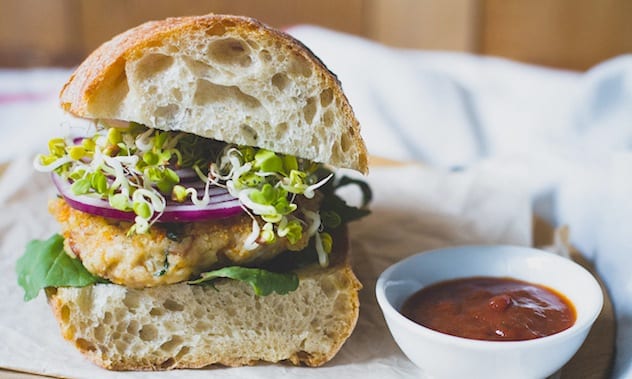 This vegan bean-oat burger satisfies your appetite for a great-tasting veggie burger that's easy to make and it's healthy because of using wholesome ingredients to make.
By Zita Nagy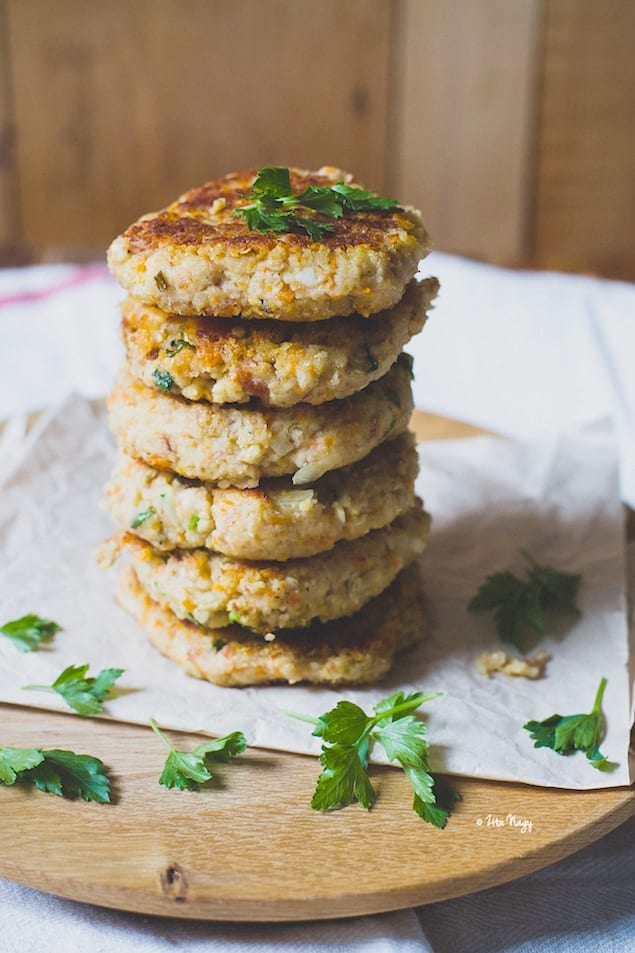 It's difficult to find really good vegetarian or vegan burgers in Hungary. At most places the only vegetarian options are made with cheese or mushroom. Restaurants and cafes are not very open to try new recipes and serve the needs of vegetarian customers. Although veggie burgers are a vegetarian delight, but meat-eaters are sure to love them, too.
This vegan beat-oat burger comes from a Hungarian vegetarian cookbook that was written by a vegetarian friend of mine. It satisfies your appetite for a great-tasting veggie burger that's easy to make and it's healthy because of using wholesome ingredients to make. Either you are a vegetarian or not , you will love this burger!

Vegan Bean and Oat Burgers
This vegan bean-oat burger satisfies your appetite for a great-tasting veggie burger that's easy to make and it's healthy because of using wholesome ingredients to make.
Ingredients
125 g rolled oats, soaked in lukewarm salty water for 30 minutes
1 can of beans, drained and puréed
80 to 100 g whole wheat bread crumbs
1 onion, chopped
3 cloves garlic, chopped
1 medium carrot, chopped
½ a medium sized celery root, chopped
small bunch of parsley, chopped
1 tablespoon fresh lemon juice
2 teaspoons Dijon mustard
1 teaspoon oregano
salt, pepper
olive oil
serving: salad, mustard, ketchup, sliced red onion, sprouts, ciabatta or rolls
Instructions
Drain the soaked oat for a few minutes through a fine strainer. In a food processor chop all the vegetables (onion, garlic, carrot, celery).
In a pan heat 2 tablespoons olive oil and saute onion, carrot and celery. After 2-3 minutes add garlic and a few pinches of salt. Saute for a few more minutes. Set aside to cool.
In a bowl mix together the soaked and drained rolled oats with puréed beans, sauted vegetables, parsley and season with lemon juice, mustard, oregano, salt and pepper. Add breadcrumbs and let it sit for 5-10 minutes. Form pingpong ball sized balls from the mixture, flatten them with your palm or a spoon. Place the formed patties on a tray.
Heat 1-2 teaspoons olive oil in a pan, add patties and cook for about 5-7 minutes until golden brown. Flip the patties and cook them on their other side until golden. Cook the remaining patties too. Serve with ciabatta or rolls and with vegetables, ketchup, mustard.
Zita Nagy
Zita's love for cookbooks and delicious food started at the age of 9. Whenever she went home from school her little brother and she would wait for mom to make dinner for them. Until the dinner was ready, she was turning the pages back and forth and was staring at photographs of amazingly looking dishes in mom's cookbooks to kill her appetite somehow. She couldn't have known then, that she would be collecting cookbooks after reaching adulthood and would still be, just like in her childhood, staring at awesome photos of delicious dishes. The only difference is that she does the cooking now. She loves traveling, going to the organic market and browsing foodblogs. Her vegetarian food and travelblog is Zizi's Adventures.