If you prefer, you can substitute turkey or chicken scaloppine in place of the veal in this savory pumpkin recipe.
By Jovina Coughlin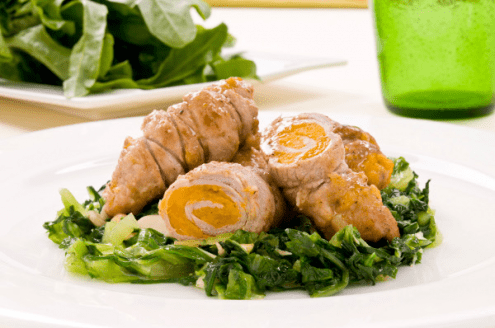 Veal and Pumpkin Rolls
If you prefer, you can substitute turkey or chicken scaloppine in place of the veal in this savory pumpkin recipe.
Ingredients
16 veal scaloppine, about 1.5 oz each, pounded thin
1 lb pumpkin, peeled and sliced
1 lb chicory
1 ¼ oz almonds, sliced
½ an onion
All-purpose flour
1 ½ oz grated Parmigiano Reggiano cheese
White wine to taste
Butter
Extra virgin olive oil to taste
Salt and pepper to taste
Instructions
Gently saute the onion in 2 tablespoons of olive oil until lightly golden and then add the pumpkin slices.
Salt and pepper the pumpkin and cook over low heat for 20 minutes, covered. Mash the pumpkin into a puree and add the grated Parmesan. Set aside.
Place the pounded slices of veal on a work surface and spread each one with pumpkin puree. Roll them up tightly and roll in flour.
Melt 2 tablespoons of butter in a skillet and brown veal rolls, about 6 minutes. You may need more butter.
Add enough wine to cover the bottom of the pan and allow it to evaporate. Cover the pan and cook the veal rolls for 6-8 minutes more.
Finely chop the chicory and add it to a skillet containing 1 tablespoon of olive oil; add the almonds and salt and pepper. Cook until the chicory wilts.
Serve the veal rolls over the chicory mixture.