Once you bite into one of these pockets of flavor and the broccoli bursts from the center, you'll sing the praises of broccoli stalks and wonder how you ever could have discounted them to begin with.
By Carrie King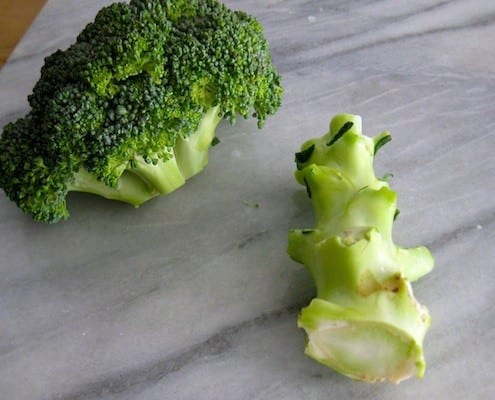 It's no secret that we humans are creatures of habit, so, it makes sense that we would form habits in the kitchen too. We might tend to buy the same ingredients, or rely on the same dull knife because it's our favorite, or cook a rotating selection of meals because they're what we know best. We become so used to certain ways of eating and cooking that it becomes mechanical. Certain ingredients are designated for specific tastes and flavors and dishes – and kind of pigeonholed – because it's what we've always done.
We also have very specific ideas about what parts of a vegetable or animal, for that matter, are edible and tasty. It's true that in recent years, eating offal, or the lesser used cuts of an animal, has become more 'fashionable' in the food world and so people have started to become more accepting of a bit of kidney or liver or tongue. But, one food group that still seems to be under-considered, in this cook's opinion, is the lesser-used cuts of vegetables.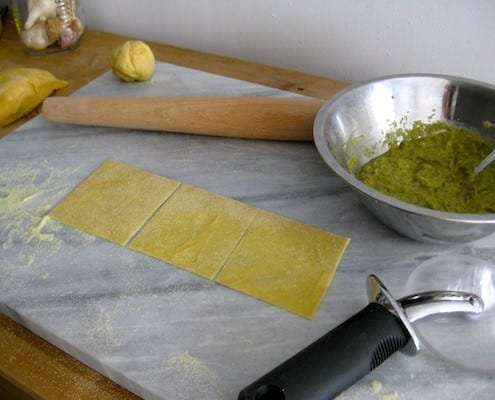 What are the lesser-used cuts of veggies you ask? Well, broccoli stalks are a prime example. How many perfectly edible, tasty broccoli stalks are discarded every single day in kitchens all over the country? I don't know how the broccoli stalks got such a bad wrap that everyone throws them out. I guess it might be the rather off-putting prickly outside of the stalk – but underneath that hard layer lies tender broccoli meat that tastes exactly like, well, broccoli.
It's true that in an effort to move towards conscientious eating and sustainable tables that one of our biggest focal points should be food origins and making good choices about the food we purchase – where it comes from, how it was grown or raised, etc. But, another behavior to examine is what food we waste once we actually get it into our kitchens. You wouldn't throw away half of a perfectly good head of broccoli right? That's kind of what we do when we throw away the stalks.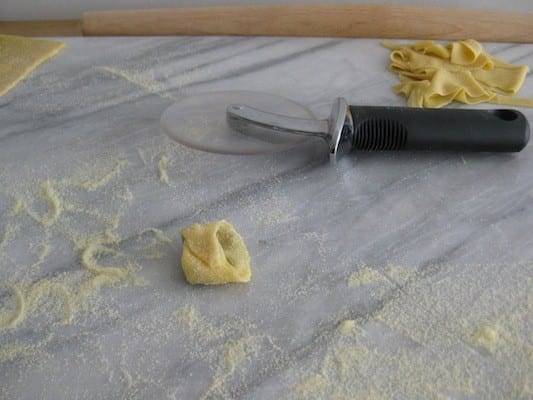 You need only trim the end and outer layer of the broccoli stalk to have, depending on the size of the broccoli, almost doubled the amount of broccoli you have to work with for your dish. You can treat the flesh from the stalk the same way you would treat the rest of the veggie – dice it, slice it, sauté it, eat it raw in a salad. Whatever your broccoli-loving heart desires.
I used the stalks and the florets for homemade tortellini. In this case, using the stalks really paid off in that it added significant body to the filling. Pureeing fresh veggies and transforming them into a stuffing for pasta is also a great way to sneak some extra veggies into your diet. Once you bite into one of these pockets of flavor and the broccoli bursts from the center, you'll sing the praises of broccoli stalks and wonder how you ever could have discounted them to begin with.
Print
Broccoli Tortellini
A simple puree of broccoli is used as the filling for these tortellini, which are a perfect way to use the whole veggie.
Author:

Carrie King

Prep Time:

1 hour 45 mins

Cook Time:

30 mins

Total Time:

2 hours 15 minutes

Yield:

4

1

x
Tortellini dough
2 1/2 cups

of flour

1 tsp

salt

3

whole eggs

1 Tbsp

olive oil
Broccoli puree
1

head of broccoli, trimmed

2 Tbsp

olive oil

3/4 cup

vegetable stock

3

large garlic cloves

1 tsp

salt

1/2 tsp

black pepper

1

egg
Olive oil, garlic and lemon sauce
3

garlic cloves

1/2 tsp

chili flakes

1 tsp

salt

1/2 tsp

black pepper

1/4 cup

olive oil

1/2

lemon

1

small bunch flat leaf parsley, chopped
Instructions
Pasta dough
Combine the flour and salt on your workspace. Use your fingers to make a well in the center, roughly 6 inches in diameter.
Add the eggs and olive oil to the well and beat gently with a fork.
Use the fork to gradually incorporate the flour into the eggs, forming a wet, loose dough.
Use your hands to knead and incorporate the remaining flour.
Knead for 10-12 minutes, until the dough has formed a velvety smooth ball.
Wrap in plastic and allow to rest for at least one hour.
Broccoli filling
Trim and clean the broccoli by separating the florets, and trimming and dicing the stalk.
Combine the olive oil, garlic and broccoli in a large pan and saute for 4-5 minutes. Season with salt and pepper.
Add the stock to the pan and cover with a lid to braise the broccoli.
Once the broccoli is soft and tender, turn the heat off.
Use a slotted spoon to transfer just the broccoli and garlic to a food processor.
Puree, adding only a little bit of cooking liquid if needed to loosen the mixture. The puree should be thick, not runny. Season with salt and pepper.
Transfer the puree to a small bowl and allow to cool.
Shaping the Tortellini
Once the pasta has rested, use your pasta machine to roll the dough into thin sheets. Start with the widest setting and gradually work your way down to the thinnest setting.
Cut the dough into squares – roughly 3 1/2 inches by 3 1/2 inches in size.
Once the broccoli puree has cooled, beat in one egg and whisk well to incorporate.
Use a teaspoon to dollop a small amount of broccoli puree in the center of each pasta square.
Using your finger or a pastry brush, lightly dampen the edges of the square with water to act as glue.
Fold one corner over the filling, meeting the opposite corner, forming a triangle. Press the edges firmly.
To shape the tortellini, press your index finger into the center of the filling and roll each corner around it.
Fold the pointy top of the triangle over and place on a lightly floured surface or baking tray.
Repeat until all of the pasta has been filled and shaped.
Bring a large pot of water to a rolling boil and add the tortellini.
The tortellini will only need a few minutes to cook – once they float on the surface, they are ready to be drained.
Olive oil, garlic and lemon sauce
In a large saucepan, add the olive oil, garlic, chili flakes, salt and pepper. Saute until the garlic is lightly golden and fragrant.
Turn off the heat and add the cooked tortellini directly to the sauce.
Add the freshly chopped parsley and squeeze the lemon juice over the top, mix once or twice and serve.
Notes
By far the longest part of this process is waiting for the pasta to rest.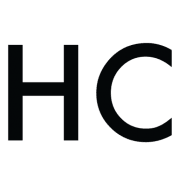 Carrie King
Carrie King is a Brooklyn-based freelance food writer and trained chef. When not in her kitchen or at her desk, she's poking around a market, searching for the components of her next meal. Carrie believes that in the war against bad cooking, using local and seasonal ingredients is half the battle. You can share in more of Carrie's culinary adventures at her blog, A Cook Grows in Brooklyn.