Get a full helping of healthy Umami flavor from this dish. Roasted Tomatoes pair with cooked Farro to produce a savory flavor that permeates the whole dish.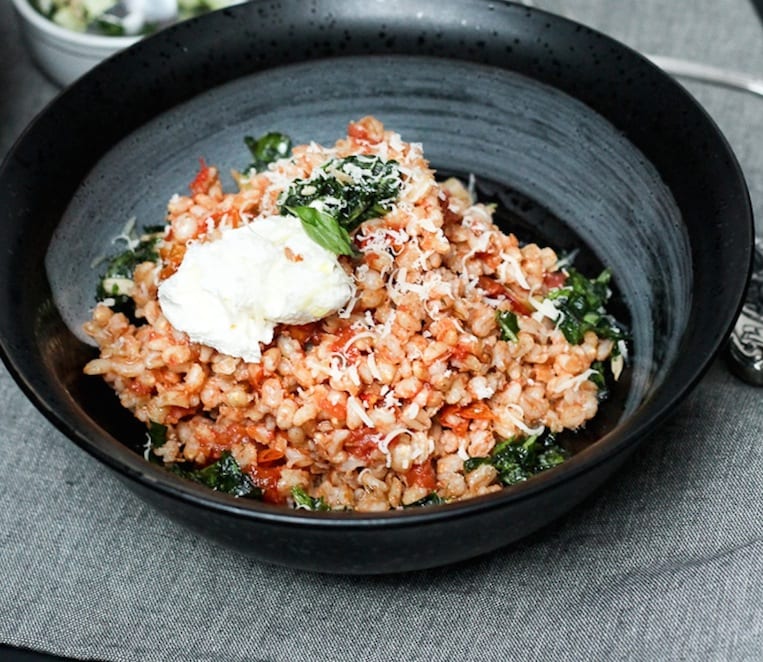 Let's start at Umami before I delve into this fantastic (and easy) dish. Umami is one of the five basic tastes, together with sweet, sour, bitter and salty. A Japanese word, umami can be translated to 'pleasant savoury taste' and has come into light as of recently as people are discovering this extra flavour that is in a lot of dishes we've always known and loved. In the western world it has only started to be recognised whilst other cultures have been creating dishes intentionally using umami flavours out for over 100 years (looking at you Japan!)
You can achieve umami bliss by incorporating tomatoes in your meal, a sprinkle of parmesan cheese and adding a few anchovies to any pasta dish. For those who need to make a meal and try to recognise the umami taste, this is for you. The taste can be felt on the front of the tongue, or so I was told but I tried really hard to focus on the taste. All I could taste was deliciousness.
See Also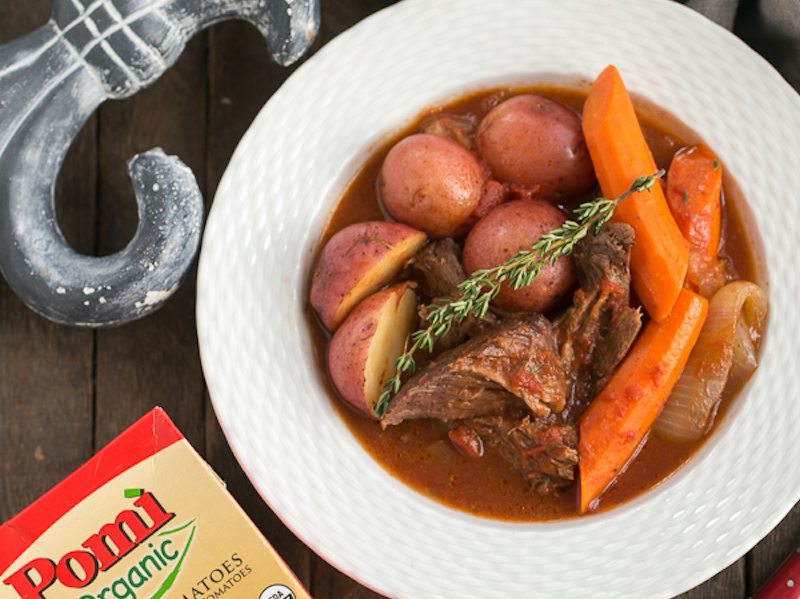 This recipe was inspired by a similar recipe I tried from friend and awesome food blogger, The Hungry Babushka. 6 ripe tomatoes, chopped in half get a generous sprinkle of salt and some olive oil and who into an oven, cut side up on 120 deg cel for 3-4 hours. The labneh (strained Greek Yogurt) is straining in the fridge and the farro goes on to boil with 40 minutes to go. It's all mixed together with some other delicious ingredients, garnished with pesto and parmesan cheese and voila, the most umamiest meal is born. You can thank me later!
Print
Author:

Rebecca Thexton

Yield:

4

servings

1

x
Category:

Insalata
6

large sun ripened tomatoes (cut in half)

2 cups

farro/barley/aborio rice

1

400 g 14 ounces tin diced tomatoes

1 tbsp

tomato paste

1/2 cup

labneh (recipe in recipe index)

1 tablespoon

lemon juice
pesto (if desired or basil)
extra virgin olive oil
salt and pepper
parmesan cheese
Instructions
Pre heat the oven to 120 deg cel (235 deg f) and place the tomatoes, halved and seasoned on a baking tray and slow roast for at least 2 hours. Can roast for up to 4. Check half way through
Once tomatoes are almost done (1.5-2.5 hour mark) cook your farro/barley/aborio rice as per packet instructions. You can cook in stock if you wish.
Once your grain is cooked, drain and return to a large pot. Melt in the slow roasted tomatoes, tin of diced tomatoes, tomato paste, salt and pepper and lemon juice.
Top with labneh, pesto, parmesan cheese, olive oil, salt and pepper and serve.
Notes
You can garnish with basil leaves or thyme as opposed to making/using pesto.
Labneh also not necessary. This is delicious on it's own!
Rebecca Thexton
Hi! I'm Bec, I live in Melbourne, Australia. I'm obsessed with breakfast foods. I love to cook for people I care about. I am business minded but have a creative heart. My blog, Dancing Through Sunday is about enjoying the little things in life, like a Sunday brunch.