Ultimate Super Bowl Food: Twice-Fried Plantains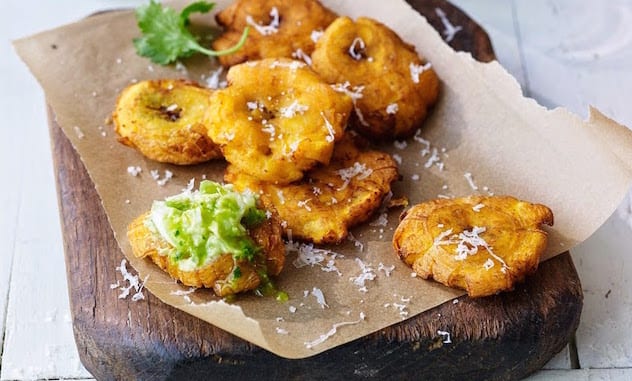 Try this Caribbean recipe with Manchego cheese and a spicy salsa verde.
By Michelle Tchea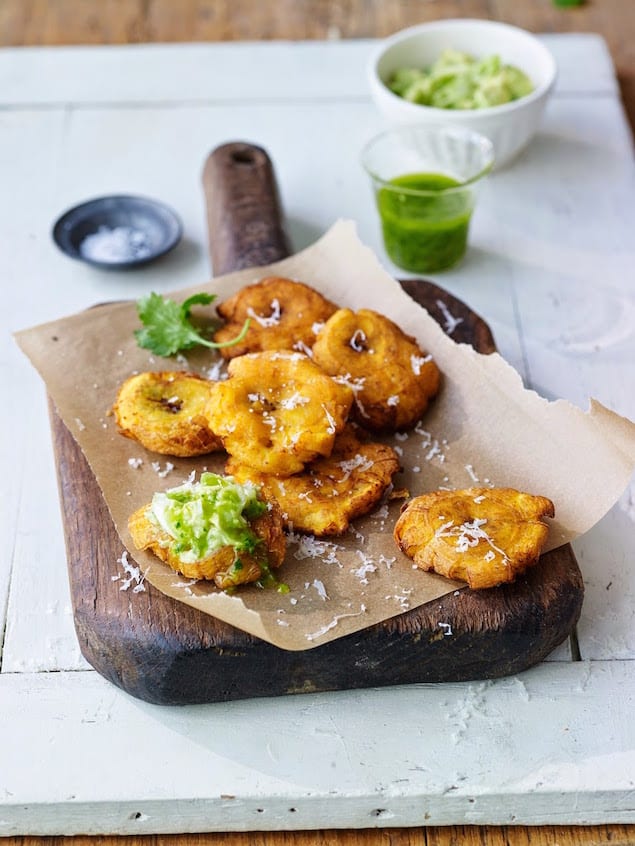 Recipes and Images from Caribbean Potluck by Suzanne Rousseau and Michelle Rousseau (c) 2014 Kyle Books, and the photographs (c) Ellen Silverman
To whisk you away to the Caribbean, without actually leaving your apartment, here is a delicious recipe from two sisters, Michelle and Suzanne Rousseau. This should be thee Ultimate Tailgate Party food for the Superbowl!!

Ultimate Super Bowl Food: Twice-Fried Plantains
Author:
Michelle & Suzanne
Ingredients
2 large green plantains
about 3 cups vegetable or coconut oil
sea salt and freshly ground black pepper
1 large avocado, pitted and sliced
1 bunch scallions, chopped
2 tablespoons fresh lime juice, or to taste
4 ounces Manchego cheese, grated (about 1 cup)
1 bunch chopped fresh cilantro
¼ cup Spicy West Indian Salsa Verde (found on page 122 in their cookbook)
Instructions
Cut off both ends of each plantain and, with the tip of a paring
knife, score lengthwise along the ridges of the plantain skin; peel
away the skin. Cut the plantains into 2-inch-thick pieces and
sprinkle with salt.
Heat about 4 inches oil in a large pot over high heat. Once the
oil is very hot, drop the plantain pieces into the oil and fry for
about 2 minutes. Transfer the plantains to a plate lined with paper
towels to drain. Reserve the oil in the pot.
Spread a clean dish cloth on a work surface, place 1 piece of
fried plantain on the cloth, and fold the cloth over the plantain;
press hard with the heel of your hand to flatten the plantain to
about ½ inch thick. Repeat with the remaining pieces of plantain.
Once all the plantains are pressed, heat the oil up again and fry
the plantains for 3 minutes more, or until golden brown. Transfer
to a plate lined with fresh paper towels to drain. Season with salt.
In a small bowl, mash together the avocado with the scallions, a
pinch of salt and the lime juice.
Place some mashed avocado on top of each pressed plantain and
top with cheese, cilantro and a generous drizzle of spicy salsa
verde.
Michelle Tchea
Michelle Tchea is a 4-time bestselling author. Her books include, Building a Perfect Meal, My Little SoHo Kitchen, Signature Dishes (Australia's Best) and Chefs Collective. Her work can be found in other leading luxury travel and food magazines including Travel+Leisure Asia, SMILE, NUVO Magazine and The Telegraph