The Ultimate Southern Burger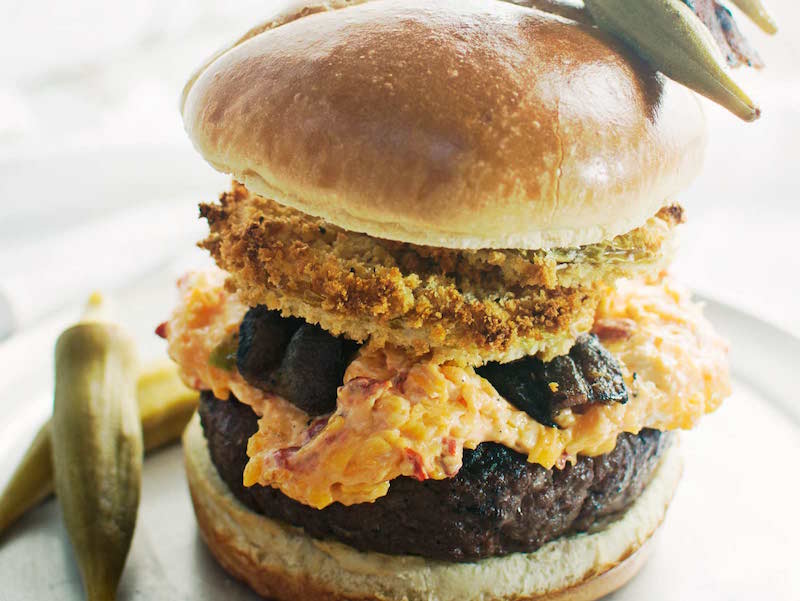 Sink your teeth into this smokey southern burger topped with plenty of bacon, fried green tomatoes, and pimento cheese.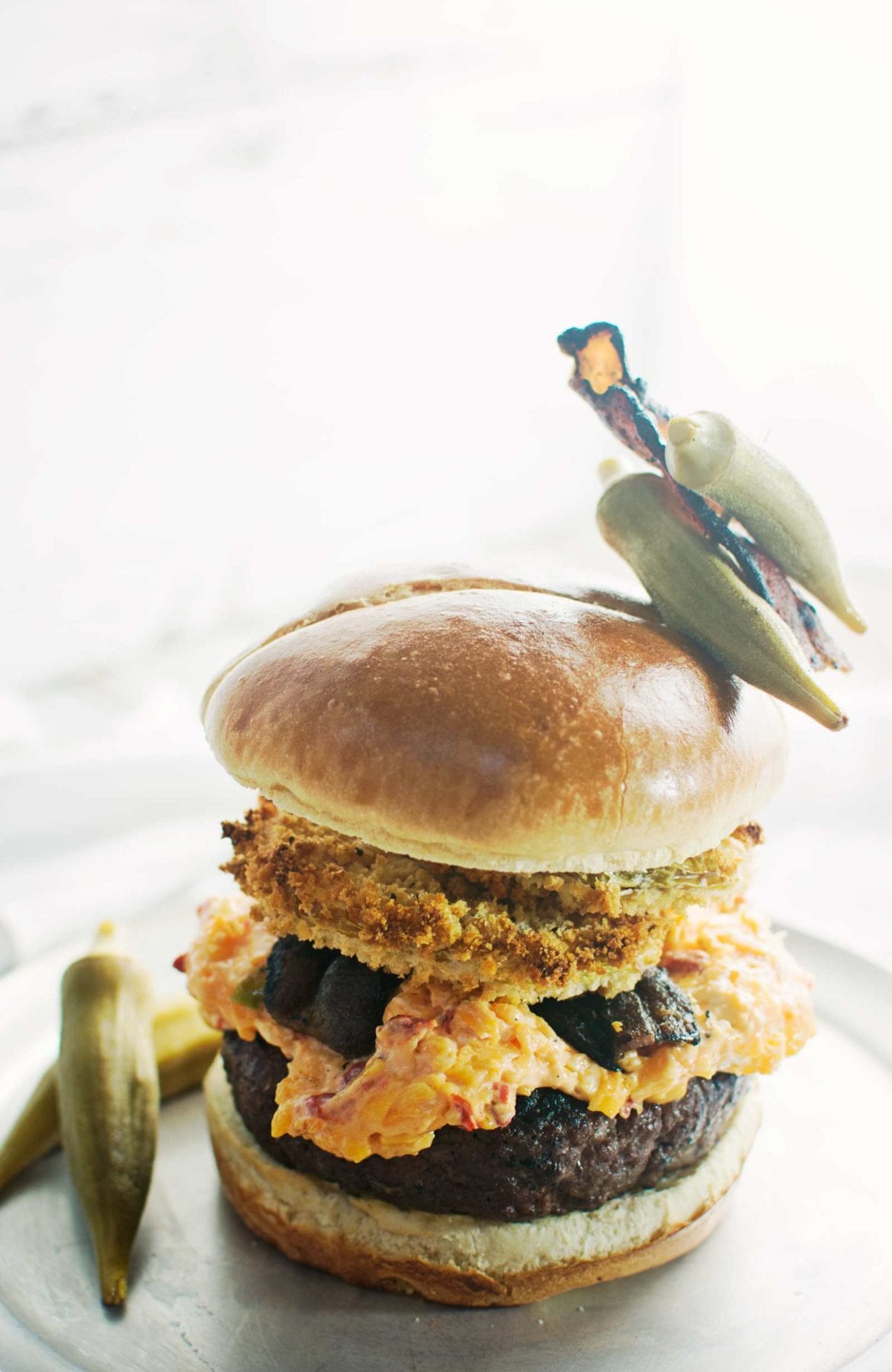 Think of this hamburger as my house special, if you will. This is not strictly a recipe, but more of a … "try this and you'll be happy you did" kind of collaboration between two of my recent recipes, the Oven "Fried" Green Tomatoes and my Easy Pimiento Cheese plus a fair amount of smoked crispy bacon.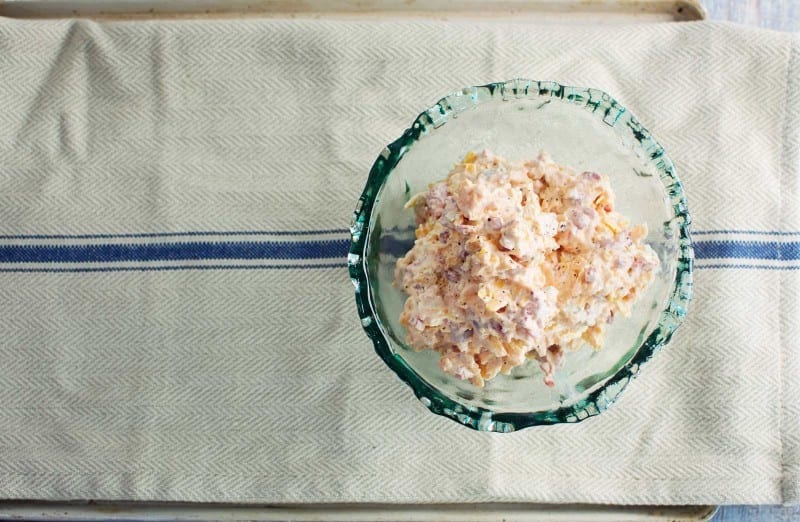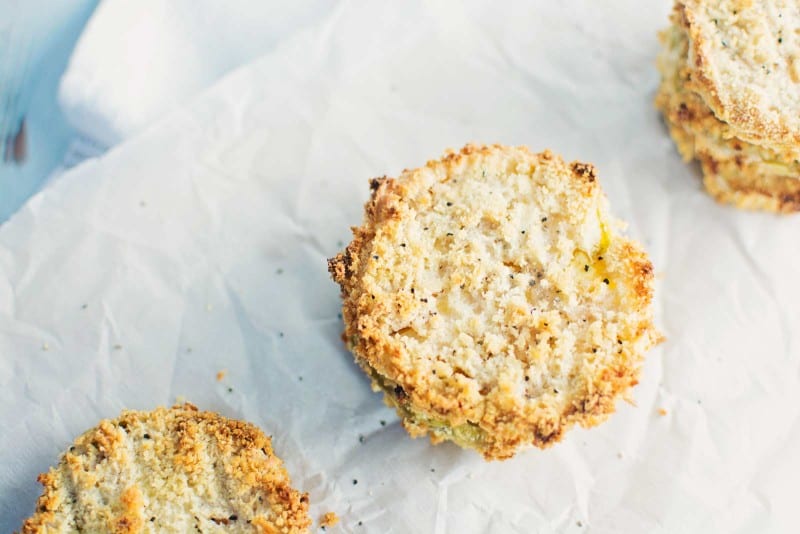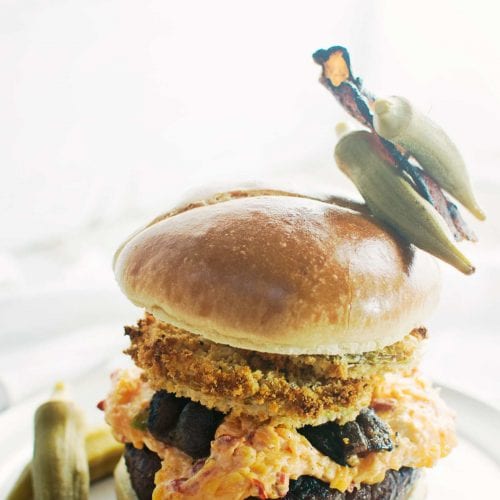 Stacey M Doyle
Ingredients
Hamburger patties

Buns

Bacon

Fried green tomatoes

see the link above for the recipe

Pimento cheese

see the link above for the recipe
Instructions
Start with making your favorite hamburger patties. I usually make mine by adding a little (1 tsp) salt, (1/2 tsp) pepper and just a smidgen (about 1 Tbls to 4 lbs of meat) of liquid hickory smoke to a tasty cut of ground meat, my preference is ground chuck. Shape your's to the size you want, grill that piece of meat and slap it on a toasted bun of your choice, my favorite are the brioche hamburger buns – so perfect for this mouth watering special.

After you've made your hamburgers then you will top it off with a couple of Oven "Fried" Green Tomatoes, a nice dollop of Easy Pimiento Cheese and some crispy smoked bacon which I like to make on the grill to give it a dialed-up smokey flavor. Serve with your favorite BBQ sides and enjoy!
Notes
Depending on appetites, I usually plan for 1/4 lb of meat per person (for smaller appetites) and 1/2 lb per person (for adult sized appetites). As for the seasoning quanities, I typically eyeball the recipe amounts. Just remember that it's easier to add seasoning later than it is to remove, so don't go overboard with the salt and pepper.
Stacey M Doyle
A Southern girl with a taste for travel, Stacey takes inspiration from her global pantry and cooks with a sense of adventure. Now she's raising her three young children to appreciate a wide world of food, even if she doesn't always tell them exactly what they're eating. Stacey is the food photographer, writer and creator of Little Figgy Food. She's also addicted to coffee. Addicted to olives. Fairly obsessed with dark chocolate.