Apple cake is a common autumn tradition. This recipe is made with olive oil, fresh apples, and maple frosting. It may be a bit untraditional, but it is beautiful, and delicious.
By Jeff the Chef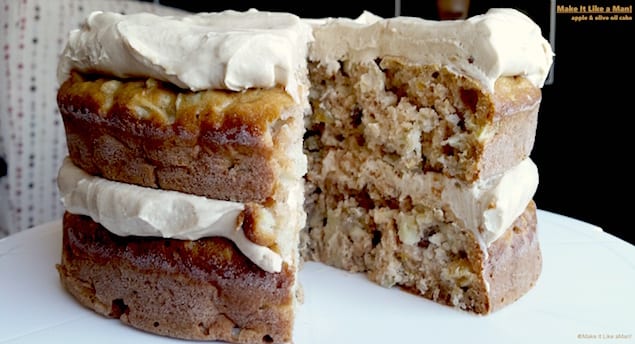 Apple cake has become a fall tradition at my house. This one, made with olive oil, fresh apple, and maple frosting, is unusual, beautiful, and delicious.
"With regard to servings, I think cutting this cake into only six pieces is outrageous," is what I'd say, perhaps a bit too loudly, as I sliced off a sixth and tossed it onto my plate. It's that easy to chow. And so tasty. And it's made of apple and olive oil, so you'll feel comfortable telling yourself that it's good for you. I brought this cake to a four-person dinner party, and we ate half of it. Based on that, I'd say the cake serves eight. But I think you could easily and respectably serve twelve or more.
This cake stays delicious for days. It's an excellent choice if you want to make a cake one day, and serve it the next. It's not especially sweet, which makes it a nice pairing for the frosting. If you want a sweeter cake, use a sweeter baking apple – and in that case, you might need about 25% less frosting to complement the cake.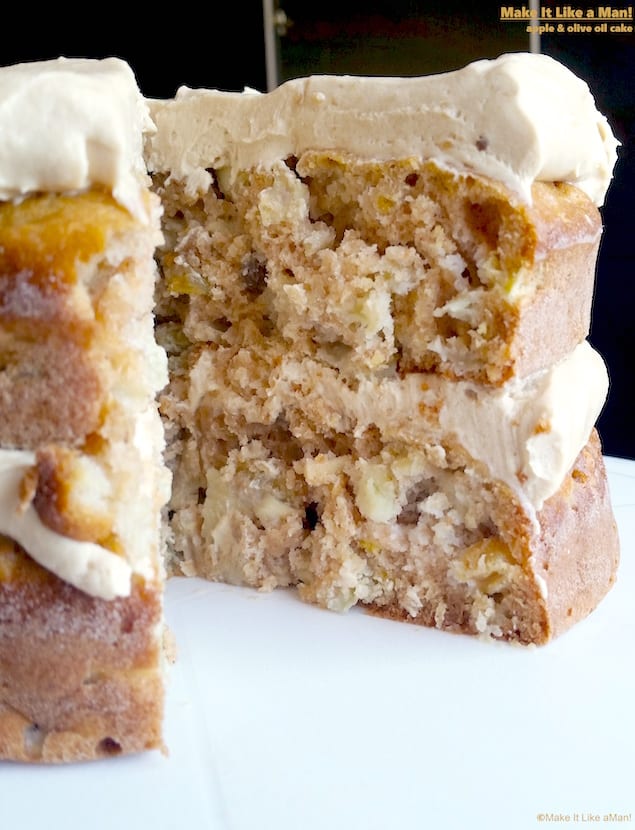 See Also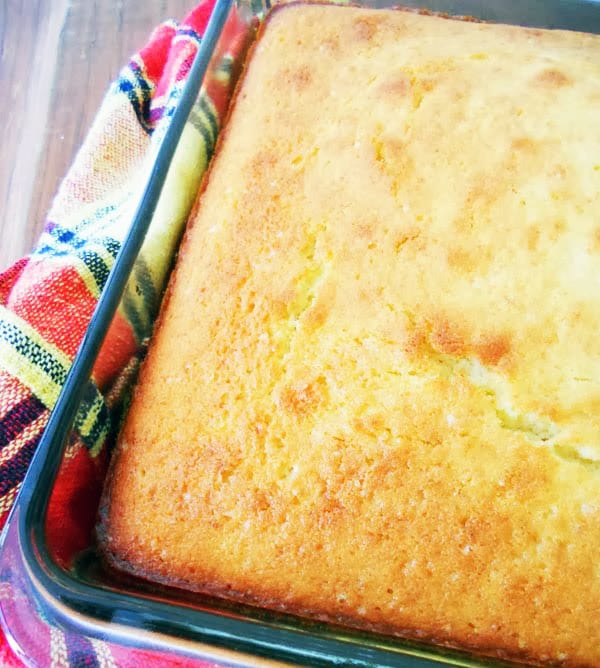 Print
The Ultimate Layered Apple Cake
Apple cake is an autumn tradition. This is made with olive oil and maple frosting. It maybe a bit untraditional, but it is beautiful, and delicious.
Author:

Jeff the Chef

Yield: Makes

1

eight-inch round double-layer cake, serves 6-8

1

x
Category:

Dessert, Baking
Ingredients for the Cake
½ cup

(packed) golden raisins

4

Tbs water

2¼ cups

all-purpose flour

½ tsp

cinnamon

¼ tsp

salt

½ tsp

baking powder

1¼ tsp

baking soda

½ cup

olive oil[2]

3/4 cups

sugar

1 tsp

vanilla[3]

2

eggs

1½

lbs (~3 large) tart, fresh apples (such as Granny Smith) peeled, cored, and chopped into pea-size pieces
Grated zest of 1 lemon

2

egg whites
Ingredients for the Frosting
7

Tbs unsalted butter, room temperature[4, 5]

½ cup

dark brown sugar

6

Tbs (3 oz.) maple syrup[6]

8 ounces

cream cheese, room temperature[4]
Confectioners' sugar, for dusting (optional, but recommended)
Instructions
Grease and flour two 8-inch round cake pans. Place the raisins and water in a glass measuring cup and nuke until the water boils for a few seconds (~1 minute, total time). Set aside.
Preheat the oven to 325ºF. In a large mixing bowl, whisk the flour, cinnamon, salt, baking powder, and baking soda. Set aside.
Put the oil, sugar, and vanilla in the bowl of a stand mixer fitted with a paddle attachment. Beat until combined, then add eggs, beating until incorporated. The batter should be smooth and thick. On low speed, mix in the apples, raisins (strained, liquid reserved for another purpose), and lemon zest until everything appears to be fully distributed, ~30 seconds. Continuing on low speed, add the flour mixture, beating just until incorporated. Scrape the batter into the bowl that held the flour mixture.
Clean and dry the stand mixer bowl and fit it with the whisk attachment. Whip the egg whites to soft peaks. Fold them into the batter in 2 additions. Scrape the batter into the pans and level them with a spatula. Bake for about 35 minutes, or until: The tops of the cakes darken to the color of an well-toasted or even overly-toasted marshmallow. The sides of the cakes begin to pull away from the edge of the pan. A tester comes out clean
Remove from the oven and leave to cool in the pans. Once the cakes are stone cold, remove them from the pans and place them on flat plates or a cookie sheet.
To make the frosting, beat together the butter, brown sugar, and syrup until light and airy, ~3 minutes on speed 6. Scrape down the sides of the bowl. Add the cream cheese and beat until the frosting is completely homogenized, ~1½ minutes, speed 4. Spread decidedly more than half the frosting over the top of the cake that will form the bottom layer and the remaining frosting over the other cake. Push the frosting very close to the edge of the cake, but stop short of getting there. Don't frost the sides. Place both cakes in the refrigerator and chill for 45 minutes.
Once chilled, stack the cakes on a cake plate. (Dust with confectioners' sugar.) Return the cake to the refrigerator[7] until it's time to serve. Serve the cake cold or at room temperature.
Notes
[1] Servings … as a double layer. If you want to stretch it even further, consider leaving the cakes unstacked and serving them as two single layers. A one-eighth slice of a single layer is a small serving, but in no way paltry. The cake is filling enough to make that work for 16 total servings.
[2] Olive Oil: A good, everyday olive oil works beautifully. Save your extra virgin for salad dressing and bread dipping.
[3] Vanilla: I recommend my man-made, hand-made, ideologically-superior vanilla extract. You regular readers know how I feel about the that!
[4] Room Temperature: The butter and cream cheese will come to room temperature in about the same amount of time that it takes for the finished apple cakes to cool.
[5] Cold Butter: Don't try to cream a stick of cold butter with a cheap hand-held mixer. Oh, and in case you've ever wondered how well a hand-held mixer would work with only one working beater, the answer is "like crap."
[6] Syrup: You're going to want to use real maple syrup for this cake, not Aunt Jemima. You can swap out as much as 2 Tbs of the syrup for reserved raisin liquid. You can usually find real maple syrup in tiny bottles (thankfully, because it's so expensive). I found a 3.4 ounce bottle (you could fly with it) of Archer Farms, and that was perfect. Yes, that's the Targé brand. Sorry, Aunt Jemima.
[7] Refrigeration: To keep it from drying out while in the refrigerator, I place the cake in a tightly-sealed cake tote, which I then place into the fridge.
Jeff Make it Like a Man
Jeff is a well-seasoned home cook who produces Make It Like a Man, an occasionally irreverent blog about more-or-less everyday cooking. When he's not at home making vanilla extract, Jeff divides his time between hanging in out in cafés and dedicating himself to several arts and culinary-related Chicago-area non-profits. He is also a member of the Board of Directors of Chicago Food Bloggers.